The most popular dual-zone air fryer in the UK is the Ninja air fryer Foodi AF300UK, having the capacity to simultaneously cook two different items in two different ways as its best attribute. Many air fryers on the market perform the basic function of cooking food using hot air and little oil. The Ninja air fryer Foodi Dual Zone, however, provides a little bit more than the basics. The new Ninja air fryer model differentiates from the competitors due to its twin cooking baskets, which can cook simultaneously at varying temperatures. This air fryer's surprisingly simple innovation propels it to the top of the list of available air fryers. You learn more about this product on Savewithnerds. Buy the Best Air fryer From Currys official website.
Ninja Air Fryer FEATURES
Up to 75% Low Fat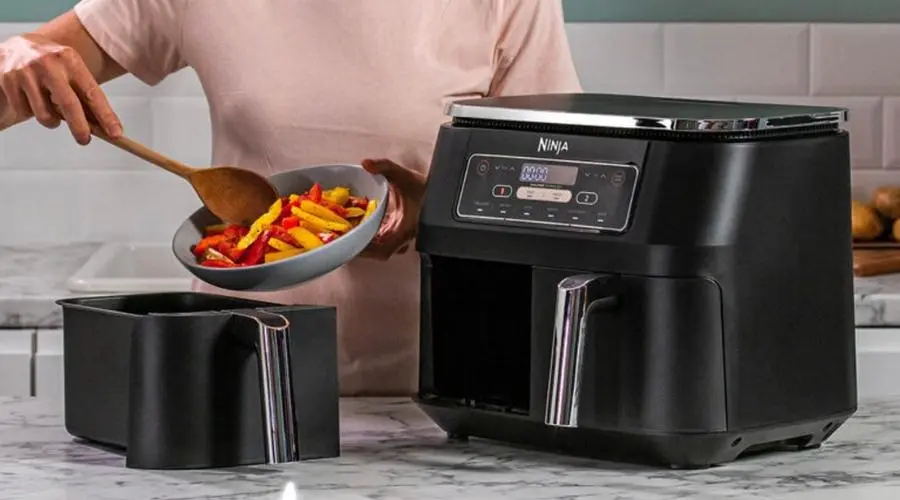 Ninja Foodi Dual Zone Air Fryer AF300UK utilizes a very minute amount of oil to cook the food. It evenly distributes the hot air around your food, providing it with a quick and delectable golden finish. Due to this, the food it prepares has less fat than meals produced using traditional frying methods.
Self-reliant cooking Sections
This air fryer can cook two different items simultaneously using two separate programs. It includes two distinct cooking sections in the shape of drawers that you may mix and match based on your preferences and your available schedule. With a 7.6 L capacity, it can feed roughly eight people. About 1 kg of fries can be air-fried in each of its two parts.
Not only an Air Fryer
This device includes five other cooking options in addition to being a fryer, including Max Crisp, Bake, Roast, Dehydrate, and Reheat. It may be customized with various temperature parameters, turning frozen food into crispy fare in a short amount of time.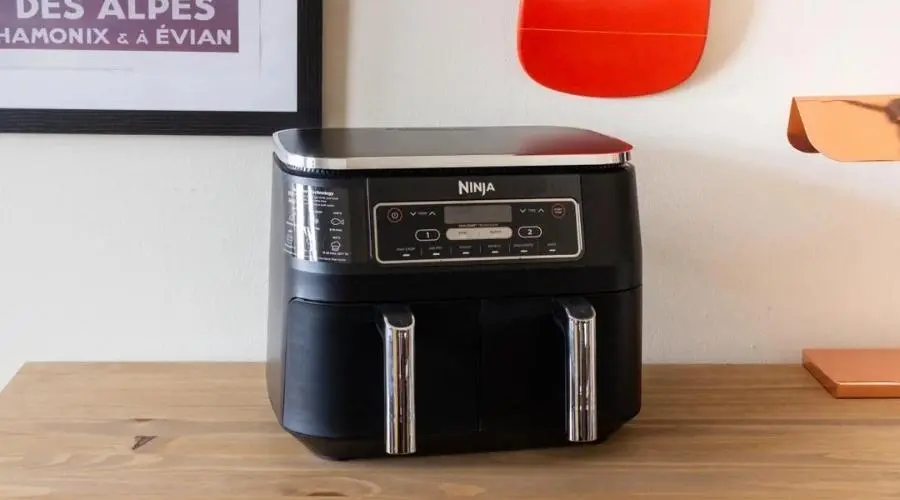 Up to 75% Faster Than Fan Ovens
Unlike a fan oven, this air fryer operates 75% faster. As a result, cooking your food takes less than half as long. Therefore, it is the ideal kitchen tool for a great dinner that can be served quickly.
Benefits
It has compartments as baskets for simultaneous cooking.

It is easy to use.

This air fryer has an instant cooking function for frozen foods.
Drawbacks
It is a big air fryer

It has no stirring paddle.

The chips prepared by this gadget are not as good as other competitors.
Do you get value for the money?
Looks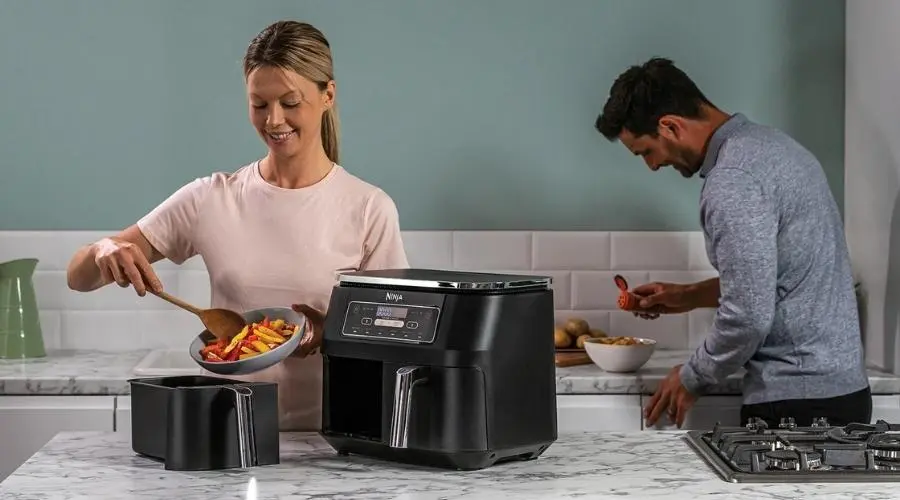 Its two compartments give it a broader shape. As a result, you'll need a lot of space to store it. However, if you choose to leave it on display, it will go well with your sophisticated kitchen. In some areas, it does have a little plastic-like feel. However, the matte surface, digital screen, and chromed accents give it the appearance of being a high-end item. Check out some attractive offers available on this product.
Price
When compared to other variants on the market, it is more expensive. Although it can appear pricy for a gadget that moves hot air, it offers good value. You can get a good air fryer for £100 or more, but few of them offer as many settings or a second cooking basket as the Ninja air fryer.
Frying Baskets
By moving the two chromed handles beneath the panel in your direction, you may access the frying baskets of the air fryer. The total volume of all of them is 7.6 liters, with each one having a maximum capacity of 3.8 liters.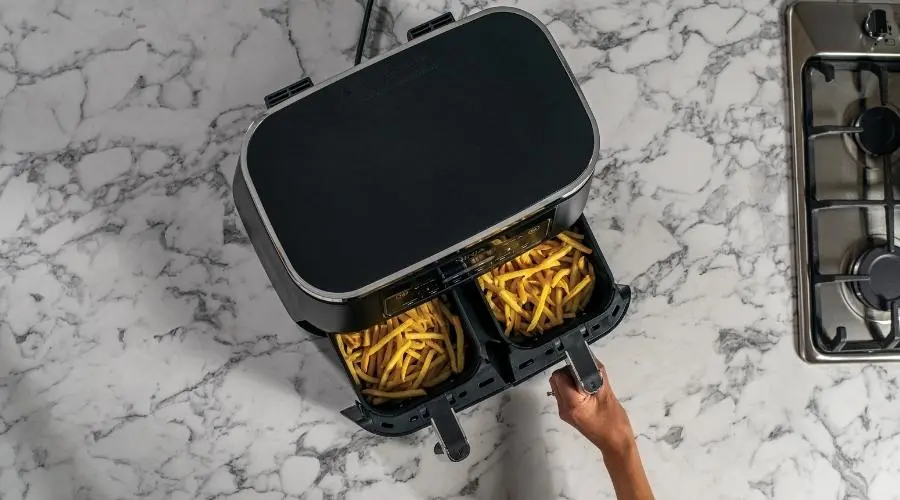 In contrast to the Tefal Actifry series, there isn't a stirring paddle inside. To ensure even browning, you must occasionally shake or stir the food. The Ninja air fryer functions almost similarly to most other air fryers. Except that you frequently need to add a tablespoon of cooking oil, it pumps hot air over your meal to produce results comparable to deep frying.
Control Panel
This air fryer has a sizable control panel up front where you can handle all of the programs. There are numerous preset programs, such as baking, dehydrating, and roasting, but no one-touch controls.
The Ninja's dual cooking capability includes more than just inserting food in each basket and manually adjusting the temperature and time. It has various innovative "sync" and "match" functions to help you make the most of its two baskets.
If you're cooking two distinct types of food at various temperatures and times, Sync will calculate the difference for you. As a result, it guarantees that eatables in both sections get cooked simultaneously. If you want to cook a lot of the same things, you can use the match button to have the second basket's settings automatically adjusted to match those of the first.
Utility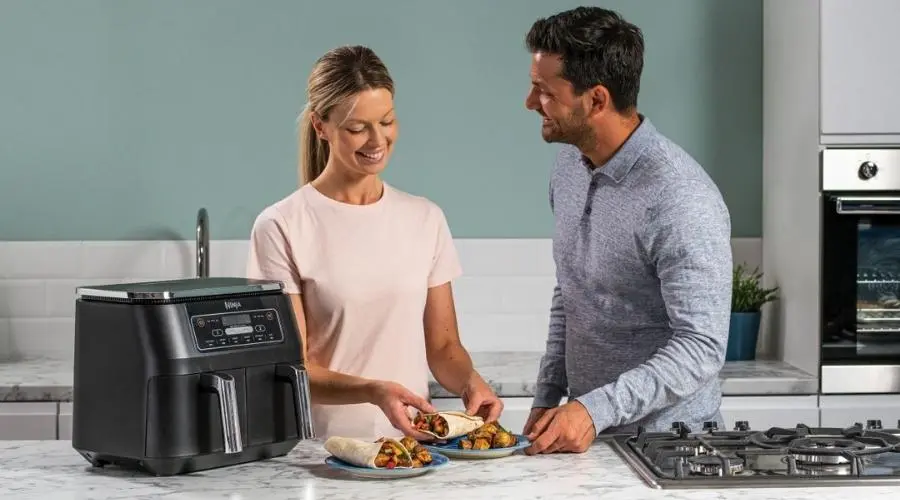 When utilizing Foodi Dual Zone, the absence of a stirring paddle and quick cook choices is not a problem. You must shake the meal every five minutes to provide uniform coloration on the outer coating. However, I found via my testing that missing this step had little effect on the food's overall flavor.
Other than that, operating this incredibly effective air fryer is straightforward. A cooking manual is also available for beginners at an air fryer.
Both the sync and match settings performed well while testing. For frozen foods that are thinner, such as french fries or onion rings, the Max Crisp option works wonderfully. Tests showed that preparing 160g of precisely crispy potato lattices and crisp vegetables at the same temperature took just six minutes instead of 15 minutes in a traditional oven. It also can handle larger batches. In about eight minutes, I can prepare 24 frozen nuggets.
Even though it takes time, the Ninja air fryer makes dehydrating food quick and easy. However, one should be prepared for some trial and error because minute changes in an ingredient's thickness or quantity might cause the cooking times to change.
Also Read:- Best Budget Smartphones 2023: Shop the Best Smartphones at Cheap Prices with Black Friday Deals
Conclusion
The Ninja air fryer Foodi Dual Zone is significantly easier and has stunning add-on capabilities, particularly the Max Crisp setting for frozen meals. It is also considerably less expensive than Tefal's most recent Genius 2in1 model. It's not difficult to shake the food every five minutes. As a result, I wholeheartedly recommend the Ninja Foodi Dual Zone Air Fryer AF300UK as a fantastic investment.
FAQs
Read more: savewithnerds