Are you looking for a spring and summer gift? Consider a backyard trampoline. Trampoline is a beautiful activity to get your heart rate up and keep youngsters amused while enjoying the outdoors. Before purchasing a trampoline, consider how much outside area you have and how many people will use it simultaneously to establish a safe weight limit. And, regardless of size, you'll want a safe and robust trampoline. Try the best Walmart trampoline and get years of assured enjoyment.
Walmart offers a variety of different trampoline according to your child's requirement. Walmart trampolines comes in different kids of safety nets to protect your kids from falling out and hurting themselves.
List of the 6 Best Walmart Trampoline for your Kids
There is multiple Walmart trampoline available on the official Walmart website, but selecting the best Walmart trampoline for your backyard can be a tough decision. However, we at Savewithnerds have curated a list of the best Walmart trampoline. The list of the best Walmart trampoline is as follows:
1. Bounce Pro Trampoline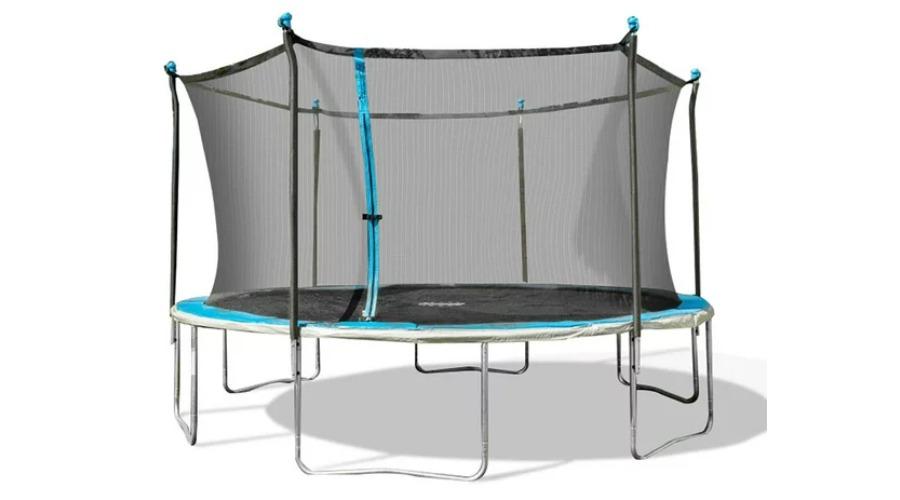 Any backyard would benefit from the Steelflex enclosure system and Flash Light Zone when the frame consists of high-quality galvanized steel tubes for durability and stability. The UV resistance of the jump mat, spring pad protector, and safety enclosure netting exceeds the ASTM standard. The large springs produce a smooth, deep bouncing movement that children like. The Steelflex enclosure system adds extra security and aids in the elimination of the drooping net problem. Bounce Pro 14′ Trampoline with innovative Flash Lite Zone that conveniently installs beneath the jump mat and flashes lights as youngsters jump.
---
Also Read : Pair these 5 Walmart Women Shoes With All Your Outfits
---
2. TrampolinePro Trampoline Jumping Mat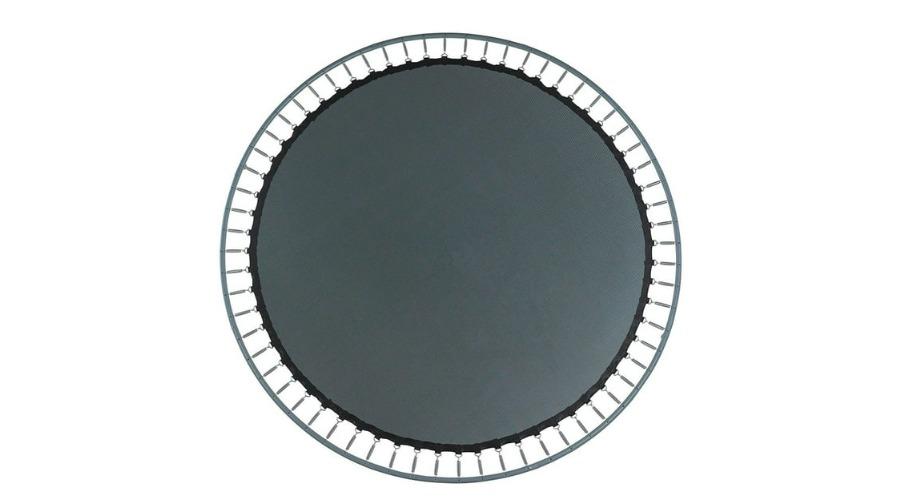 Bring back the bounce of your trampoline and, with it, family fun! The TrampolinePro replacement trampoline-jumping mat is to work with 14-foot circular trampolines of any brand or model with 72 V-rings and 5.5-inch springs. Springs are available separately. Manufacturing with ISO Quality Certification. 9-Month Warranty OR 3+ Months Longer Guaranteed than other market competition. It also has 72 rings and works with 14-foot frames and 5.5-inch springs. High-quality zinc attachment rings with UV-inhibited ring connection straps are made of UV, weather, and puncture-resistant Permatron trampoline fabric.
---
3. YORIN 1500LBS Outdoor Trampoline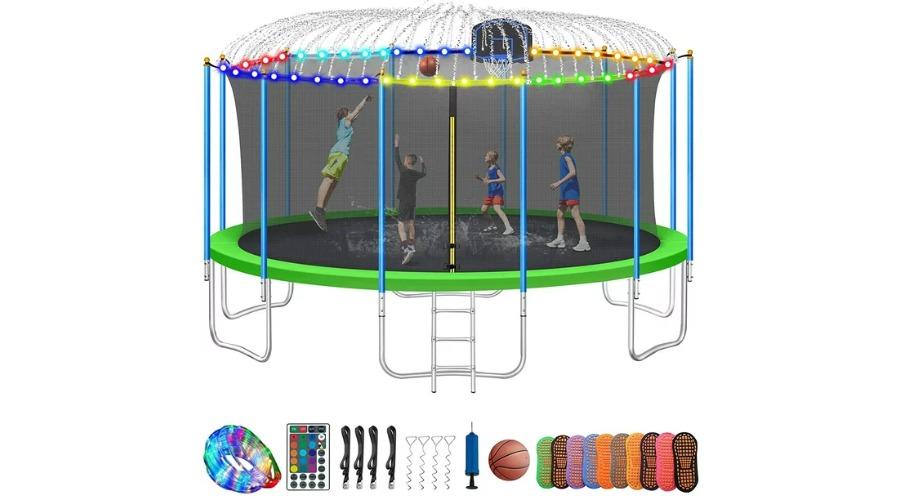 The YORIN kids' trampoline structure is composed of heavy-duty, designed galvanised metal, and the jumping surface is polypropylene, offering durability and strength. This Walmart trampoline is also waterproof and weather-resistant to survive humid conditions.
Also read: Fun Play Times With The Best Toys For Boys
---
4. Maxkare Trampoline with Safety Enclosure & Ladder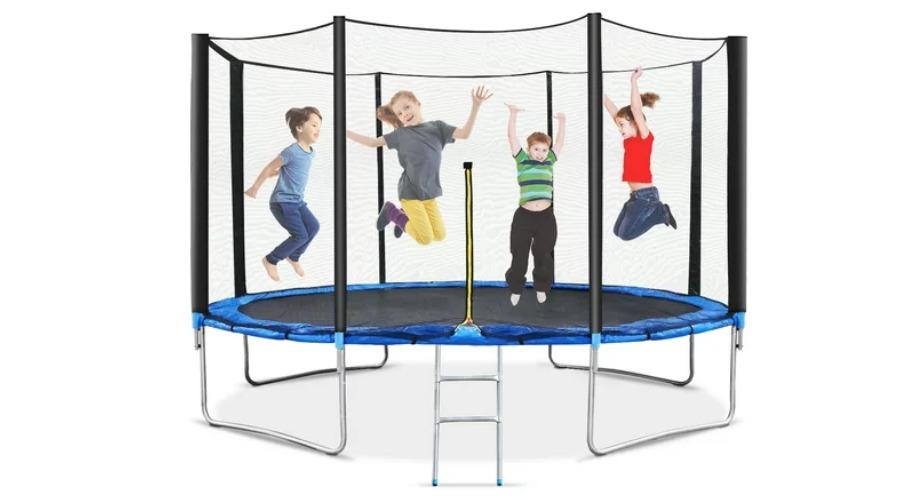 Trampoline Maxkare 12FT with Safety Enclosure & Net. First and foremost, safety! The enclosure consists of high-density nylon mesh, which eliminates the space between the jumping mat and the springs, protecting youngsters from pinch points and openings. The 12ft trampoline with safety enclosure is composed of military-grade PP material, which is more challenging and has a higher rebounding force. The 12ft trampoline with enclosure's support structure is made of full-covered galvanised steel material and thickened galvanised spring, which offers the outdoor trampoline outstanding stability and anti-oxidation ability. The 12ft trampoline has a double-sided zipper design to minimise slips and falls.
The 12ft trampoline's support frame is U-shaped, allowing it to install in any open space. The highest weight-bearing capacity of this 12-foot trampoline is 600LBS, sufficient to raise the weight of two adults and two children. Also, it has a ladder for easy access on and off the trampoline. Safe and sturdy all-steelgalvanised frame construction. All wearable parts of this 12-foot trampoline with an enclosing mat are for life. The assembling procedure usually takes around 2 hours.
---
5.     JINS&VICO 10FT Trampoline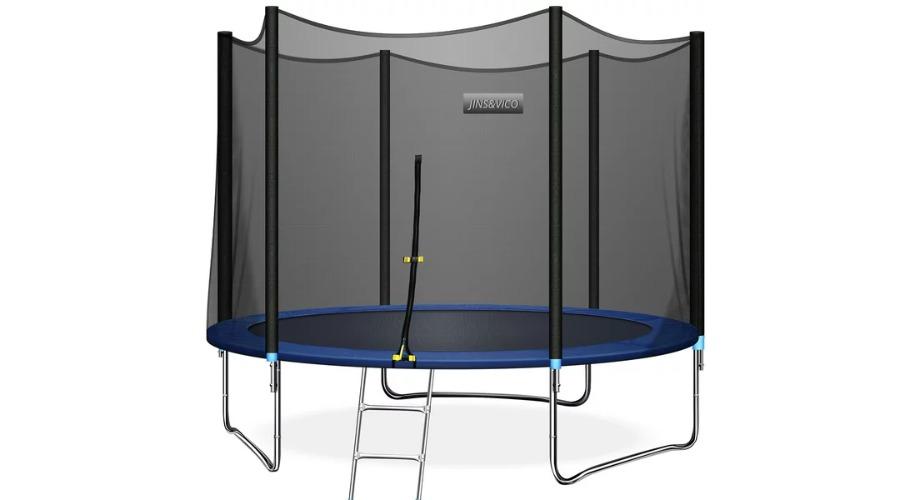 Allow sports to take the role of technological devices instead of allowing the youngster to sit and watch TV and play with the phone for a day. It should be a fantastic opportunity for kids to make new friends. The finest present for youngsters is a backyard trampoline. They can have fun with their friends. It has many areas and can sleep 3-4 kids. As our most popular trampoline, the JINS & VICO series trampoline is of exceptional quality, having passed several factory tests and been subjected to stringent scrutiny by the quality inspection department. It is the ideal trampoline for any family and the trampoline that every youngster desires.
---
6. Skywalker Trampolines Bounce-N-Learn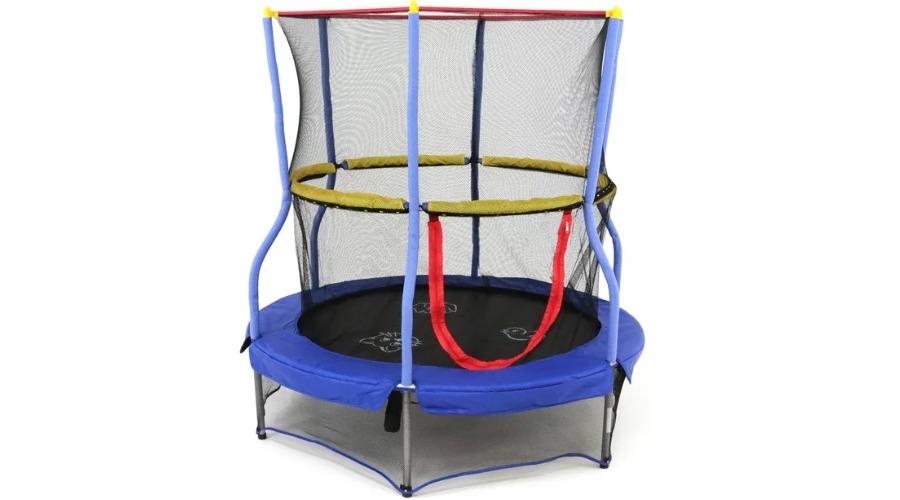 The Skywalker Trampolines 55-Inch Round Bounce-N-Learn Interactive Trampoline Mini Bouncer with Enclosure and Sound can help your children improve gross motor skills and foster imaginative play. The jump mat's screen-printed dog and cat motifs generate animal noises while your child bounces on it. Make fascinating games out of animal prints and noises to boost your child's coordination and memory! Little bouncers will benefit from the 360-degree cushioned safety grip as they begin to bounce.
The trampoline structure is rust-resistant powder-coated steel, and the trampoline is spring-free, offering just the right amount of bounce and safety. Skywalker Trampolines 55-Inch Round Bounce-N-Learn Interactive Trampoline Mini Bouncer with Enclosure and Sound will make your child's childhood unforgettable.
Also read: Playful Sounds: A Guide To The Best Musical Instruments For Kids
---
Conclusion
Trampoline is a great outdoor activity for kids as well as toddlers. These are some of the best Walmart trampoline you can explore while purchasing. Moreover, you can also check out the official Savewithnerds website to learn more about Walmart trampolines with net, trampoline for sale Walmart, and all the other trampolines at Walmart.
FAQ's