In today's digital age, businesses and creative professionals alike rely heavily on powerful software tools to bring their ideas to life. Adobe Creative Cloud for Teams emerges as a game-changer, providing a comprehensive suite of applications and services that empower teams to collaborate seamlessly and unleash their creative potential.
Benefits of Adobe Creative Cloud for Teams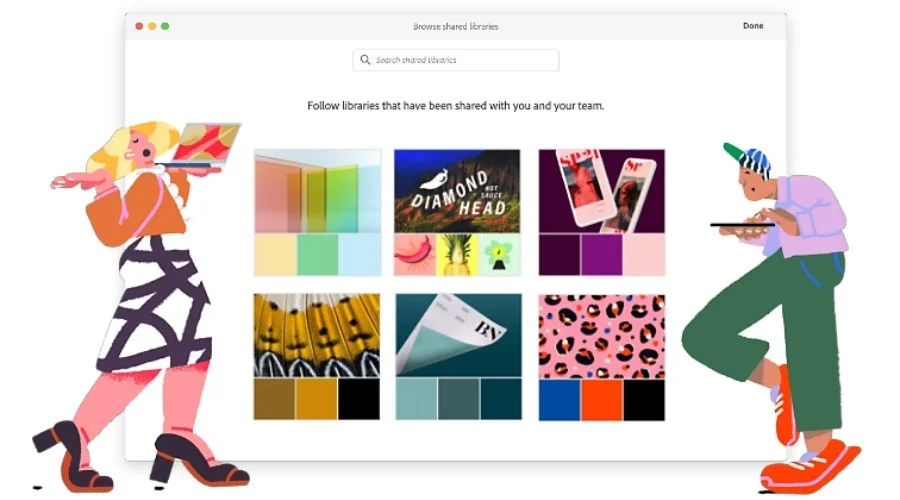 Enhanced Collaboration and Communication:
Adobe Creative Cloud for Teams fosters a collaborative environment, enabling team members to work together efficiently and effectively. With centralized administration and user management, it simplifies the process of sharing and accessing creative assets. Team members can effortlessly collaborate on projects in real time, working simultaneously on the same files and easily tracking changes.
Comprehensive Suite of Creative Applications:
At the heart of Adobe Creative Cloud for Teams lies a robust collection of industry-leading creative applications. From graphic design to video editing, web development to photography, the suite offers an extensive range of tools tailored to different creative disciplines. These applications, including Photoshop, Illustrator, Premiere Pro, and InDesign, among others, empower teams to create stunning visuals, immersive experiences, and engaging content.
Scalability and Cost Efficiency:
Adobe Creative Cloud for Teams offers scalability to accommodate teams of all sizes, making it an ideal solution for businesses with evolving creative needs. Administrators can easily add or remove team members, manage licenses, and allocate resources as required. This flexibility allows teams to scale their creative capabilities without incurring unnecessary costs. 
Why Choose Adobe Creative Cloud for Teams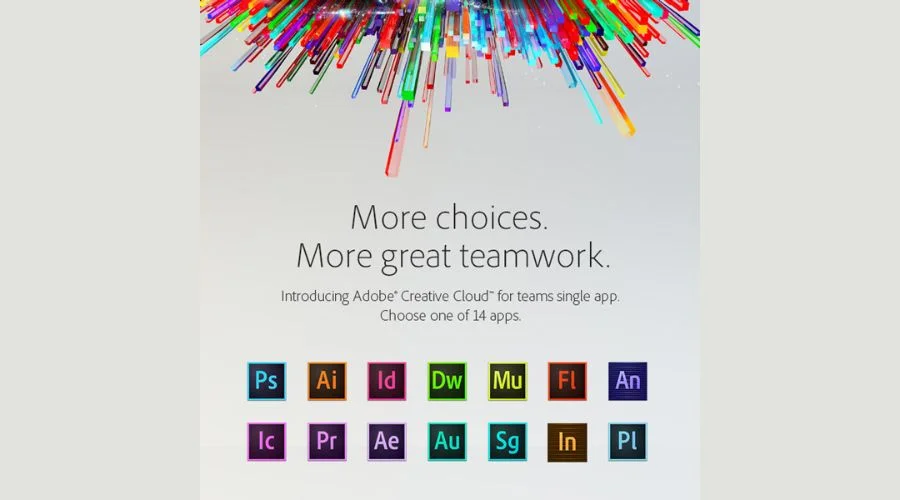 I. Creative Cloud For Teams Collaboration Tools
Creative Cloud For Teams provides a robust set of collaboration tools that enable seamless communication and cooperation among team members. These tools include:
Shared Asset Libraries: Teams can create and maintain shared libraries of assets, such as logos, images, and design templates. This centralized storage allows team members to access and utilize assets easily, fostering consistency and efficiency across projects.
Team Projects: With Team Projects, multiple team members can collaborate on a single project simultaneously. This real-time collaboration feature ensures that everyone is working on the most up-to-date version of the project, eliminating the need for manual file sharing and version control.
Creative Cloud Libraries: Team members can create and share libraries of creative assets, including colours, character styles, and brushes. This feature promotes consistency in design and enables quick access to commonly used elements, improving productivity and reducing duplication of effort.
II. Enhanced Workflow Integration
Adobe Creative Cloud For Teams integrates seamlessly with other popular creative tools and services, streamlining workflows and saving time. Key features include:
Creative Cloud Apps Integration: The suite includes industry-leading applications such as Photoshop, Illustrator, InDesign, Premiere Pro, and more. These applications work together harmoniously, allowing for smooth transitions between tasks and eliminating the need for cumbersome file conversions.
Creative Cloud Market: Creative Cloud For Teams subscribers gain access to a vast library of high-quality assets, including images, templates, and fonts, through Creative Cloud Market. This integration facilitates quick sourcing of assets, reducing the time spent on searching for external resources.
Third-Party Integrations: Adobe Creative Cloud For Teams supports integration with other popular creative tools, such as collaboration platforms, project management software, and stock asset providers. This flexibility enables teams to leverage their existing tools and workflows while benefiting from the collaborative features of Creative Cloud For Teams.
III. Simplified License Management and Administration
Managing licenses and user access can be a complex task for creative teams. Adobe Creative Cloud For Teams addresses this challenge by providing:
Centralized License Management: Team administrators have access to a web-based Admin Console, where they can manage licenses, assign user roles, and control access to Creative Cloud applications. This centralized approach simplifies license tracking and ensures compliance.
User Provisioning and Deployment: Creative Cloud For Teams streamlines the process of deploying applications to team members, enabling administrators to push updates and install applications remotely. This reduces the time and effort required for software deployment and maintenance.
IV. Creative Cloud Libraries and Adobe Stock Integration
Adobe Creative Cloud Libraries and Adobe Stock, two powerful components of Creative Cloud For Teams, significantly enhance the creative process
Creative Cloud Libraries Integration: Creative Cloud Libraries allow team members to sync and access their creative assets across devices and applications. This integration ensures that designers have the latest assets at their fingertips, boosting productivity and facilitating consistent branding and design.
Adobe Stock Integration: Creative Cloud For Teams provides access to Adobe Stock, a vast collection of high-quality stock photos, videos, illustrations, and more. Teams can license and utilize these assets directly within Creative Cloud applications, saving time and ensuring legal compliance.
Conclusion
Adobe Creative Cloud for Teams offers a host of benefits that enable teams to unlock their creative potential. With enhanced collaboration and communication, a comprehensive suite of creative applications, seamless integration, simplified asset management, and scalability, teams can streamline their workflows, create remarkable content, and stay ahead in the competitive creative industry. For more information about creative cloud for teams pro edition visit the official website of Savewithnerds.
FAQs