Adobe Connect is a software tool designed by Adobe for extensive online collaboration through the Web browser, and Adobe Flash. We understand the importance of an interconnected world where the most effective connection and relationships are built through internet connectivity. But sometimes it becomes difficult to find virtual solutions for robust virtual meetings and online collaboration across different channels. 
Needless to say, it is one of the best leading platforms for empowering teams to get connected, enhance business communication, and virtual excellence connections. It is designed to facilitate you with customizable, reusable, and secure virtual connections just like a first-hand experience of real-life interactions. What makes Adobe Connect exceptionally excellent is the functionality delivered with resizable pods which are easily positioned on the screen by the meeting host and the host determines the overall streaming experience of all the participants. 
Adobe Connect is compatible to use for webinars, any kind of meetings, and for learning and training purposes. They give out a real-time classroom experience virtually. Plus the virtual classrooms with this Connect do not have to be an instructor-led monologue with screen share and a webcam. With the storyboard tool, a user can invigorate themselves with these designed storyboards, and add interactive content to keep the learners stay active and entertaining. While the host can easily monitor the body language virtually. 
Adobe Connect for meetings, webinars, and learning & training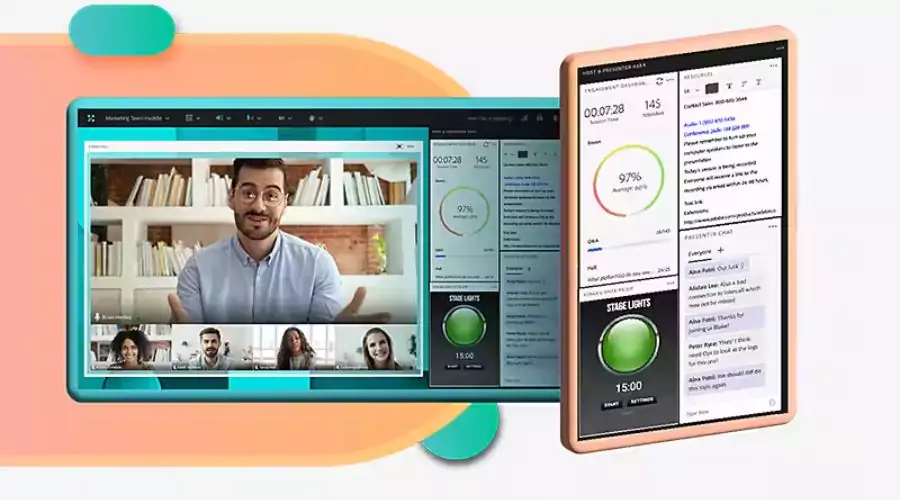 1

.

Adobe Learning Connect

:

Adobe Learning Connectivity

can help a user to implement modern learning methods such as Flipped classrooms. Blended Learning, and Active Learning in accommodating small or large groups. This helps your learners to stay alert and helps them learn flexibly through virtual classrooms. This gives the instructors and educators some implacable insights into their learner's retention and performance.  Moreover, use the instructional tools to control and monitor the learner's behaviours. 

Adobe Connect for Webinars: these days webinars are a crucial part of business forums, business partnerships, and engaging with your clients. With it you can leave a long-lasting impactful impression on your target audience and increase business productivity. Many times the webinar and the quality of outcomes depend on the extent of engagement of the participants. This productive engagement is possible with PowerPoint monologues and video fatigue which can be designed with storyboards. 
This software for Webinars helps you stay connected with your target audience irrespective of borders and disabilities. They can conveniently stay engaged on their time and on their own terms. The presenters on the webinars can also easily create and monitor accessible sessions for the target audience, especially for differently abled people and audiences residing in different zones. Use interactive and innovative background images, and wallpapers, with visual effects that match your enterprise branding. In addition, a user can use custom banners, logos, and colours to enhance their branding image.  
Adobe Connect for Meetings: With this you

can do virtual meetings

for collaboration with clients, building partnerships and marketing is as effective as holding meetings in person. Although your customer's experience with the success of a virtual sales pitch, product demo, or interview entirely relies on the level of personalised engagement you can derive from your customers. For accessing the maximum advantage of real-time information exchange, a user can access scalable, secure data by connecting to virtual environments through the connect software. In the case of war rooms, huddle rooms, and customer support a user can create persistent portals with a dashboard view, chat pods, and file share. This will leverage the maximum advantage of using the software for meeting purposes.
Plus the meetings held on it are advantageous for further interactive partnerships with your clients beyond the virtual classroom through pre recorded audios of the sessions. This will help your participants to stay follow up later after the meetings in the future. Last but not least, you participants can seamlessly connect to the virtual meetings through any device and browser without having to tackle the challenge of add-ins or downloads. While the remote employees and participants can experience the work effectively even under low network connectivity.  
Adobe Connect capabilities and the benefits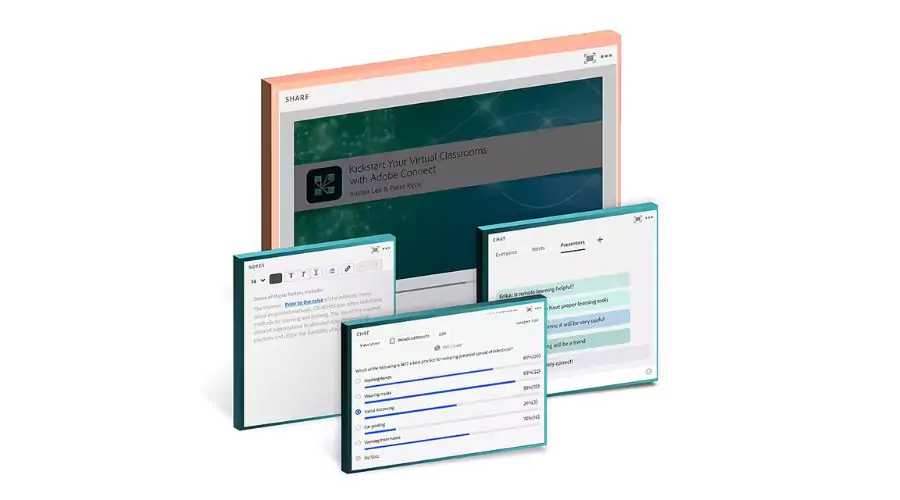 1. Real-time Experience Virtually 
The connect software comes with powerful capabilities for designing storyboarding, and engagement design to help you deliver your virtual stage with consistent and repeatable virtual streaming. Therefore, you can easily execute it to your target audience, with a customised style, and story. 
2. Create Impactful Engagement 
Keep your participants engaged while you are in complete control of the entire narrative as host. By developing creative and thoughtful interactions your storyline always connects is one way to get to your millions audience in less time and at a fast, impactful, and collaboratively. 
4. Access from anywhere with everyone
The interesting feature of  this software is that a user can take advantage of including everyone, from anywhere. Utilise visual, auditory, and mobility impairments to get impactful outreach all over the globe with the application. This Connect platform gives you the opportunity to reach a wider audience through endless access to new HTML browser clients. 
5. End-to-end Management
Adobe Connect has the best end-to-end campaign management for promoting registrations, and campaign conversion analysis for integration for CRM solutions. For achieving large-scale events Adobe system offers a single platform for all demanding generation workflows.  
6. Final eLearning solution
Adobe Connect is your final eLearning solution for achieving interactive content creation, with mixed learning on-demand which is possible through live immersive virtual classrooms. Moreover, it helps a user to manage and track organisational learning for modern learners and instructors. 
Conclusion 
In the digitalized world virtual collaboration is becoming remote with the availability of virtual connections and Adobe Connect is an excellent virtual connector. It's highly reliable and has rich online meeting and collaboration features. It's a powerful tool that empowers organisations to virtually connect, and communicate and uplift professional collaboration just like in person. There is no worry about getting your participants, clients, and partnerships from across the country since it has made this feasible. Moreover, it's highly secure software from application security to network security to cloud infrastructure security. Your confidential data is well secure while using the Adobe system. Get your Adobe Connect app downloaded easily on Google Play Store. For more information visit Adobe and the official website of Savewtihtnerds. 
FAQ's