It is the era of self-expression, and it is not just women who have the privilege to adorn themselves with beautiful ornamentation. Men's jewellery has long been confined to the outskirts of the periphery of fashion but has significantly surged into the limelight. The masculine market too has seen a dramatic increase in the number and variation of jewellery pieces available for men. In this blog, Savewithnerds will talk about the many jewellery pieces that you can wear for a complete and fashionable look.
Men's jewellery and history 
Jewellery and accessories may seem like trend a that has just set in, but they have been around for far too long. Take a look at your predecessors and you will notice that they have been adorning themselves with various trinkets for thousands of years. Even ancient civilisations, such as the Egyptians and the Romans, wore jewellery as symbols of power, wealth, and status as depicted in various paintings and literary texts. Fast forward to the Renaissance, and men flaunted ornate rings and necklaces as signs of their social standing and refinement.
How to choose the best men's jewellery 
Here's how you can look for inspirations for the best looks for men's jewellery– 
Explore the styles of famous and iconic celebrities who have had a good track record in fashion, like David Beckham, Timothee Chalamet, and more to draw inspiration. 

You can also check out the red carpet looks of the best-dressed guests to see who styled themselves in the best way. 

Follow good fashion blogs that give you style inspirations and keep you updated with the latest trends and fashion. 
Best looks of men's jewellery 
White T-shirt and jeans 
White T-shirts and jeans have always been a classic combination and look trendy and fashionable every season. You can easily pair your white t-shirt with blue jeans and add a beautiful silver chain to complete the look. In fact, they look heavenly on cable-knit sweaters too. 
Turtleneck and chain 
A polished silver chain goes a long way with turtlenecks to create a distinct smart and classy look. You can also add a good watch to make your outfit pop even more. Put on a blazer and you are ready for a dazzling time. 
Shirts and layered necklaces 
If you are up for an extravagant night out at a club where a suit is not necessarily the required attire, you can easily look dashing with a beautiful button-down shirt. Pair them with the right trousers or jeans and you can easily add a layered necklace for a fuller look. Throw in some sunglasses and you are ready for a smart day look too. If you have put on an Oxford shirt, you simply need to add a watch, and you are good to go. 
Top picks for men's jewellery
Sterling silver curb chain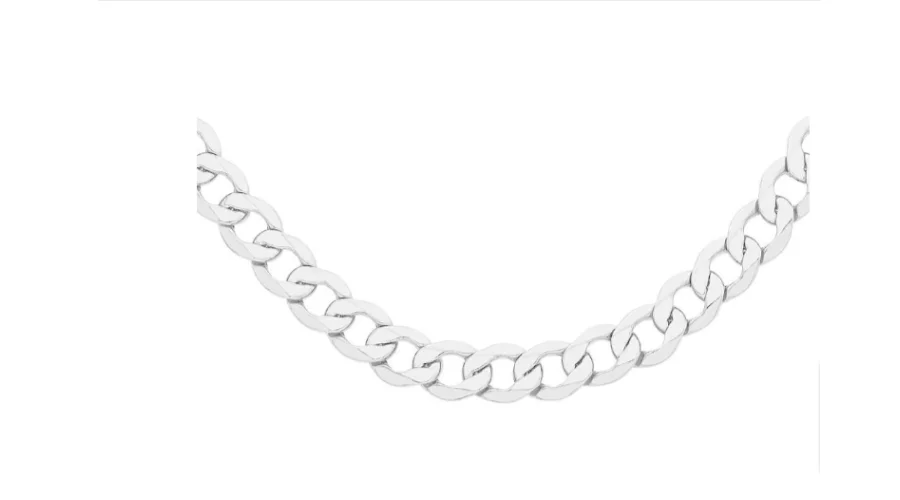 This stunning silver chain is about 5.6mm in width and is perfect for any dramatic look. It's chunky and cool and will help you elevate your outfits. Pair it with a loose and baggy t-shirt and baggy trousers and you are ready to rock the look. It costs you £138.00.
---
9 Carat yellow gold polished D shape 6mm wedding ring
This 9 carat yellow gold ring has a polished D shape that looks very cool for a wedding ring. The band is in a classic D-style shape which means that the inner of the ring is flat, while the exterior is round and looks appealing. This men's jewellery is very comfortable and can be a great pick for a symbol of your marital bliss.
---
Stainless steel and rubber gents personalised bracelet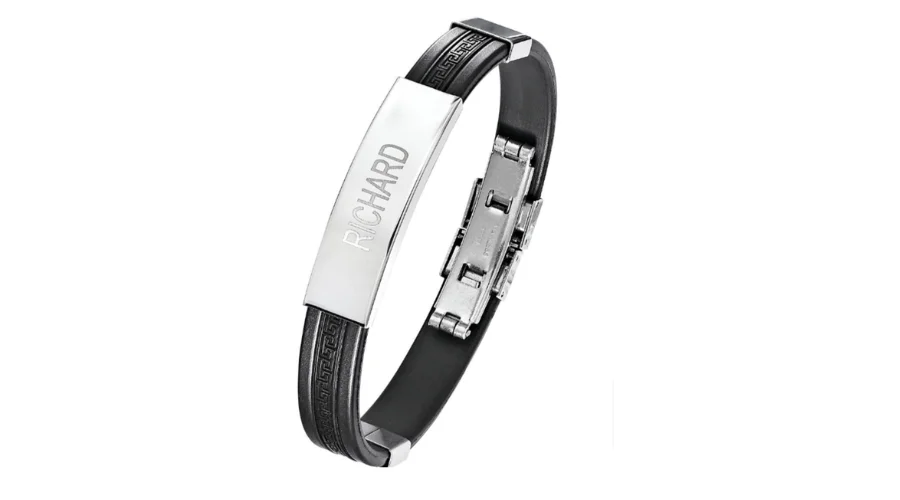 This stunning bracelet is made of rubber with gorgeous stainless steel accents. You can even personalise it to add a name of up to 10 characters. The key of the bracelet has a subtle Greek key design and is made of stainless steel, which makes it quite long-lasting. You also get a cute velvet pouch with it.
---
Gents 9 carat gold hollow curb bracelet
This 9C gold hollow curb bracelet could be a great way of styling for people with warm undertones. It is about 5mm wide and will look great on satin shirts for a smart look. You can easily use it on more casual occasions too.
---
9 Carat white gold sparkle D shape 6mm wedding band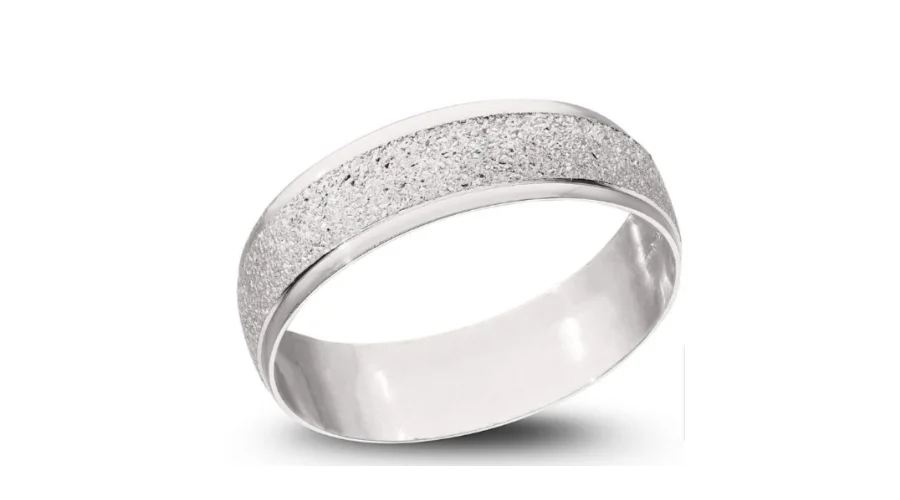 This beautiful 9 Carat white gold sparkle is a great wedding band that could magnificently symbolise the beginning of a happy married life. The classic D-shape gives you maximum comfort too, so you do not have to fidget around with it. The 6mm width gives it a classic look that will stay timeless.
---
9Ct gold gents round stud earring
This 9Ct gold earring has a modern and sophisticated touch with its quaint yet dazzling design. The 7mm round cubic zirconia stud goes well for clean and suave looks and can easily be worn to make a fashion statement.
---
Conclusion 
Men's jewellery has emerged as a dynamic and captivating medium for self-expression and shattering the patriarchal expectations of the male sex. It can easily be adorned to make a statement of personal storytelling and a means to go beyond in fashion. The blog has covered a long list of men's jewelleries and accessories that will definitely help you look and feel better. Check out the elegant and classy men's jewellery enlisted on JD Williams today and shop according to your aesthetic preferences. For more information, visit Savewithnerds. 
FAQs