Hot water dispensers are a convenient and efficient way to get hot water instantly, without the need for a kettle or stove. They're ideal for making tea, coffee, and other hot beverages, as well as for cooking and cleaning. In this list, we'll take a look at the top 5 hot water dispensers available on Idealo, based on features, price, and user reviews.
Find the Best
Hot Water Dispenser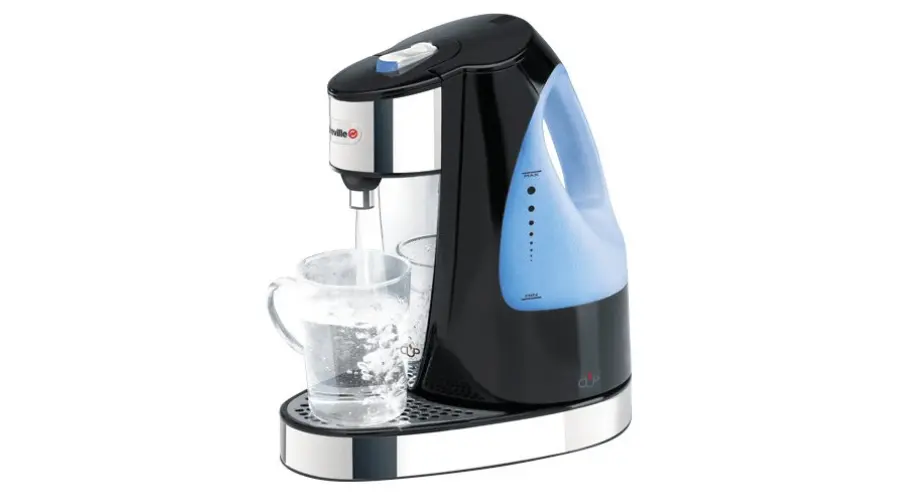 1. Breville Hot Cup VKJ142:
Looking for a hassle-free way to keep hot water on hand? Consider the Breville Hot Cup VKJ142, a top-of-the-line hot water dispenser that provides boiling water at the touch of a button.
Unlike traditional kettles that require time to boil water, the Breville Hot Cup VKJ142 allows you to enjoy your hot drinks immediately, making it a handy device to have in a busy household. Refilling the water tank is easy and there is a water gauge monitor on the side, so you can easily see how much water remains in the tank. Priced at around £40 – £50, it's a great investment for those looking for a reliable, high-quality hot water dispenser.
If you're thinking of buying the Breville Hot Cup VKJ142 or any other hot water dispenser, be sure to check out Idealo for the best deals and prices.
---
2. Caterlite J709:
The Caterlite J709 water urn is an excellent choice for those looking for a versatile and convenient way to boil water. With a large 8-liter capacity and strong stainless steel twin-walled construction, this manual fill water urn is not only easy to fill but also effortless to operate and clean.
The Caterlite J709 also includes a water level meter, a drip tray, and a twist-lock lid, which makes it a very practical choice for busy kitchens. The tap height of 120mm ensures easy access to the hot water without any fuss, and the unit is lightweight at only 2.8 KG, so it is easy to move around. If you're looking for a high-quality water urn that combines simplicity and convenience, the Caterlite J709 is an excellent option.
---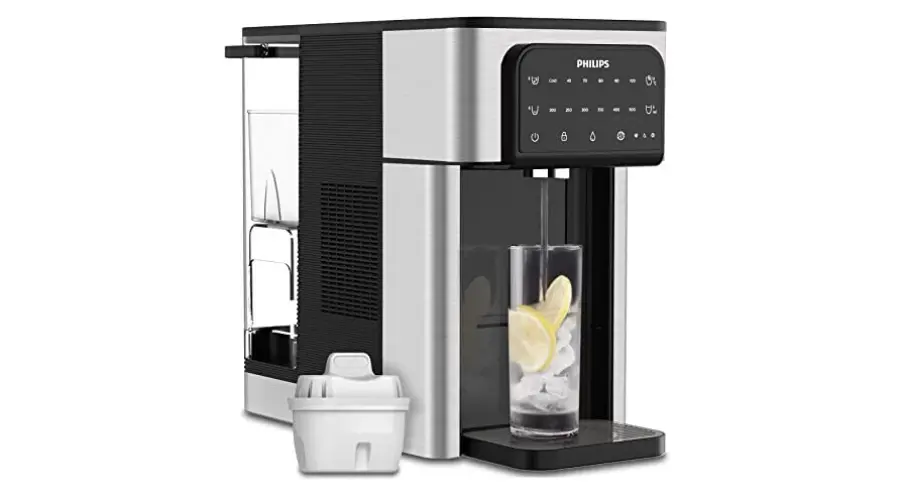 3. Philips ADD5980/31:
If you are looking for a hot water dispenser for your home or office, the Philips ADD5980/31 all-in-one water dispenser might be the perfect solution. With multiple volume settings and 6 custom temperature options, this dispenser can provide you with the exact amount of hot or cold water you need in just a few seconds. The Micro X-Clean filter helps reduce impurities, such as chlorine, heavy metals, and microplastics, so you can enjoy crisp and pure-tasting water every time.
This water dispenser also features a filter lifetime indicator, which reminds you to replace the filter when necessary to ensure optimal filtration performance.
---
4. Buffalo GL349:
The Buffalo GL349 40 Ltr manual fill water boiler is a powerful and versatile solution to keep your guests refreshed with piping-hot teas and coffees. Whether you're a mobile caterer, village hall, office, or staff room, the Buffalo is a great choice for sites with limited access to mains water. It is a portable solution that allows you to bring hot water to where it's needed most.
With a heat-up time of 89 minutes, the Buffalo GL349 has a capacity of 40 Ltr and a temperature range of 30°C to 100°C. It has a tap height of 138 mm and an output of 2600W, making it an efficient and reliable solution for any setting. It comes with a 2-year warranty, giving you peace of mind and reliable service.
If you're looking for a reliable water boiler that can keep your guests refreshed and satisfied, then the Buffalo GL349 is the perfect solution for you.
---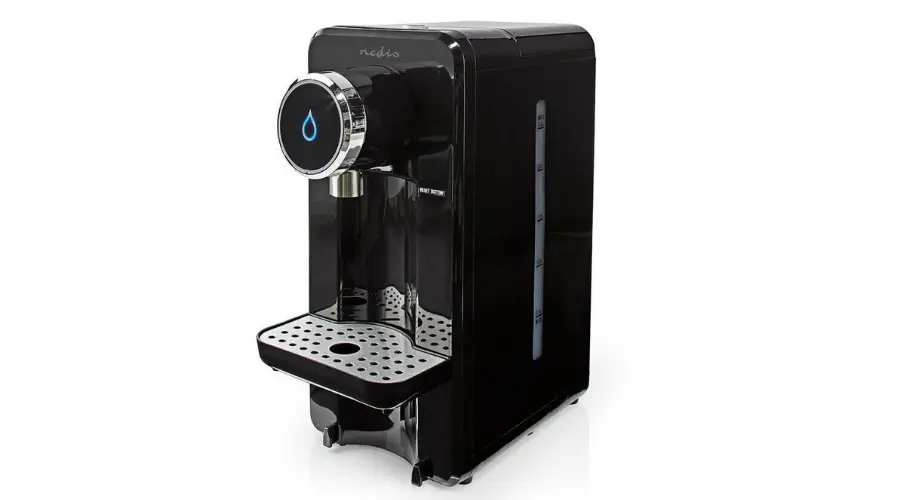 5. Konig KAWD100FBK:
The Konig KAWD100FBK is an electric water dispenser that is perfect for anyone looking for a quick and easy way to get hot water. This energy-saving device can heat water to boiling point in just 5-10 seconds, making it a convenient and efficient appliance for your kitchen or office. You can dispense hot water instantly, whether you want just a cupful or a continuous flow. Plus, you can select between the two options at the touch of a button.
The dispenser features an adjustable height to accommodate different cup sizes, a clear water level window, and indicator lights to alert you when water is running low.
So if you are looking for a fast and convenient way to get hot water, then this electric water dispenser is a great choice.
---
Conclusion
A hot water dispenser is a convenient addition to any home or office. With so many options available, it's important to consider your specific needs and preferences before making a purchase. Whether you're looking for a simple and budget-friendly option or a high-end electric hot water dispenser with all the bells and whistles, there is a model out there for you.
At Idealo, we provide a comprehensive selection of hot water dispensers, making it easy to compare prices and features from a variety of top brands. By using our platform, you can ensure that you're getting the best deal possible on your hot water dispenser.
For more in-depth information on hot water dispensers and other home appliances, be sure to check out the Savewithnerds website. They provide helpful guides, reviews, and product comparisons to help you make informed purchasing decisions. With the right hot water dispenser, you can enjoy the convenience of instant hot water at any time, without the hassle of traditional kettles or stovetop heating methods.
FAQs