Goalkeeper gloves are a critical piece of equipment in the sport of soccer, designed to provide goalkeepers with enhanced grip, protection, and ball control. Typically constructed with latex or other high-grip materials on the palms, these gloves allow goalkeepers to grasp the ball, reducing the risk of slips and improving overall performance. The design often includes padded elements to protect the goalkeeper's hands from impact and abrasion during dives and saves. These gloves come in various cuts, fits, and styles, catering to individual preferences and playing conditions. As an indispensable tool for goalkeepers, these gloves play a pivotal role in their ability to make crucial saves and contribute to the team's defensive efforts on the pitch.
Choosing the Right Goalkeeper Gloves: Hands-On Decision Making
1.   Types of Goalkeeper Gloves:
Training Gloves: Durable and suitable for regular practice, training gloves are designed to withstand repeated use.
Match Gloves: Crafted for game-day performance, match gloves often feature advanced grip technology for better ball control.
All-Weather Gloves: Versatile gloves designed to perform well in various weather conditions, ensuring a reliable grip in rain or shine.
2.   Cut Styles:
Flat Cut: Traditional and offering a comfortable fit, flat-cut gloves have a flat palm with stitched gussets.
Roll Finger Cut: The latex surrounds the fingers, providing a snug fit and increased latex-to-ball contact.
Negative Cut: Offering a close and tight fit, negative-cut gloves have stitched seams on the inside for enhanced ball control.
3.   Grip Technology:
Latex Palm: The palm's material plays a crucial role in grip. Latex palms offer excellent grip but may wear out faster.
Hybrid Cuts: Combining different cut styles, hybrid-cut gloves aim to provide the best of both worlds, balancing fit and grip.
Best Goalkeeper Gloves by SOCCER.COM
1.   Elite Black Real Goalkeeper Gloves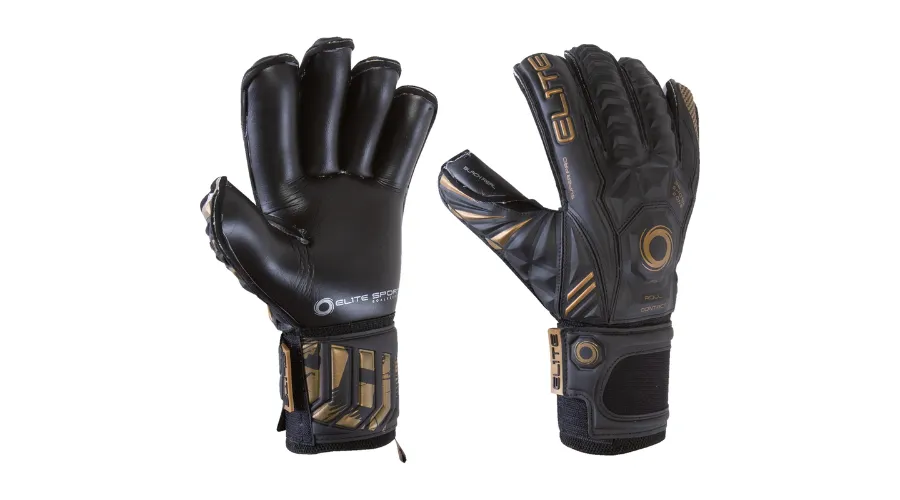 Introducing Elite Black Real Goalkeeper Gloves built for all weather with a strong grip and durability. The 4 mm Ultra GTech Pro Black latex palm, roll-cut fingers, and 3D embossed backhand ensure comfort and toughness. Features like removable finger spines, shock zone technology, and an Air Ventilation Management system provide top-notch performance. The elastic wristband and 360-degree latex strap offer stability, and the rubber pull tab makes adjustments easy.
2.   Nike Match Goalkeeper Gloves – white/black
Nike Match Goalkeeper Gloves in White/Black offer superior performance for training sessions. The soft cushioned foam palm ensures a reliable grip in both wet and dry conditions. With a flat-cut design maximizing latex-to-ball contact, perforations for breathability, and a negative cut thumb, these Nike goalkeeper gloves prioritize comfort and functionality. The reverse stitching on the backhand provides a snug fit, while mesh enhances comfort and airflow. The full-wrap wrist strap ensures an adjustable and stable fit. Crafted from a blend of polyester, latex, EVA, and nylon, these gloves are a versatile choice for goalkeepers.
3.   Nike VaporGrip 3 Dynamic Fit Goalkeeper Gloves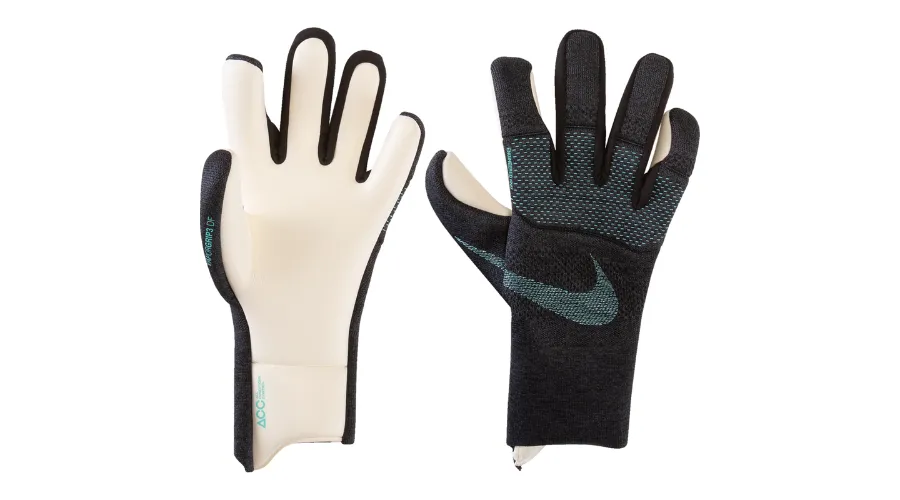 The Nike VaporGrip 3 Dynamic Fit Goalkeeper Gloves elevate control with Grip3 technology and All Conditions Control (ACC) for optimal performance in wet or dry conditions. The 4mm Contact Plus Foam palm ensures heightened reactivity in wet weather. The adjustable wristband allows freer hand movement, and the Grip3 technology foam enhances grip around the thumb, forefinger, and pinkie. Crafted from 50% latex, 47% polyester, and 3% polyurethane, these gloves offer a winning combination of functionality and comfort.
Also Read: Best Online Fashion Store: Affordable Fashion For Everyone
4.   adidas Tiro Pro Goalkeeping Gloves
Step up your goalkeeping game with the Adidas Tiro Pro Goalkeeping Gloves, providing the confidence to stop shots in both training and matches. The palm boasts 3.5mm of grippy latex for a reliable grip, while the negative cut ensures a snug fit. The full-wrap wrist strap adds stability and adjustability. Crafted with a body of polyester/polyethene mesh, these adidas goalkeeper gloves offer a winning combination of comfort and performance, making them a go-to choice for goalkeepers looking to make a statement on the field.
5.   adidas Predator Pro Goalkeeper Gloves – black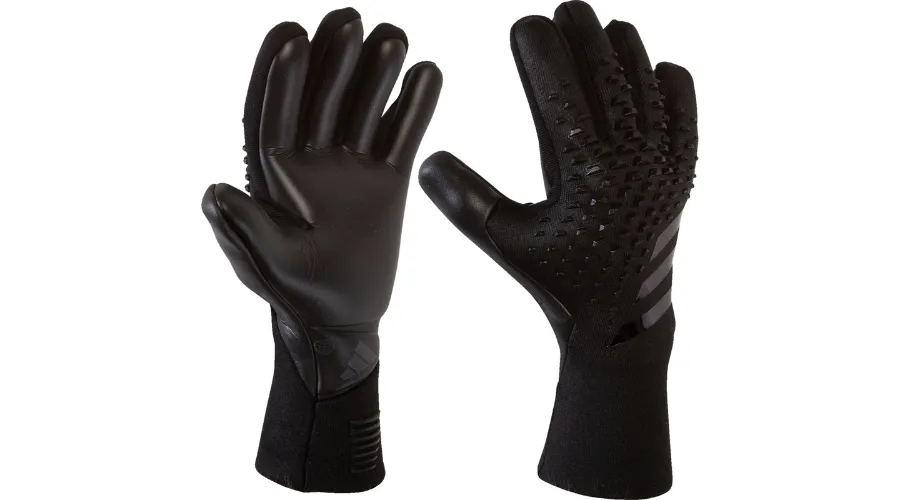 Boost your confidence on the field with the Adidas Predator Pro Goalkeeper Gloves in sleek Black/Black. Versatile for both matches and training on any surface and in any condition, these gloves feature a latex palm for excellent grip and cushioning. The negative cut ensures a snug finger fit, while the flexible backhand, enhanced with a silicone zone skin coating, adds maneuverability. The compressive entry closure delivers a natural, strapless fit to your wrist. Crafted from 91% polyester, 8% elastane, and 1% polyamide for the body, and 53% rubber, 25% polyurethane, and 22% cotton for the palm, these gloves offer a winning blend of comfort and performance.
Grip, Control, Victory: Guarding the Goal with Precision
Superior Grip: High-quality goalkeeper gloves offer an enhanced grip, allowing goalkeepers to securely catch and hold onto the ball, reducing the risk of spills.
Effective Protection: Advanced technologies such as finger saves and impact-resistant materials provide effective protection for the hands, reducing the risk of injuries from powerful shots or collisions.
Durability: Quality gloves are constructed with durable materials, ensuring they withstand frequent use and maintain their performance over time, saving goalkeepers money in the long run.
Comfort: Ergonomic features and breathable materials in top-notch gloves provide a snug yet comfortable fit, allowing goalkeepers to focus on their game without distractions.
Confidence: With improved grip, protection, durability, and comfort, quality goalkeeper gloves contribute to an overall better performance, instilling confidence in goalkeepers to face the challenges of their position.
Conclusion
The world of goalkeeper gloves, as curated by SOCCER.COM, is a realm where precision, performance, and protection seamlessly converge. Whether you're seeking match-ready gloves with cutting-edge latex technology or durable training gloves built for repetitive drills, Soccer.com offers a comprehensive array to suit every goalkeeper's needs. The benefits of enhanced grip, comfort, and durability extend beyond the pitch, providing a tangible advantage to those guarding the goalposts. As guardians of the game, goalkeepers can entrust Soccer.com not just with gloves but with a commitment to quality, ensuring that every save, catch, and throw is executed with the utmost confidence and precision. So, dive into the Soccer.com collection, and elevate your goalkeeping experience with gloves that are not just accessories but indispensable allies in the pursuit of goalkeeping excellence. For more information, visit Savewithnerds.
FAQs