Are you an avid camper who struggles with cooking in the outdoors? If so, gas camping stoves are essential tools that you should carry on your outdoor adventures. Portable and convenient, these stoves allow you to prepare hot meals, brew coffee, or boil water wherever your outdoor trips take you. In this blog, we will explore the highly recommended gas camp stove selection available on Millets, a popular outdoor retailer. Whether you're a pro camper or a beginner, this blog will help you choose the best gas camping stove. We'll also discuss some factors that you should keep in mind while shopping for portable gas camping stoves to get maximum value out of your purchase. 
Factors to consider when shopping for gas camping stoves on Millets
Millets offers a wide range of gas camping stoves. You can easily find the perfect gas stove to meet your camping needs and requirements. When looking for gas camping stoves, consider the following factors:
Portability: Look for a portable that is lightweight and compact, making it easy to carry during your outdoor trips. Give priority to stoves that fold or pack into a small size for convenient transportation.

Fuel Type:

Gas camping stoves

generally use canister fuels, such as butane or propane. Consider the availability and ease of getting fuel canisters in your camping location.

Burner Output: The burner output determines how quickly the stove can heat your food or water. Higher output stoves will cook your meals faster but may also consume fuel more quickly.

Cooking Surface: Depending on your cooking preferences, choose a stove with the appropriate cooking surface. Some stoves have a single burner, while others offer multiple burners or integrated toasters.

Price: Set a budget for your camping stove purchase, considering the features and quality you are looking for. It's recommended to invest in durable and reliable stoves as they are a long-term investment and will stay with you for a couple of years. 
5 Reliable gas camping stoves on Millets for your camping trips
Now that you know what factors to consider when shopping for gas camping stoves on Millets, let's browse through some of their best products:
1. OEX – Heiro Solo Stove
The OEX Heiro Solo Stove on Millets features a compact and lightweight design, perfect for solo campers or backpacking trips. The stove utilises a screw-on gas canister system for easy and quick setup. It's one of the most reliable gas camping stoves that features a high-power output burner for fast cooking times. Additionally, the built-in piezo ignition of this stove eliminates the need for matches or lighters. Another one of its great features is the foldable arms that provide stability for pots and pans during cooking.
---
2. Campingaz – Camp'Bistro Elite Cooking Stove
The Campingaz Camp'Bistro Elite Cooking Stove is a single-burner stove featuring a sleek and modern design. The model comes with a Piezo ignition that allows for hassle-free lighting. It also features a wide and stable base for secure cooking, allowing you to avoid spills or other mishaps. Also, its compact size makes it ideal for campers who are travelling with limited storage space. Additionally, it is compatible with Campingaz CV300 and CV470 gas canisters, making it one of the most popular gas camping stoves on Millets.
---
3. Campingaz – Xcelerate™ 400ST Double Burner Stove and Toaster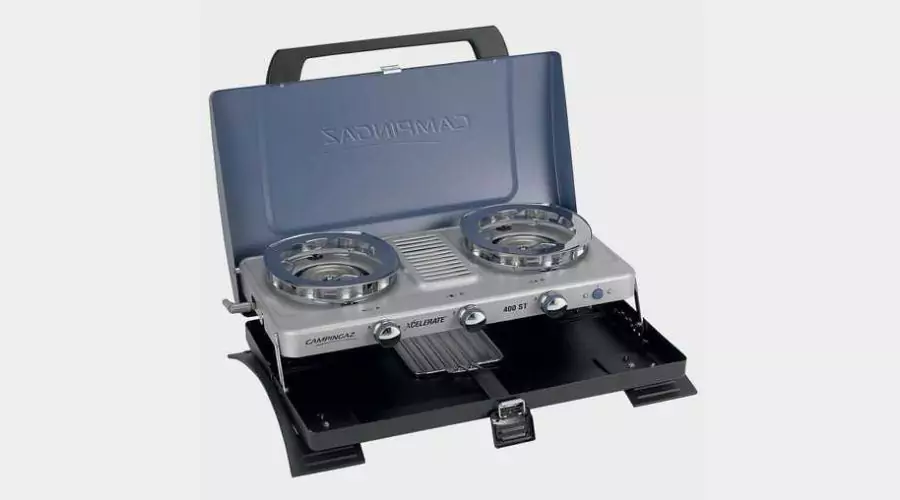 The Campingaz Xcelerate 400ST Double Burner Stove and Toaster is a versatile model that allows for more freedom and features. This dual-burner stove comes with an integrated toaster, making it perfect for cooking multiple dishes simultaneously. Its Xcelerate technology ensures faster boiling and consistent performance, even in windy conditions. Its foldable design with a built-in carry handle allows you to conveniently carry it around. When it comes to the top gas camping stoves on Millets, this model is a top choice for customers.
---
4. OEX – Etna Mini Stove
The OEX Etna Mini Stove is a compact and lightweight stove, making it perfect for backpacking or minimalist camping. A reason why it's one of the most high-performing gas camping stoves is because of its screw-on gas canister system, which makes it easy to set up and use. This stove also boasts a high-power burner for fast and efficient cooking. The foldable design and convenient carry case it comes with allow for easy portability and storage.
---
5. MSR – Pocket Rocket™ 2 Portable Stove
The MSR Pocket Rocket 2 Portable Stove is renowned for its ultralight and compact design, making it ideal for backpackers and hikers. It features durable and sturdy construction to ensure long-lasting performance. In fact, it boils one litre of water in just 3.5 minutes, thanks to its high heat output. Its precise flame settings allow you to cook your meals with control. As one of the most versatile gas camping stoves, it is compatible with a wide range of canister fuels.
---
Conclusion
Investing in a reliable gas camp stove is essential for any outdoor enthusiast. Millets offers a diverse selection of gas camping stoves that cater to various needs and preferences. Whether you're a solo camper or planning a family camping trip, you can find a stove that suits your requirements and budget. With the right gas camping stove, you can enjoy delicious meals and hot beverages during your outdoor adventures. For more such information, visit Savewithnerds.
FAQs