A dog body belt is commonly referred to as a harness. It's a pet accessory designed to secure around the dog's body, providing a comfortable and controlled means of walking them. When it comes to walking your furry companion, selecting a suitable dog harness is essential for both their comfort and your control. With a variety of options available, it can be overwhelming to determine which harness is best for your dog. 
Types of Dog Harnesses
1. Standard Harness
A standard harness is a common choice for many dog owners. It wraps around your dog's chest and back, distributing pressure evenly across its body. This design prevents strain on the neck, making it suitable for dogs that pull during walks or those with respiratory issues. It offers control without the risk of choking, enhancing the safety of your furry friend during outings.
---
2. No-Pull Harness
For dogs that tend to pull on the leash, a no-pull harness is a game-changer. It typically includes a front attachment point, which redirects your dog's attention towards you when they pull. This type of harness is designed to discourage pulling behavior and reduce the risk of injury caused by sudden and forceful movements.
---
3. Step-In Harness
Step-in harnesses are user-friendly and perfect for dogs that dislike having things put over their heads. Your dog simply steps into this harness, and it's then secured around their body. This kind of harness is practical for pet owners because it is simple to put on and take off. It comes in various styles, including vest-style step-in harnesses.
---
4. Vest Harness
Vest harnesses offer more coverage than standard harnesses. They are an excellent choice for dogs that tend to slip out of traditional harnesses due to their body shape or size. Vest-style harnesses are often preferred for small or short-nosed breeds, providing additional security and control.
---
5. Back-Clip Harness
A back-clip harness features a leash attachment point located on the dog's back. This design provides dogs with more freedom of movement and is suitable for well-behaved dogs who don't pull excessively. Back-clip harnesses are comfortable and easy to use, allowing for a relaxed and enjoyable walk.
---
6. Front-Clip Harness
Front-clip harnesses are perfect for dogs still in training or those prone to pulling. The leash attaches in front of the dog's chest, offering better control and discouraging pulling behavior. This design allows you to redirect your dog's movement more effectively, making walks more manageable.
---
The Best Dog Harness for Your Dogs
1. PetSafe Easy Walk Dog Harness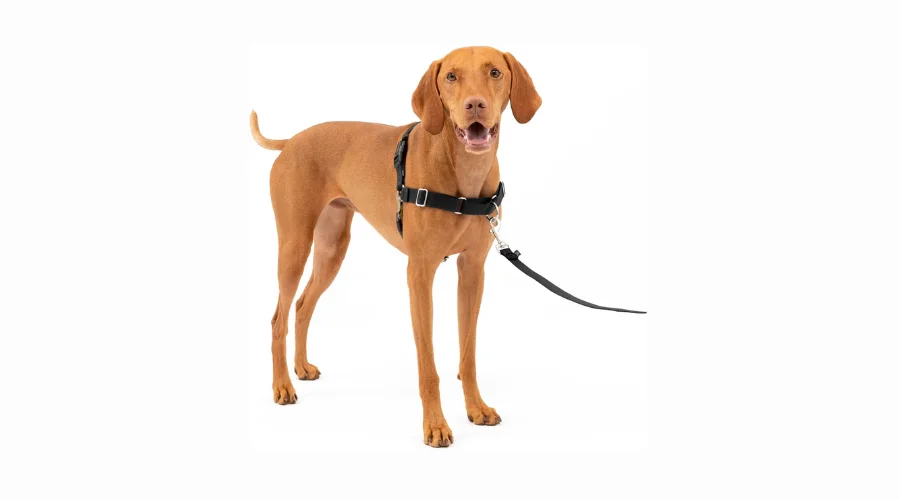 The PetSafe Easy Walk Dog Harness, designed by a veterinary behaviorist in 2004, is a no-pull solution that's perfect for dogs prone to pulling during walks. It comes in a medium size, suitable for dogs with a chest girth ranging from 21 to 32 inches, and is designed to comfortably rest on your dog's chest, preventing choking or gagging. With quick-snap straps for easy fitting and a front leash attachment for guidance, it simplifies walk-time preparations. Plus, its lightweight and breathable construction keeps your canine cool and comfortable during your outdoor adventures, ensuring enjoyable and stress-free walks for both of you.
---
2. PetSafe – easy sport – nylon – reflective back clip dog harness
Get your canine companion geared up for your next adventure with the PetSafe EasySport Nylon Reflective Back Clip Dog Harness. This versatile harness is ideal for active dogs who love running, walking, and hiking. Crafted from durable padded fabric, it offers all-day comfort and is fully adjustable to accommodate dogs of various sizes and shapes. The elastic neckline ensures a snug and effortless fit. With a chest girth range of 29 to 43 inches, it suits large breeds perfectly. The rear leash attachment point keeps your dog's leash out of the way to prevent tripping. For added safety during nighttime outings, the harness features reflective piping, enhancing visibility. Trust PetSafe to keep your furry friend comfortable and safe during your outdoor adventures.
---
3. Kurgo Tru-Fit Enhanced Strength Crash Tested Smart Car Dog Harness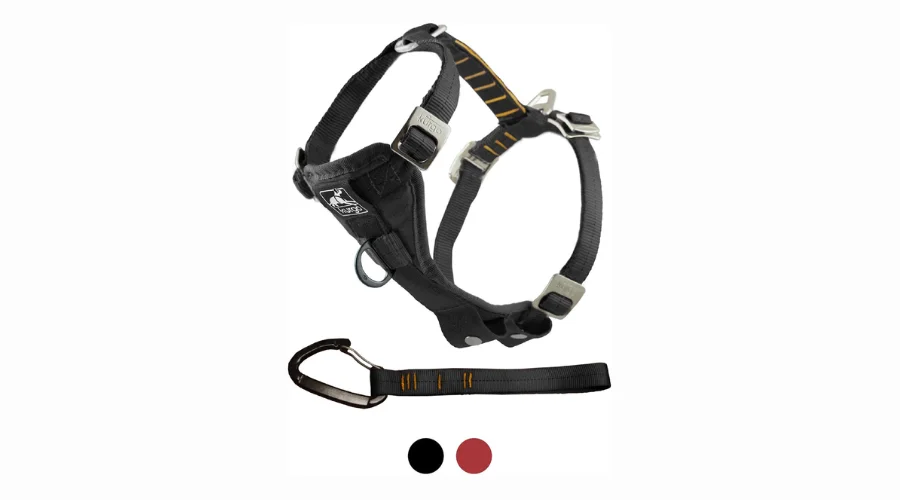 Ensure your dog's safety during travel with the Kurgo Tru-Fit Enhanced Strength Smart Dog Harness, designed for dogs up to 75 lbs. This crash-tested harness features a padded chest plate, a no-pull D-ring, and five adjustment points for a custom fit. It also includes a seat belt loop tether compatible with any car seat belt system, doubling as a short lead for training. With leash attachments on the front and back, this harness offers versatility for walks. For the paw-fect fit, measure your pet before ordering.
---
4. HUGO & HUDSON Easy V Dog Harness
Ensure your furry friend is the talk of the town with the HUGO & HUDSON Easy V Dog Harness, available in various sizes and colours. Crafted from lightweight, breathable, and quick-drying mesh material, this harness prioritizes comfort and durability. Designed to prevent pulling and minimize pressure around your pup's neck, it features a stress-tested rear buckle and soft mesh padding. It can be combined with Hugo and Hudson collars and leads (available separately) to create a cohesive look. Whether you choose bold and bright or opt for a more subdued style, this fetching harness will keep your canine companion looking fashionable and fur-esh all year long. For the optimum fit, don't forget to measure your pup!
---
5. PetSafe Sure-Fit Adjustable Back Clip Dog Harness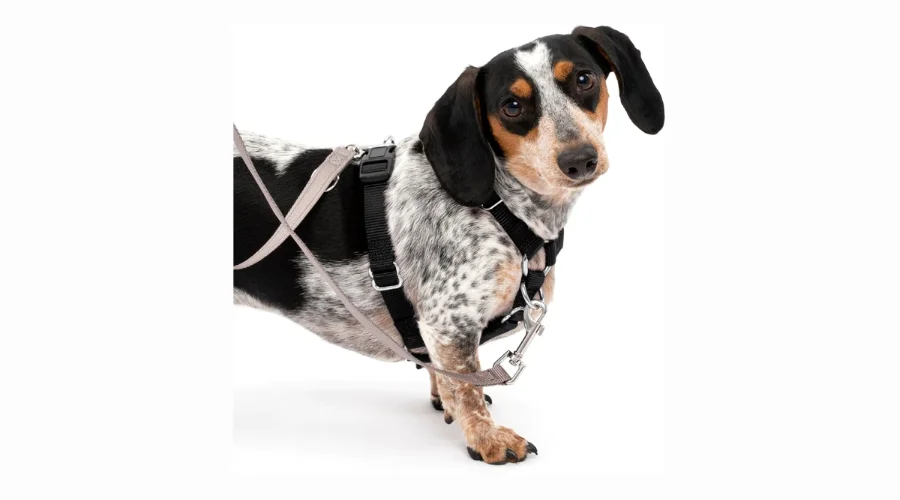 Ensure a comfortable and controlled walk for your pup with the PetSafe Sure-Fit Adjustable Back Clip Dog Harness, designed for larger breeds with chest girths ranging from 28 to 42 inches. This harness offers an adjustable fit at five different points, allowing you to customize it for your furry companion's comfort. With the convenience of two quick-snap buckles, it's easy to put on and take off. Crafted from durable and comfortable nylon, this harness helps distribute pressure more evenly, reducing stress on your pup's throat. Available in two colours and multiple sizes, remember to measure your pet for the perfect fit before heading out on your next adventure!
---
Conclusion, 
Choosing the right dog harness is a crucial decision for both your dog's comfort and your ability to manage them during walks. Consider your dog's size, behaviour, and comfort preferences when selecting the appropriate type of harness. With the right harness in place, you can enjoy safe and enjoyable walks with your four-legged friend. Remember to regularly check the fit and condition of the harness to ensure your dog's well-being. Visit Saveiwthnerds for more information.
FAQs