Hunting is an ancient practice that has evolved over time, and modern hunters rely on various tools and equipment to enhance their skills and efficiency. One such indispensable tool is Binoculars for hunting, which provide hunters with a clearer and closer view of their surroundings. 
Key Features of Hunting Binoculars on BassPro:
Magnification and Objective Lens Diameter:
Binoculars for hunting are identified by two numbers, such as 8×42 or 10×50, which represent their magnification and objective lens diameter, respectively. The first number denotes the magnification power, indicating how many times closer the image appears compared to the naked eye. 
Optics and Lens Coating:
Binoculars for hunting available on BassPro often feature advanced optics and lens coatings to optimize light transmission and minimize glare. These coatings, such as anti-reflective coatings, help to improve image quality by reducing reflections and enhancing contrast. High-quality optics ensure that the image you see through the binoculars is sharp, clear, and true to color, enabling hunters to identify game accurately and assess their size, movement, and distance effectively.
Field of View and Close Focus:
The field of view refers to the width of the area visible through the Binoculars for hunting at a specified distance. A wide field of view allows hunters to scan large areas quickly and track moving targets with ease. Close focus is another important factor to consider, as it determines how close an object can be to the binoculars while still maintaining a clear focus.
Here is a list of Best Binoculars for Hunting that you must have to try:
1. Athlon Midas G2 UHD Binoculars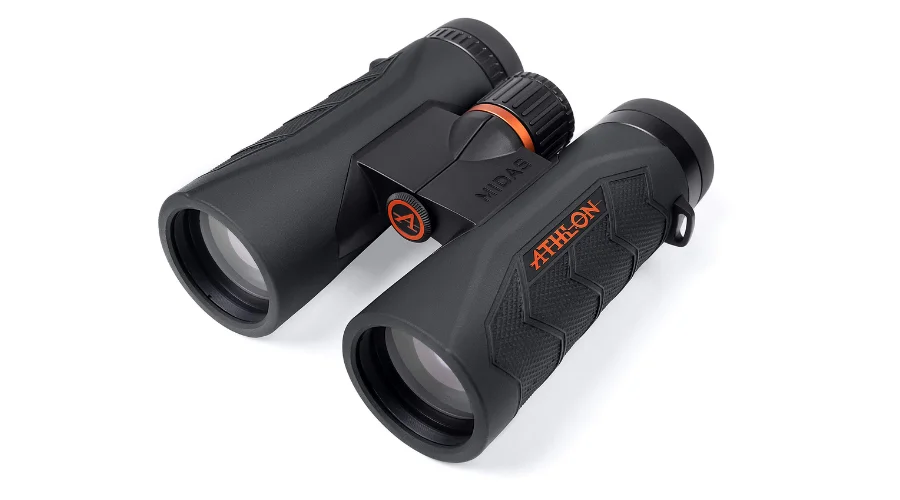 One of the primary reasons hunters choose the Athlon Midas G2 UHD Binoculars is their exceptional optics. The all purpose binoculars feature extra-low dispersion (ED) glass, which significantly reduces chromatic aberration and ensures high-resolution images with accurate color representation. 
This optical quality guarantees that hunters can distinguish subtle details in the surrounding environment, such as the patterns on animal fur or the foliage in dense forests. With a magnification range of 8x to 10x, these binoculars offer a suitable balance between magnification and stability, providing a clear and steady view of targets even from long distances.
Hunting often involves challenging terrains and adverse weather conditions. Athlon Midas G2 UHD Binoculars are built to withstand these harsh environments. The binoculars feature a rugged, lightweight chassis made from magnesium alloy, ensuring excellent durability while keeping weight to a minimum.
---
2. Simmons ProSport Binoculars – 10X
The Simmons ProSport Binoculars – 10X are equipped with high-quality optics, ensuring exceptional clarity and brightness. With a 10X magnification, hunters can effortlessly scan vast terrains and observe distant targets with incredible detail. 
The binoculars' multi-coated lenses reduce glare and enhance light transmission, resulting in sharper images even in low-light conditions. Whether you're tracking game at dawn or dusk, these binoculars will provide a clear and vivid view of your surroundings, giving you a distinct advantage in your hunting pursuits.
Hunting often requires surveying expansive landscapes, making a wide field of view crucial for spotting game and assessing the environment effectively. Simmons ProSport Binoculars – 10X offer an impressive field of view, allowing hunters to survey larger areas without sacrificing clarity.
---
3. Bushnell All-Purpose Binoculars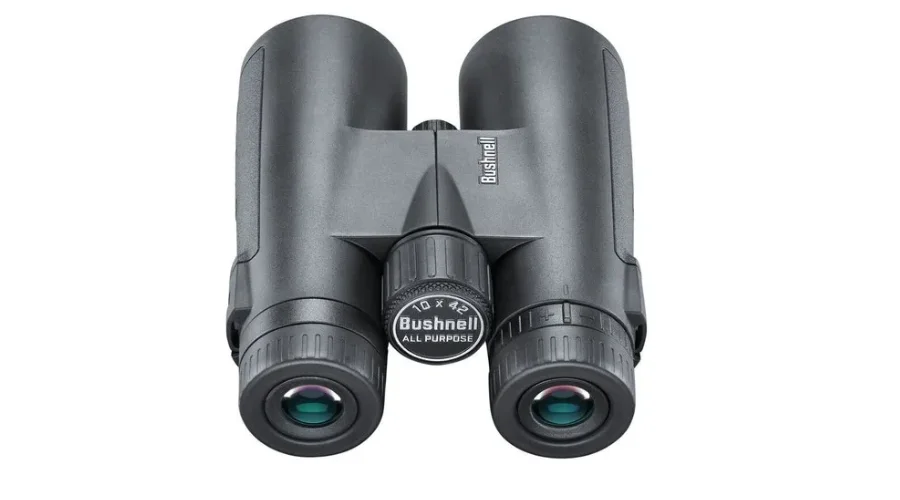 One of the key features that make the Bushnell All-Purpose Binoculars a go-to option for hunters is their superior optics. These binoculars boast high-quality lenses, coated with multiple layers to ensure optimal light transmission and minimal glare. 
The enhanced optics contribute to increased clarity, sharpness, and color accuracy, enabling hunters to identify targets more effectively. With the Bushnell All-Purpose Binoculars, hunters can effortlessly spot game from a distance, providing a significant advantage in the field.
The Bushnell All-Purpose Binoculars offer various magnification options, allowing hunters to choose the ideal setting based on their specific needs. Higher magnification is beneficial for long-range scouting, whereas lower magnification offers a wider field of view, ideal for tracking moving targets.
---
4. Vortex Diamondback Binoculars – 10x42mm
One of the most crucial aspects of any binoculars, especially for hunting purposes, is the quality of optics. The Vortex Diamondback Binoculars boast superior optics, providing hunters with a clear and sharp view of their surroundings. With a magnification power of 10x and a 42mm objective lens diameter, these binoculars offer an optimal balance between a close-up view and a wider field of vision, enabling hunters to spot targets effectively.
Hunting often takes place in challenging environments, which can subject equipment to rough handling and harsh conditions. The Vortex Diamondback Binoculars are constructed with durability in mind, ensuring they can withstand the rigors of the hunt. Featuring a rugged, rubber armor coating, these binoculars offer a secure grip and protection against impacts, making them suitable for use in various terrains and weather conditions.
---
5. Leupold BX-1 McKenzie HD Binoculars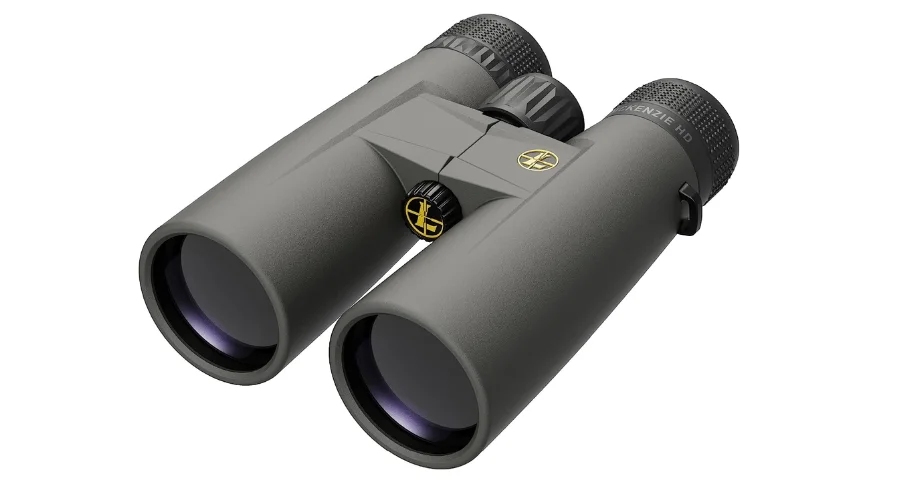 The primary purpose of binoculars for hunting is to provide clear and detailed images of distant objects. The Leupold BX-1 McKenzie HD Binoculars excel in this regard, featuring high-definition lenses that deliver exceptional clarity and color fidelity. 
These lenses minimize chromatic aberration, resulting in sharp and vibrant images across the entire field of view. For hunters, this means being able to spot game animals with greater accuracy and clarity, even in challenging lighting conditions.
Hunting often takes place during low-light conditions, such as dawn or dusk, when game animals are most active. The Leupold BX-1 McKenzie HD Binoculars are designed to excel in such situations, thanks to their impressive light transmission capabilities.
---
Conclusion
Hunting binoculars provide detailed and magnified views, enabling you to identify and assess potential targets accurately. You can observe key features, such as antler size, body structure, or distinguishing marks, to determine if the game meets your hunting requirements or regulations. For more information, visit Savewithnerds.
FAQ