Rimfire rifles are a popular choice among shooting enthusiasts, offering a cost-effective and enjoyable shooting experience. Among the leading retailers of firearms and outdoor equipment, BassPro stands out as a go-to destination for rimfire rifles and related accessories.
Advantages of Rimfire Rifles
Affordability: Rimfire ammunition is significantly cheaper than centerfire ammunition, making it more accessible to shooters, especially those on a budget or those who want to practice regularly without breaking the bank.
Low Recoil: Rimfire rifles generally have lower recoil compared to centerfire rifles, making them ideal for beginners, youth shooters, and those who may be sensitive to heavy recoil.

Versatility: Rimfire rifles are available in various calibres and configurations, allowing shooters to choose from a wide range of options to suit their needs, whether it's plinking, target shooting, small game hunting, or competitive shooting.

Quiet Operation: Rimfire rifles are relatively quieter than their centerfire counterparts, making them suitable for shooting in environments where noise restrictions may apply.

Fun and Enjoyment: The lower cost and manageable recoil of rimfire rifles contribute to a more enjoyable shooting experience, encouraging shooters to spend more time honing their skills on the range.
Here is a list of the best rimfire rifles on BassPro
1. Smith & Wesson M&P 15-22 Sport Rimfire Rifle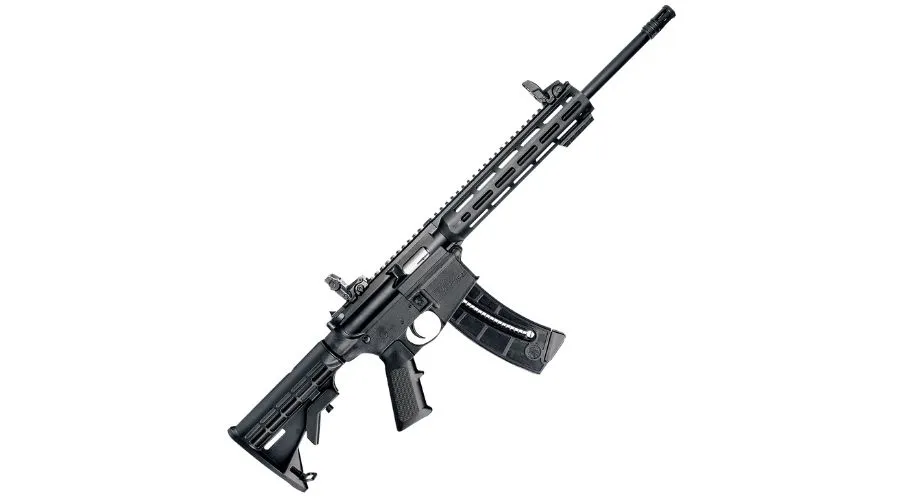 The M&P 15-22 Sport Rimfire Rifle borrows its design cues from the highly successful Smith & Wesson M&P15 rifle series, which is known for its reliability and durability. This rimfire variant replicates the look and feel of an AR-15 platform, allowing users to gain familiarity with the popular rifle layout. The rifle features a lightweight polymer frame, making it easy to handle and manoeuvre.
Chambered in .22 LR, the M&P 15-22 Sport Rimfire Rifle offers the benefits of rimfire ammunition. The .22 LR is a widely available and cost-effective calibre, making it an ideal choice for plinking and target shooting. The affordability and reduced recoil of rimfire ammunition allow users to engage in extended shooting sessions without breaking the bank or experiencing significant fatigue.
---
2. Ruger 10/22 Carbine Semi-Auto Rimfire Rifle with Viridian Scope
The Ruger 10/22 Carbine Semi-Auto Rimfire Rifle with Viridian Scope delivers exceptional performance in various shooting applications. Its semi-automatic action enables rapid follow-up shots, making it an excellent choice for plinking or engaging multiple targets quickly. Moreover, the rifle's lightweight design, comfortable ergonomics, and manageable recoil make it suitable for shooters of all experience levels.
The popularity of the Ruger 10/22 Carbine can be attributed to its versatility. It is widely used for recreational shooting, including target practice, varmint control, and small-game hunting. The affordability of rimfire ammunition, coupled with the rifle's reliability, further contributes to its popularity among shooters who enjoy spending hours at the range or exploring the outdoors.
---
3. Henry Classic Lever-Action Rimfire Rifle – .22 Long Rifle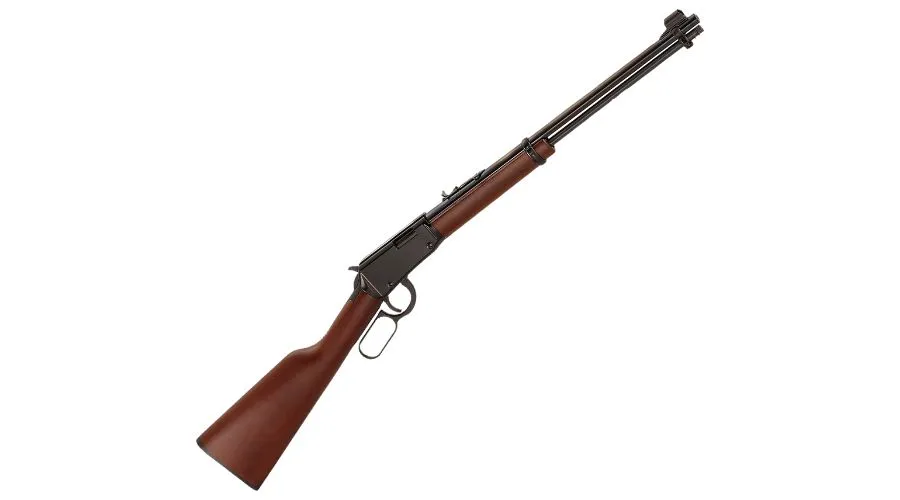 The Henry Classic Lever-Action Rimfire Rifle exhibits a blend of classic styling and modern engineering. Its lever-action mechanism, which has been a trademark of Henry rifles since the 1860s, allows for rapid follow-up shots while maintaining a compact profile. The rifle features a tubular magazine that resides beneath the barrel, offering a capacity of 15 to 18 rounds depending on the model.
The .22 Long Rifle calibre, often referred to as the rimfire cartridge, is widely recognized for its affordability, versatility, and low recoil. Its popularity stems from its availability and suitability for various shooting applications, including plinking, target practice, small game hunting, and pest control. 
The rimfire ignition system involves the firing pin striking the rim of the cartridge case, igniting the priming compound contained within. This simple and effective design allows for cost-effective production and consistent ignition.
---
4. Savage Arms 93R17 FV-SR Bolt-Action Rimfire Rifle
The Savage Arms 93R17 FV-SR features a bolt-action mechanism, which ensures reliable and precise cycling of the rimfire cartridges. The bolt-action design provides excellent accuracy and allows for quick follow-up shots.
Chambered in .17 HMR (Hornady Magnum Rimfire), the 93R17 FV-SR delivers outstanding performance with its high-velocity rimfire ammunition. The .17 HMR cartridge offers flat trajectories, minimal wind drift, and excellent terminal ballistics, making it suitable for small game hunting and varmint control.
One of the standout features of the Savage Arms 93R17 FV-SR is its AccuTrigger system. This user-adjustable trigger allows shooters to customize the trigger pull weight to suit their preferences, enhancing both safety and accuracy. The AccuTrigger ensures a crisp and clean break, promoting consistent shot placement.
---
5. Chiappa Firearms Little Badger Folding Rifle with Scope
The Little Badger is chambered in various rimfire calibres, including .22 LR, .22 WMR, and .17 HMR. These calibres are known for their affordability, low recoil, and availability, making the Little Badger an ideal choice for plinking, target shooting, and small game hunting.
The rifle's folding design allows it to collapse into a compact size, making it easy to carry and store. The wire stock folds neatly under the barrel, reducing its overall length to just 17 inches when folded. This feature is especially advantageous for shooters who value portability and space-saving.
The Little Badger comes equipped with an integral rimfire rifle scope mount located on top of the barrel. This allows users to easily attach a scope or optic of their choice, enhancing accuracy and target acquisition. The inclusion of scope makes it suitable for precision shooting applications and increases versatility in various shooting scenarios.
---
Conclusion
Rimfire rifles, with their rich history and diverse applications, hold a significant place in the world of firearms. BassPro offers an extensive selection of these rifles, making it a go-to destination for both seasoned shooters and novices alike. The platform ensures quality and reliability, stocking products from trusted manufacturers, and providing detailed information to help you make an informed decision. So whether you're a hunter, a sport shooter, or simply a firearm enthusiast, BassPro is your ultimate destination for exploring and purchasing rimfire rifles. For more information visit the official website of Savewithnerds.
FAQ's