Tower fans are a popular choice for house cooling due to their thin appearance and ability to circulate air efficiently around a space. To find the best tower fan, we collected a list of the best tower fans from Dunelm, a renowned home furnishings company in the UK, in this post. These fans were carefully chosen based on their performance, features, and user feedback.
Whether you want to combat the summer heat or just increase air circulation in your house, our list will provide you with the best tower fan options. Dunelm is recognised for manufacturing high-quality household equipment, and these tower fans are no exception. They are excellent for a wide range of cooling demands due to features such as variable speed settings, remote control, and energy-efficient operation.
Here is a list of the 5 best tower fans by Dunelm
1. Honeywell White QuietSet Tower Fan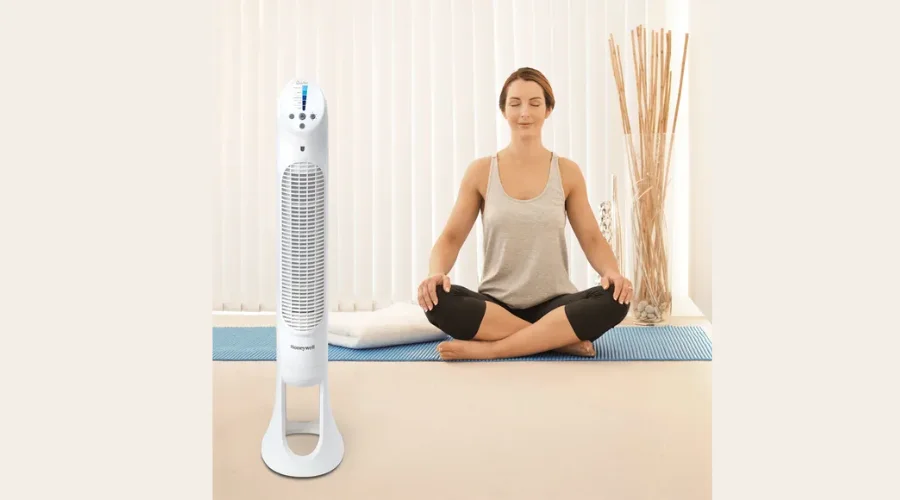 The Honeywell QuietSet Tower Fan can keep you comfortable and cool during the summer heat. It is undoubtedly one of the best tower fans in the market. This powerful and attractive fan has five-speed settings and a 1.8m cord length, making it ideal for usage in any space. You may quickly modify the settings to your taste thanks to the convenience of a joystick and a carry handle.
The fan also has an oscillation feature of 80 degrees, which aids in airflow circulation and provides a larger range of cooling coverage. You may set the fan to shut off after 1, 2, 4, or 8 hours using the automated dimming choices and timer, making it ideal for use while sleeping. The QuietSet Tower Fan has a sound level of about 48dB, making it ideal for use in bedrooms or other peaceful areas. The strong base keeps the fan in place, and the mains power supply keeps it ready to use at all times. Many people consider this the best cooling tower fan ever.
Also read : Must-Buy Corner Sofa Bed from Dunelm
---
2. Princess Black Smart Tower Fan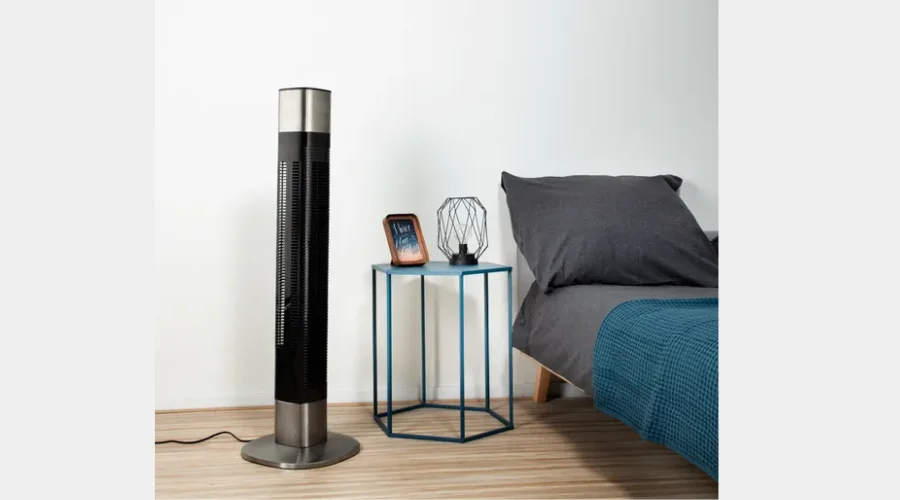 The Princess Black Smart Tower Fan can keep your area cool and comfortable. With a slender design that fits in perfectly, this sleek and trendy fan is excellent for any space in your house. It has three speed settings, allowing you to select the ideal degree of airflow for your requirements. The fan is simple to use, with a 1.18m cable length and an oscillating feature that enables you to direct the airflow where it is most needed.
However, this fan isn't just fashionable; it's also practical. You may use your smartphone to operate it, or you can utilize voice control with the Home Wizard Climate App and Google Assistant/Amazon Alexa. It also features a built-in timer and a mains power source, allowing you to configure it to turn off when you wish, allowing you to sleep soundly without worrying about turning it off. The Princess Black Smart Tower Fan is both safe and efficient, thanks to its digital operation and bladeless construction, making it the ideal choice for keeping you cool this summer.
---
3.  Status 29 Inch Tower Fan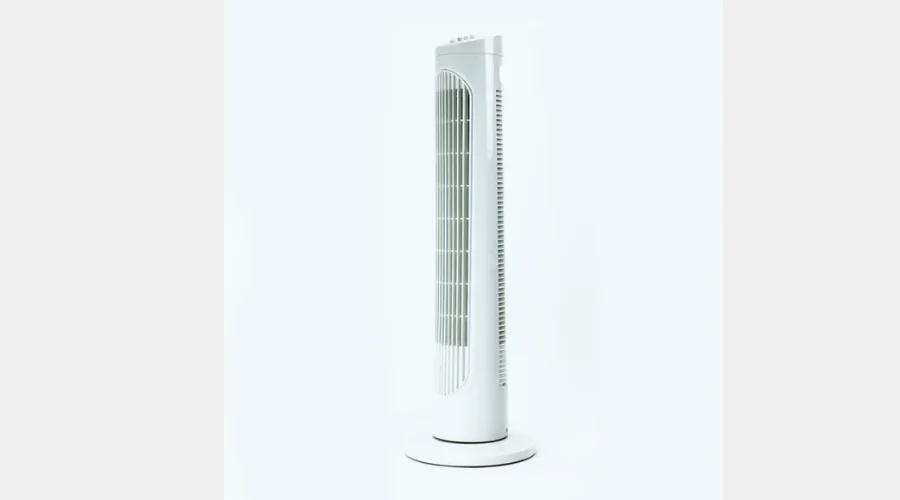 The Status 29-inch tower fan is a stunning and adaptable addition to any house. Its high gloss finish and portable form make it an ideal addition to any area. This fan has three fan speeds to accommodate your chosen degree of circulation, and the oscillation feature promotes uniform air dispersion throughout the space.
In addition to its features, the Status tower fan has a handy timer. You can effortlessly regulate when the fan shuts apart without needing to manually switch it off by setting the timer for up to 120 minutes. This fan is both energy efficient and safe to operate, with a power of 50W and an electrical certification of Class 2. The Status 29-inch tower fan will improve the convenience and comfort of your house.
Also read : Top 5 Dunelm Cushions to add Colourful Vibe to your Living Room
---
4. Russell Hobbs Black Retro PTC Tower Fan Heater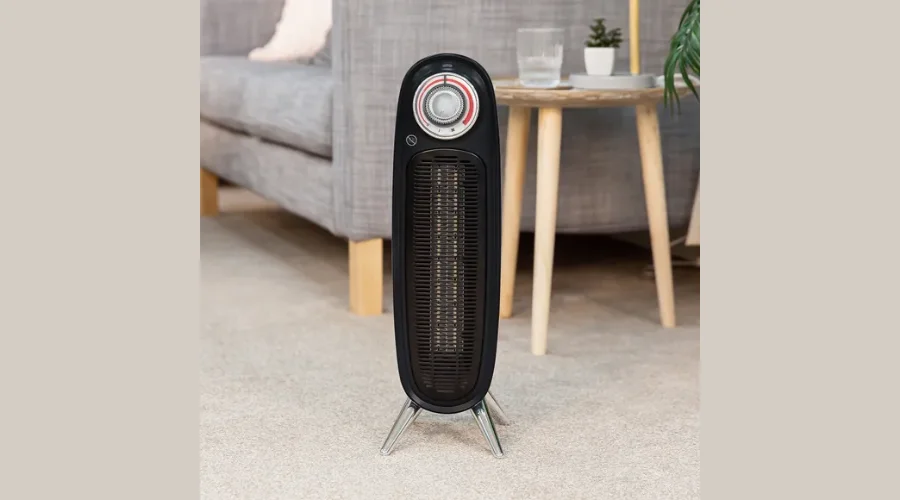 The Russell Hobbs Black Retro PTC Tower Fan Heater will keep you toasty and fashionable. This heater, with a peak heat production of 2000W, is ideal for heating a space up to 20m2. The variable temperature thermostat lets you set the temperature to your preference, while the PTC heating element transforms energy into heat effectively. This is also considered the best tower fan by many people. It features a fan-only option in addition to its heating abilities, making it suitable for use all year.
In addition, with a 2-year warranty, you may be certain of its longevity.  The Russell Hobbs Black Retro PTC Tower Fan Heater is a handy and cost-effective alternative for staying warm and comfortable, with an estimated running cost of 68p per hour.
Also read : Explore The Best Jute Rugs That You Cannot Afford To Miss
---
Conclusion
After investigating and examining the top five market possibilities, it is evident that is no best tower fan as every one of these fans has its own set of features and benefits. We propose Savewithnerds to individuals who wish to save money and time in their quest for the greatest lifestyle items. They gave detailed descriptions and rankings of the top items in numerous categories, allowing you to make an informed purchase without spending hours researching by yourself.
FAQ's