When it comes to providing the purr-fect environment for your feline friend, cat trees have become increasingly popular. But are cat trees genuinely good for cats, or are they just another trendy pet accessory? Chewy understands the diverse needs and preferences of cat owners and their feline companions. They offer a wide range of cat trees with various sizes, designs, and features, making it easy for pet parents to find the perfect fit for their cats and living spaces. Whether you have an active climber, a lounging lap cat, or a playful explorer, Chewy's selection of cat trees ensures there's an option that aligns with your cat's personality and needs.
What is a Cat tree?
A cat tree, also known as a cat condo or cat tower, is a piece of furniture designed specifically for cats. It typically consists of a tall structure made of various materials like wood, carpet, sisal rope, and sometimes plastic or metal. Cat trees are designed to provide a variety of activities and spaces for cats to engage in natural behaviors such as climbing, scratching, hiding, and lounging.
The best cat trees for your pets
1.   Yaheetech 79-in plush cat tree & condo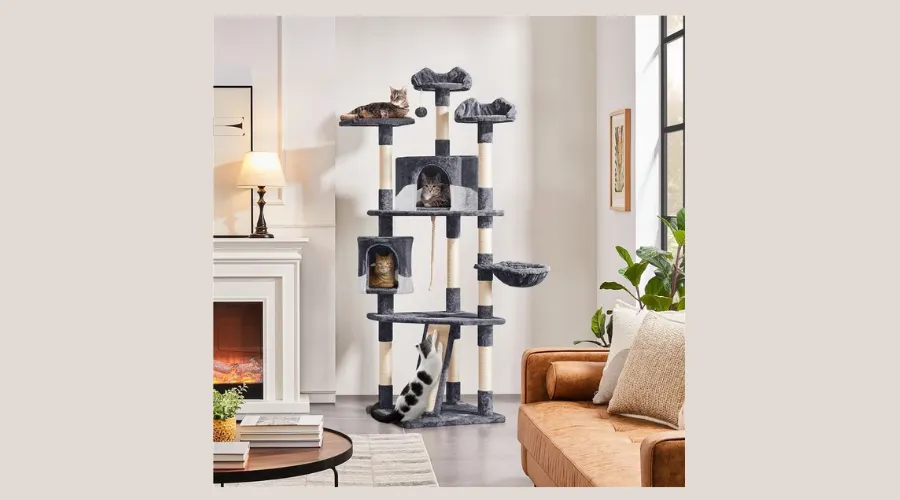 With the Yaheetech 79-in plush cat tree and condo, a multi-level cat tower intended to accommodate two or three adult cats for climbing, playing, and sleeping, you can treat your cherished feline friends like VIPs. It offers three comfortable perches for lounging, two cozy condos, and a plush basket for cat napping. The activity center boasts nine scratching posts to promote positive scratching behavior, and there's a corrugated sisal ramp and a dangling sisal rope for additional scratching and play options. Crafted from high-density particle board, this cat tree prioritizes safety during leaps and pounces, ensuring a deluxe and secure play experience for your cherished feline friends.
2.   Frisco 65-in real carpet wooden cat tree
Indulge your cat in pure luxury with the Frisco by Chewy four-platform cat tree, skillfully handcrafted in the USA with solid wood posts for a robust construction, wrapped in sumptuous household-grade carpet that cats adore for its plush texture. With its four levels providing ample space for lounging, playing, and napping, this cat tree ensures endless feline enjoyment. The included sisal rope scratching post encourages healthy scratching habits while offering a constructive alternative to your furniture. Assembly is a breeze with no tools required, allowing your kitty to start climbing and exploring in no time. Additional specifications include a weight of 54 pounds, dimensions of 20 x 24 x 65 inches, and a free-standing mount type. The frame material consists of solid wood, while the cover material includes carpet, sisal, and plant material.
3.   Frisco 48-in faux fur cat tree & condo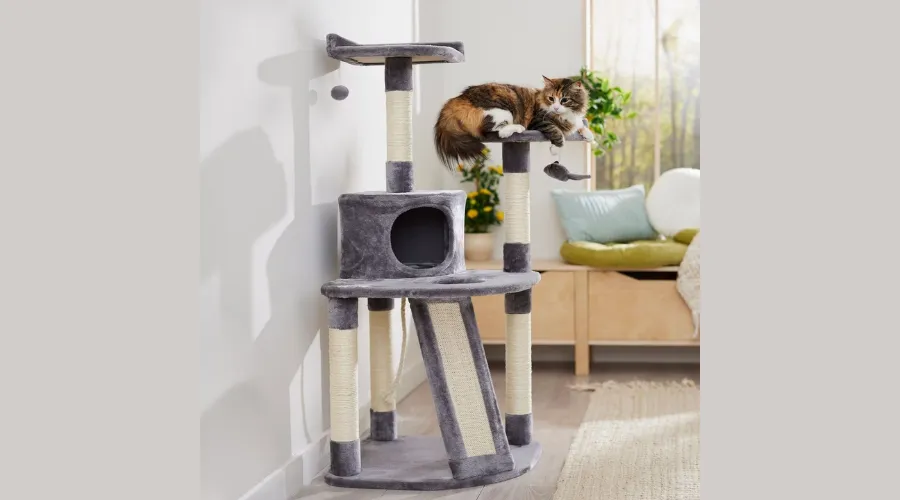 The Frisco by Chewy large-base cat tree is the ultimate playground for your kitty, offering a versatile space for lounging, leaping, and playing. It includes dangling toys for safe hunting-style play, five scratching posts, a scratchboard ramp for multi-cat households, and a cozy private kitty apartment with soft plush fabric. Designed for adult cats, it weighs 32.63 pounds, measures 25.98 x 25 x 48.03 inches, and is made from engineered wood, wood, faux fur, sisal, plant material, and synthetic fabric. Assembly is required with included tools, and also features one condo, two perches, and five scratching posts. Approved by pet experts at Chewy, it promises more enjoyable moments for you and your cat.
4.   Mau lifestyle cento 46-in modern wooden cat tree & condo
Mau lifestyle cento 46-in double branch cento cat tree is designed for the modern pet parent, boasting a sleek, minimalist design that effortlessly complements any decor. Handmade with real tree branches treated for durability, it offers a unique and stylish aesthetic. Your furry companion can choose from two woven baskets with removable, washable cushions for optimal comfort and observation points, while a cushioned cat cave provides a cozy hideaway when privacy is desired. To keep her entertained, the tree features two pom-poms and two scratching posts, ensuring she has a productive outlet for scratching. This cat tree, weighing 37 pounds and measuring 18 x 24 x 45.5 inches, is constructed with a solid wood frame, faux fur, and synthetic fabric cover material. It's suitable for adult cats weighing up to 30 pounds, offers free-standing mounting, and requires assembly with tools included.
5.   Yaheetech cat scratching tree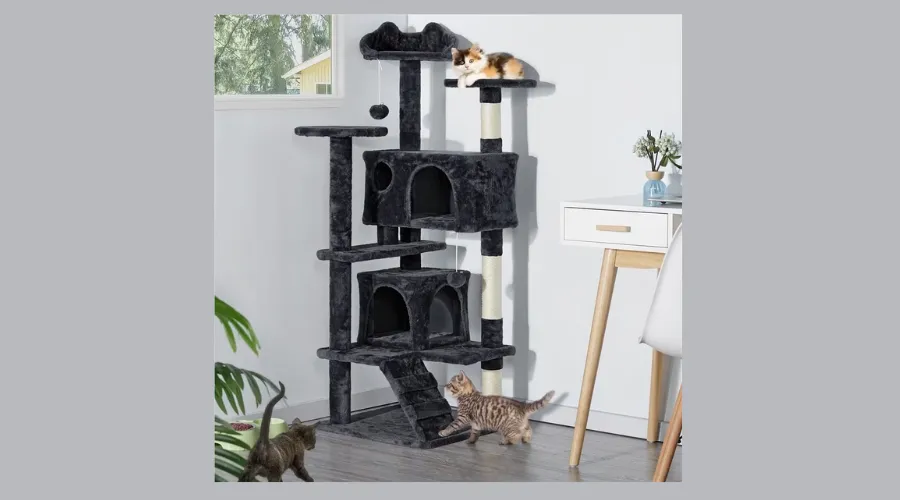 Provide your beloved feline companions with their own cozy haven using the Yaheetech 54.5-in cat scratching tree, tailored for families with multiple cats. Ideal for kittens and small to medium-sized breeds like Siamese cats, Exotic shorthairs, Devon Rexes, and Abyssinians, this cat tree offers them a comfortable abode for climbing, playing, scratching, and enjoying some solitude. Featuring two enclosed condos with doors and windows for hiding, three perches for observation, and three sisal rope coiled posts to encourage healthy scratching habits, it caters to their diverse needs. Additionally, it comes with a safety strap for wall attachment, ensuring your cats' safety when leaping from the tree. This cat tree, weighing 31.31 pounds and measuring 19.5 x 19.5 x 54.5 inches, is constructed with engineered wood and wood materials, suitable for adult cats weighing up to 44 pounds. It is free-standing and requires assembly, with tools included, offering a perfect alternative to keep your cats from scratching your furniture.
Conclusion
Cat trees are indeed good for cats and offer a multitude of benefits for their physical and mental well-being. When choosing a cat tree, consider factors like size, materials, stability, and entertainment features to provide your cat with a stimulating and enjoyable environment. With Chewy's extensive range of cat trees, you can find the ideal one that suits your cat's unique preferences, helping them lead a happy and healthy life filled with feline-friendly fun. Visit Savewithnerds for more information on cat trees.
FAQs