Adobe Substance 3D Painter is a powerful software tool designed for 3D artists and designers to create, texture, and render realistic 3D models. With its advanced features and intuitive interface, Substance 3D Painter has become an essential tool in the field of 3D design.
Benefits of Adobe Substance 3D Modeler
I. Enhanced Texturing Capabilities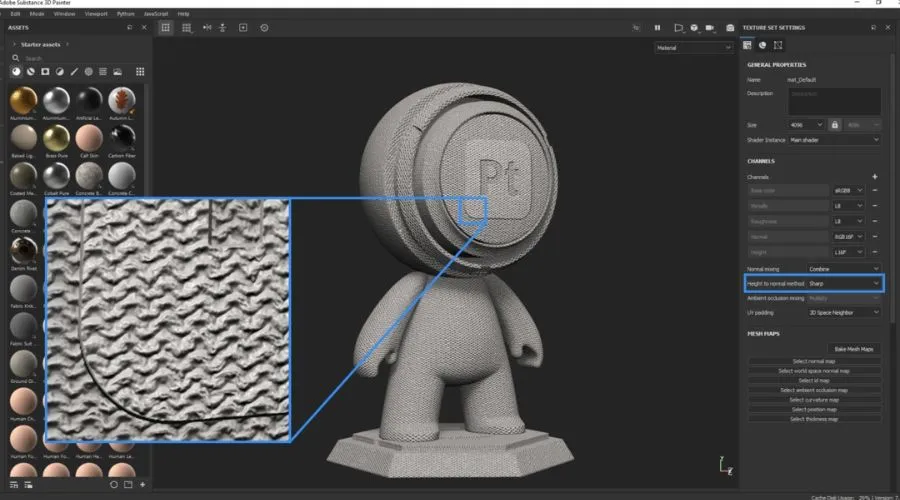 Adobe Substance 3D Painter offers a wide range of features that greatly enhance the texturing process for 3D models. The software provides a vast library of materials, textures, and effects, allowing artists to create highly detailed and realistic surfaces. Users can apply various procedural textures such as scratches, dirt, and grime, or import custom textures to achieve desired effects. Substance 3D Painter also supports the creation of complex materials with multiple layers, making it easy to achieve realistic results.
---
II. Intuitive Interface and Workflow
One of the major advantages of Adobe Substance 3D Painter is its user-friendly interface, which streamlines the texturing workflow. The software provides a real-time 3D viewport, allowing artists to see their changes instantly. The intuitive interface enables users to easily navigate through different layers, channels, and texture sets, making it efficient to work on complex projects. With its drag-and-drop functionality, Substance 3D Painter simplifies the process of importing and exporting textures, improving productivity and saving valuable time.
---
III. Compatibility and Integration
Adobe Substance 3D Painter seamlessly integrates with other industry-standard software, making it an ideal choice for professionals working in various pipelines. The software supports popular file formats such as FBX, OBJ, and Alembic, enabling easy import and export of 3D models. Substance 3D Painter is compatible with other Adobe Creative Cloud applications, such as Photoshop and Dimension, allowing for a smooth transition between different tools in the design process. This integration enhances the overall efficiency and flexibility of the workflow.
---
IV. Realistic Rendering and Visualization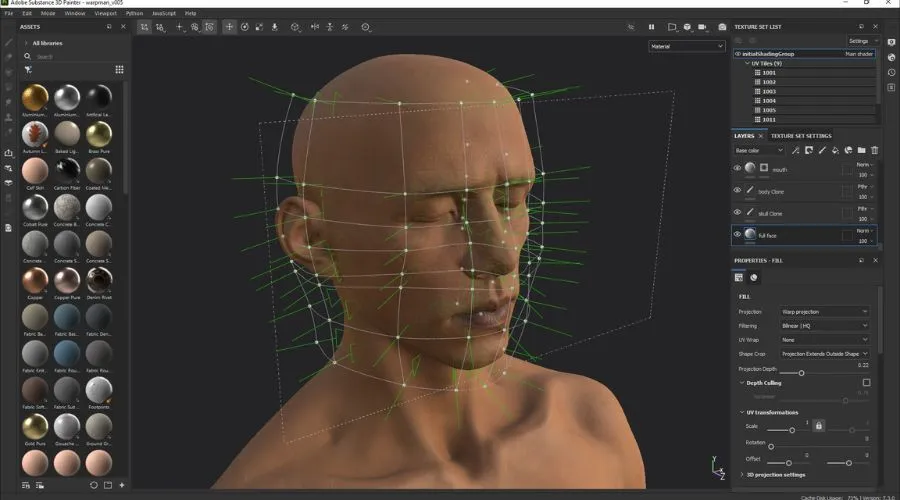 With its advanced rendering capabilities, Adobe Substance 3D Painter provides realistic visualization of textures and materials. The software utilizes physically based rendering (PBR) techniques, accurately simulating the behaviour of light on different surfaces. This allows artists to preview and adjust their textures in real time, ensuring that the final result matches their vision. Substance 3D Painter also supports the creation of custom shaders and material presets, offering a high level of control over the final look of the 3D model.
---
V. Extensive Community and Resources
Adobe Substance 3D Painter benefits from a vibrant and active community of artists and designers. The software has gained popularity in the industry, leading to the creation of a supportive community that shares tutorials, tips, and resources. Artists can access a wealth of learning materials, including video tutorials, documentation, and forums, to expand their skills and knowledge. This community-driven aspect of Substance 3D Painter ensures that users have ample resources to learn, grow, and stay up-to-date with the latest trends in 3D design.
---
Features of Adobe Substance 3D Painter
Advanced Brush System: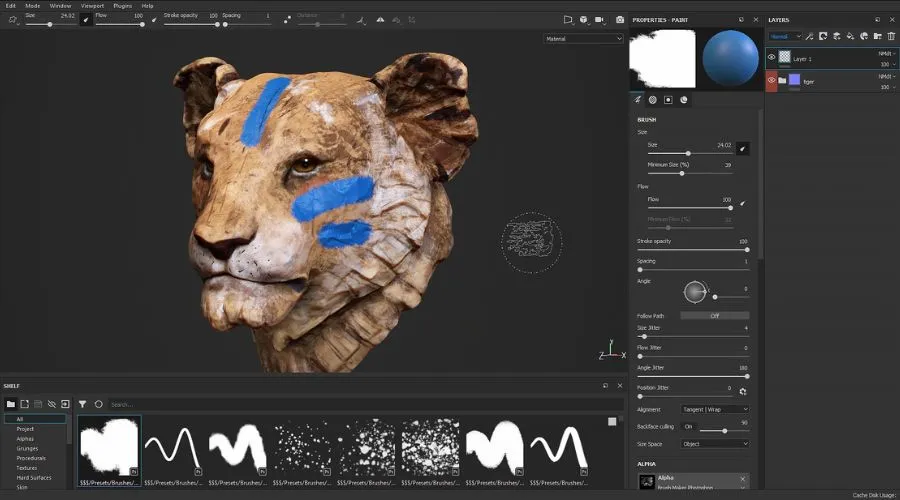 The brush system in Adobe Substance 3D Painter is a versatile tool that allows artists to apply textures with precision and control. The software offers a wide variety of brush types, including standard brushes, particle brushes, and projection brushes. These brushes can be customized with different effects, such as colour variation, rotation, and scaling, enabling artists to achieve intricate and detailed textures. The stroke engine in Adobe Substance 3D Painter ensures smooth and natural brush strokes, enhancing the overall quality of the textures.
---
Texture Baking:
Texture baking is a crucial process in 3D design that involves transferring high-resolution details from a high-polygon model to a lower-polygon model. Adobe Substance 3D Painter simplifies this process with its texture-baking feature. Users can generate and export high-quality texture maps, such as normal maps, ambient occlusion maps, and curvature maps, to be applied to their low-polygon models. This not only improves the performance of the 3D models but also allows for efficient rendering and optimized workflows.
---
Smart Materials and Masks: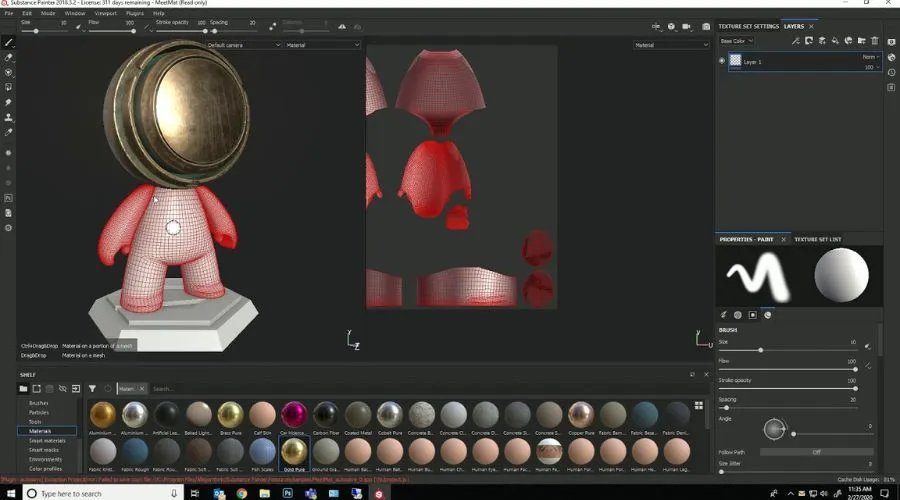 Adobe Substance 3D Painter incorporates smart materials and masks, which significantly streamline the texture creation process. Smart materials are pre-built material presets that automatically adapt to the underlying geometry, providing realistic texture effects. Masks, on the other hand, allow users to control the distribution of materials and effects on their models. With masks, artists can selectively apply and modify textures, creating intricate patterns, weathering effects, and more. These features enhance productivity and give artists greater control over their designs.
---
Real-time PBR Viewport:
Adobe Substance 3D Painter offers a real-time Physically-Based Rendering (PBR) viewport, allowing users to see their textures and materials accurately rendered in real time. This feature enables artists to make immediate adjustments and see the results instantaneously, eliminating the need for time-consuming test renders. The real-time PBR viewport provides a more interactive and immersive experience, helping artists achieve their desired visual outcome efficiently.
---
Conclusion
Adobe Substance 3D Painter offers numerous benefits to 3D artists and designers. From its enhanced texturing capabilities to its intuitive interface and seamless integration, Substance 3D Painter empowers users to create highly detailed and realistic 3D models. Its advanced rendering features, compatibility with other software, and supportive community further enhance its appeal. For more information visit the official website of Savewithnerds.
FAQs