If you have ever spent time pondering how to stay successful in predator hunting? Then you're in the right place in discovering some amazing predator calls that have revolutionized staying on zenith while hunting or locating predators. Since predators are by nature designed to hunt, they are not just ferocious but have sharp hunting techniques that can be tremendously detrimental to hunters. These predator calls come in handy particularly to keep yourself alert from being prey, to keep your livestock protected, or get the best hunting experience. 
There are different species of animals that fall under the category of predators. Most of these animals are extremely dangerous, and since they are designed to kill and hunt for their survival. There are types of predator calls for hunting, mouth calls, and electronic calls. However, comparatively electronic calls are far more advanced than mouth calls which are called e-calls because they give the actual recording sounds of live animals. They are technologically more advanced in detecting predators even from miles and different ranges.  
The predator calls are a huge helping tool for the hunters to mimic the sounds of the prey animals, this attracts the predators within the shooting range to get an easy target range. The sounds mimicked by these calls also lure small mammals, birds, or rodents via distress calls, or mating calls which triggers their natural instinct to come closer.  
Types of Predators calls on Cabela's 
1. FOXPRO Patriot Electronic Game Call
The FOXPRO Patriot Electronic Game Call on Cabela's is built with all the essential features that are required out in the field in hunting and detecting predators successfully. It has 35 pre-loaded premium animal sounds with a capacity of 300 all of which are real animal sounds. It has a single horn speaker that gives out high-quality sound, and a remote control with an elastomeric keypad to navigate the volumes and sounds listed in categories (effortless to use). It's compatible with FXP, FXP, WAV, and MP3 files. The FOXPRO Patriot Electronic Game Call is a great predator call if you're looking for an ideal tool to stay ahead of predatory animals.    
---
2. FOXPRO X24 Electronic Game Call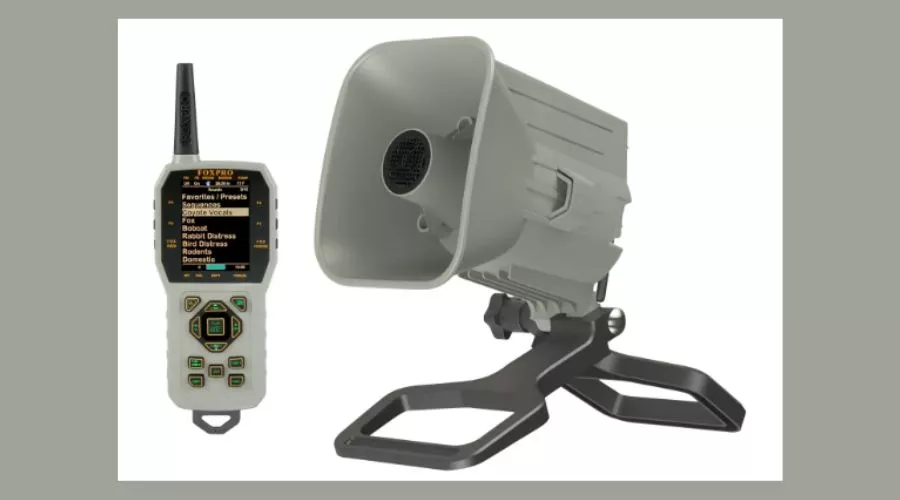 The FOXPRO X24 Electronic Game Call is available for purchase at Cabela's. It's a portable predator call with a high XHD speaker that gives realistic game calls out in the field. It has Bluetooth compatibility with a wireless connectivity feature and with real animal sounds installed. The call could also be used for playing music while out in the field to have a fun moment with your recreational activities. Interestingly it could be operated both with the remote control (TX-1000) and manually, and it's instilled with an effective range of up to 100 yards with a 3 AA battery operator (but the battery is not included). The interesting thing about the FOXPRO X24 Electronic Game Call uses FOXBANG which gets switched automatically at the sound of a gunshot. While the FOXDATE feature allows you to record information that you can access later for cross-checking. The high 100 pre-loaded, high-quality FOXPRO sounds give unlimited access to the FREE FOXPRO sound library. 
---
3. FOXPRO Hammerjack 2 Electronic Game Call System
The FOXPRO Hammerjack 2 Electronic Game Call System is an excellent predator call available at Cabela's with three years warranty by the manufacturer on the purchase. This is an enhanced version and it is more portable than the original model. It's lightweight, conveniently operational, and highly equipped with 100 high-quality FOXPRO sounds. There are hundred plus sounds all of which are accessible from the FOXPRO Free sound library. The high-ranging quality sound gives out coyote calls or common alarming sounds and the rear cone speaker creates precisely lower-frequency sounds just like the sound of a bear, or mountain lion growls. By combining these sounds gives out ultra realistic haunting sounds to lure them and create a perfect shot range for the hunters.  
The tool has the capacity of 2 jacks and 2 more spaces for external speakers for high volumes. The Fuzzy Wuzzy topper located on the top of the Hammerjack 2 unit is to deploy an appealing attraction for animals like dying rodents, rabbits, foxes, or a coyote when they come closer to the location. It has a remote controller to navigate the volumes up and down easily. With 8 AA batteries (not included) the call will run for up to 7 hours. The FOXPRO Hammerjack 2 Electronic Game Call is compatible with 16B, MP3, and WAV files.   
---
4. FOXPRO Shockwave Electronic Game Call
The  FOXPRO Shockwave Electronic Game Call is a fantastic predator call available at Cabela's. The tool is backed by a 5-year warranty by the manufacturer and comes with a 4-speaker system with two horn speakers and 2 tweeters for unbridled sound quality and high volume range. It has the capacity to store up to 1,000 plus sounds with FOXPRO sounds. It could be operated either manually or with the TX-1000 remote controller. The volume range is high enough to be heard across the range of 100 yards and is instilled with the full-color graphic LCD screen. Additionally, the core features come with a barometer, moon phase, temperature, battery level, timer, clock, and 50 preset recordings. 
---
5. ICOtec Gen2 GC500 Electric Game Call
The ICOtec Gen2 GC500 Electric Game Call is a standard electronic predator call by Cabela's. The device has outstanding remote technology with a covering range of 300 yards, and there is no line-of-sight required between the speaker unit and the remote controller. It has already 200 pre-recorded sounds installed. The core features include a large screen font, a backlit button with an on/off switch, and it has a decoy activation button, and a pause-call button. With the standard SD size having Gen2 GC500, calls can be loaded and played directly. The ICOtec Gen2 GC500 Electric Game Call has an audio call library easily accessible from the website. The lightweight and compact unit makes the electronic predator call easy to carry around and convenient setup.   
---
Conclusion 
The predator calls on Cabela's are extensively advanced tools that are made for hunting perfection while hunting all kinds of predators out in the field. But these electronic predator calls are to be managed responsibly, ethically, and in accordance with the local authorities that monitor hunting regulations in your areas. Since conserving and preserving nature come in priority. 
The Predator calls are also used for recreational activities and as a sport. It's a way to improvise one's hunting skills and knowledge out in the field. Nevertheless, electronic calls with portable speaker sets with pre-program sound cards and remote control are used to access an endless number of recorded sounds. These are best designed to revolutionize your hunting experience. For more information visit Cabela's and the official website of Savewithnerds. 
FAQ's