Bed ottomans are a brilliant fusion of functionality and style that have gained popularity as versatile pieces of furniture in modern homes. These multi-purpose items serve not only as elegant footrests but also as practical storage solutions and even additional sleeping options. Saatva, a well-known brand for providing the best quality sleep products offers a wide range of bed ottomans, adding style and additional practical functionality to your bedroom. In this comprehensive blog, we have curated a list of the best bed ottomans for you to choose one from according to your bedroom theme. 
Different Bed Ottomans for every kind of environment:
Bed Ottomans in the Bedroom
Bed ottomans are especially well-suited for use in bedrooms, where they complement the primary bed while adding functional benefits. In larger bedrooms, they can serve as bench seating or a place to put on shoes and socks. In smaller bedrooms, bed ottomans with storage become invaluable for keeping extra bedding and linens organized without taking up additional space.
Bed Ottomans in Living Rooms and Lounges
In living rooms and lounges, bed ottomans function as an extension of seating arrangements. They provide a touch of luxury, making the room more inviting and comfortable. Additionally, in homes with open floor plans, bed ottomans can act as room dividers, effectively delineating the living area from other sections without creating visual barriers.
Guest Room and Multi-Functional Spaces
Guest rooms often have limited space, and a bed ottoman can prove to be a practical addition. When not in use as a footrest or seating, the ottoman can be transformed into an extra bed for accommodating overnight visitors comfortably. This multi-functional aspect makes bed ottomans particularly suitable for homes with flexible or multi-purpose spaces.
The Benefits of Bed Ottomans:
Aesthetically Pleasing Design:
Bed ottomans come in various shapes, sizes, and designs, making them a customizable addition to any bedroom. From classic upholstered ottomans to sleek leather options, these pieces of furniture can complement the existing decor and style of the room. The versatility in design allows homeowners to choose bed ottomans that enhance the visual appeal of their bedrooms, creating a cohesive and harmonious living space.
Additional Seating Options:
Beyond being a storage solution, bed ottomans can also serve as practical seating options. In bedrooms with limited space, a bed ottoman can double as a comfortable seat for dressing, putting on shoes, or simply relaxing. It provides a convenient spot to sit without the need for additional chairs or benches, making it an ideal choice for smaller bedrooms or studio apartments.
Enhanced Comfort and Relaxation
A bed ottoman offers an inviting and cozy space to kick back and unwind. After a long day, one can prop their feet up on the ottoman's soft cushioning and experience a sense of comfort and relaxation. This simple act can help reduce stress and promote a better night's sleep. Furthermore, bed ottomans can also serve as makeshift reading nooks, offering a comfortable spot to indulge in a good book before bedtime.
Here is a list of the best Bed Ottomans on Saatva that you should to try:
1. Brienne Channel Ottoman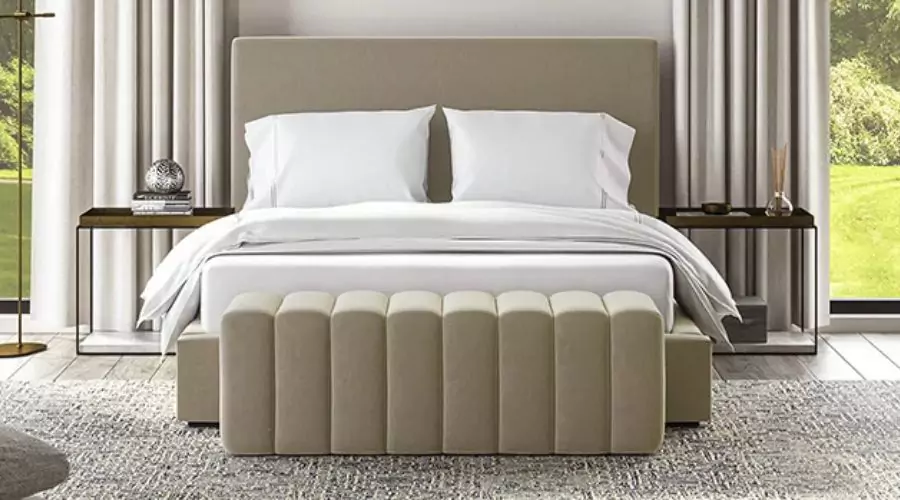 A bed ottoman combines the concept of an ottoman with a sleeping surface, making it a versatile piece of furniture. Bed ottomans are usually compact and designed for single use, which makes them ideal for small living spaces or guest rooms. These pieces often feature a hinged top that opens to reveal storage space inside.
The functionality of bed ottomans makes them popular choices for various settings, including apartments, dormitories, and guest rooms. They can be used for sitting during the day and transformed into a bed for sleeping at night. Additionally, their storage capability allows users to store bedding, pillows, or other items neatly inside.
The versatility of bed ottomans also extends to their designs, as they come in various styles, colors, and materials to suit different interior aesthetics and preferences. This bed ottoman even has additional features such as built-in USB ports for charging devices or adjustable headrests for enhanced comfort.
---
2. Constance Tufted Ottoman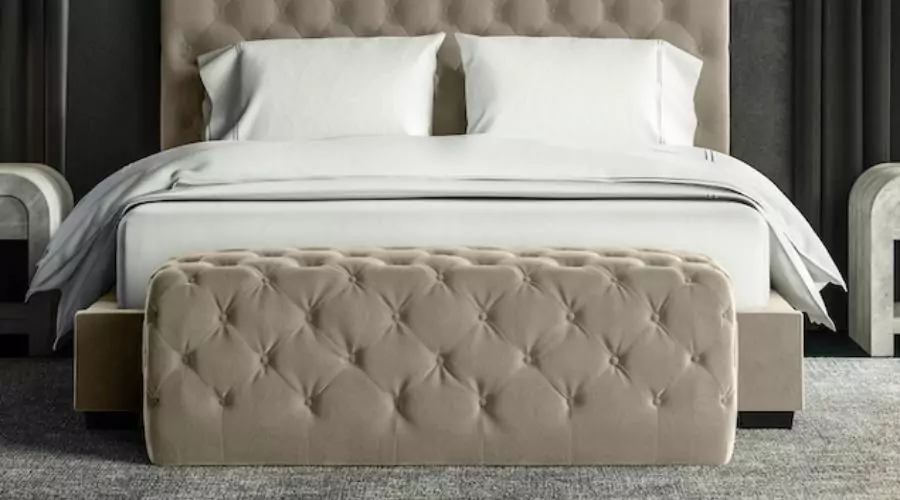 The Constance Tufted Ottoman is a masterpiece of craftsmanship, blending classical elegance with modern sensibilities. Its design features a luxurious tufted top, which not only adds an element of sophistication but also creates a plush and comfortable surface. 
The tufting technique involves tightly securing fabric or leather into evenly spaced depressions, resulting in a visually appealing pattern that adds depth and texture. This design element gives the ottoman a regal and inviting charm, making it an excellent fit for both traditional and contemporary interior themes.
The choice of materials plays a vital role in the overall quality and durability of any furniture piece. The Constance Tufted Ottoman often boasts premium-quality materials such as rich leather or soft, high-quality fabric upholstery. The selection of materials contributes not only to comfort and aesthetics but also ensures longevity, making the ottoman a valuable investment that can withstand the test of time.
---
Conclusion
Bed ottomans are versatile and practical pieces of furniture that have earned their place in modern interiors. Their adaptability in various settings, from bedrooms to living rooms, and their dual-purpose functionalities as both seating and storage solutions make them a valuable addition to any home. For more information about Saatva ottomans that turn into beds visit the official website of Savewithnerds.
FAQs