Cats are cherished members of our families, and their comfort and well-being are paramount. One aspect of cat care that cat owners can't ignore is maintaining a clean and odour-free litter box. Enter the world of automatic litter boxes, designed to simplify this essential chore. Cats are known for their cleanliness, and providing them with a clean litter box is crucial. Traditional litter boxes require regular scooping and changing, which can be time-consuming and unpleasant. Automatic litter boxes are designed to make this task easier and more convenient. 
1. How Automatic Cat Litter Boxes Work
Automatic litter boxes use sensors and a mechanism to detect when a cat has used the box. After your cat exits, the box automatically sifts through the litter to separate clumps of waste from clean litter. The waste is then deposited into a separate container or disposable bag. Some models even have self-cleaning mechanisms that rake or rotate the litter, ensuring that it remains fresh and odour-free.
---
2. What are the advantages of Automatic Litter Boxes?
1. Convenience: One of the most significant advantages of automatic litter boxes is the convenience they provide. Say goodbye to the daily chore of scooping and sifting through litter manually. These innovative devices handle the cleaning process for you, allowing you to spend more quality time with your cat.
2. Time-Saving: Automatic litter boxes are a time-saving solution. With their self-cleaning mechanisms, you no longer need to allocate time each day for litter box maintenance. This extra time can be better spent bonding with your pet or attending to other household tasks.
3. Odour Control: Many automatic litter boxes come equipped with built-in odour control systems. These systems work to neutralize and eliminate odours, keeping your home smelling fresh and pleasant. The efficient removal of waste and its containment also contributes to a more odour-free environment.
4. Cleaner Environment: Litter tracking and mess are common issues with traditional litter boxes. Automatic litter boxes are designed to minimize these problems by effectively separating clumps of waste from clean litter. This reduction in litter scatter means a cleaner living space, saving you the hassle of constantly sweeping up litter particles.
5. Ideal for Multiple Cats: In households with multiple cats, litter boxes tend to fill up quickly. Automatic litter boxes are well-suited for such scenarios. Their self-cleaning capabilities ensure that the litter box remains fresh and ready for use, even in a multi-cat environment. This can lead to less competition among cats for a clean spot to relieve themselves.
6. Health Monitoring: Some advanced automatic litter box models go beyond cleaning by incorporating health monitoring features. These devices can track your cat's bathroom habits, including frequency and volume of urination and defecation. Monitoring these patterns can provide valuable insights into your cat's health, allowing you to detect potential issues early and seek veterinary care when needed.
---
3. What are the disadvantages of an automatic litter box?
1. Cost: Automatic litter boxes can be more expensive upfront compared to traditional options. While the initial investment may be higher, some cat owners find that the long-term convenience and benefits justify the expense. It's essential to consider your budget and the overall cost of ownership when deciding.
2. Maintenance: Automatic litter boxes may require more maintenance than traditional ones. The mechanical components involved in waste removal can accumulate waste over time, leading to the need for periodic cleaning and component replacement. The frequency of maintenance can vary based on factors like the number of cats using the box and the type of litter used.
3. Noise: The operation of certain automatic litter box models can generate noise that may disturb sensitive cats or owners. This noise typically stems from motorized components responsible for sifting or removing waste. To address this concern, some cat owners choose quieter models or find suitable locations to place the box to minimize disruptions.
4. Cat Adjustment: Introducing an automatic litter box into your cat's routine may require an adjustment period. Some cats may initially hesitate or show reluctance due to the unfamiliar noise and movement associated with these devices. Gradual transitions, positive reinforcement, and strategic placement can help ease the adjustment process and encourage your cat to use the new litter box comfortably.
---
4. Best Automatic Litter Boxes for Cats
1. Smarty Pear Leo's Loo Too WiFi Enabled Automatic Self-Cleaning Cat Litter Box Variety Pack, Pretty Pink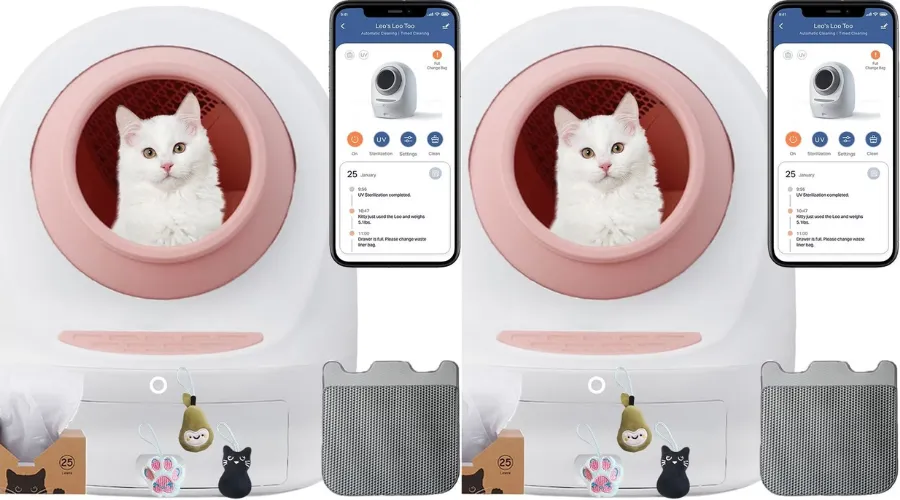 Elevate your cat's litter box experience with the Smarty Pear Leo's Loo Too Wi-Fi Enabled Automatic Self-Cleaning Cat Litter Box Variety Pack! This innovative litter box boasts automatic self-cleaning functionality and pairs with Leo's Loo Too smartphone app for convenient activity tracking. Its fully enclosed waste drawer features an EPA-certified UV light treatment system, robust sealing strips, and dense carbon filters, ensuring bacteria elimination and odour reduction. With a triple-layer radar and sensor-based safety system, ultra-quiet sifting technology, and compatibility with voice controls like Alexa and Google, this litter box offers safety and convenience for both cats and owners. Available in multiple colours to complement your decor, it also includes a custom-fitted mat, 25 additional liner bags, and 3 plush toys in the bonus pack. With dimensions of 24 x 22 x 27.6 inches and a weight of 39.2 pounds, this automatic litter box is designed to accommodate your furry friend's needs while fitting seamlessly into your home.
---
2. INSTACHEW PURRCLEAN smart WiFi enabled covered automatic self-cleaning cat litter box, white
Simplify litter box maintenance with the INSTACHEW PURRCLEAN Smart WiFi Enabled Covered Automatic Self-Cleaning Cat Litter Box! Use the INSTACHEW INFINITY app for real-time monitoring, scheduling cleanings, and receiving notifications. This smart litter box includes safety sensors for your cat's well-being, and its easy-to-maintain design features removable parts and refillable bags. Measuring 27 x 21 x 20 inches, it's suitable for cats of all ages and provides essential health insights. Made in China and sourced from Canada, this covered, self-cleaning, and automatic litter box is a convenient choice for pet owners.
---
3. Litter-Robot 4 Automatic Self-Cleaning Cat Litter Box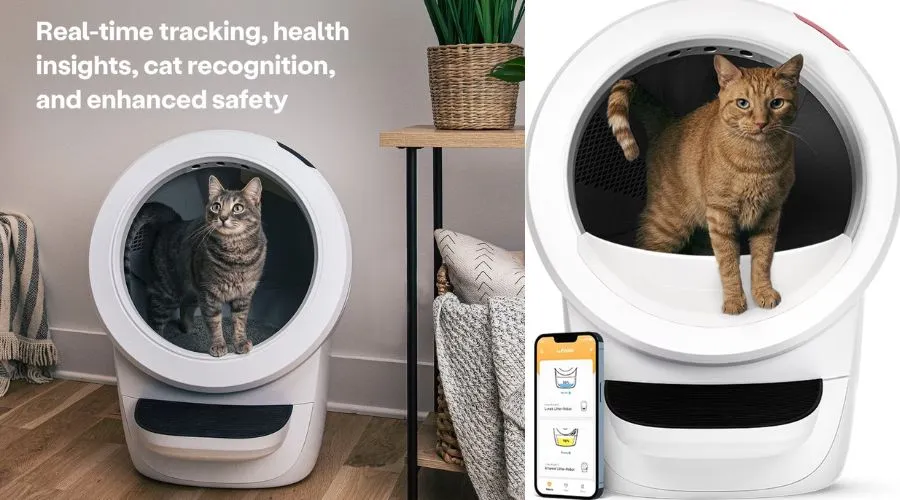 Experience a litter box revolution with the Whisker Litter-Robot 4 w/Step Cat Litter Box! This automatic self-cleaning marvel eliminates the need for scooping, effectively reduces odours, and minimizes litter tracking with its included fence and step. The Whisker app connects you to real-time usage monitoring and health insights right from your phone. Designed for multiple cats, it boasts a spacious layout, a QuietSift cleaning cycle, and a generous waste drawer, ensuring the utmost comfort for your feline friends. Measuring 27 x 22 x 29.5 inches and weighing 24 pounds, this self-cleaning and automatic litter box is a game-changer for all cat sizes and ages. Proudly made in the United States and sourced from the United States, it offers convenience with a Wi-Fi-compatible design. Never scoop again and enjoy a fresher, cleaner litter box experience.
---
4. Omega Paw Easy Fill Roll 'n Clean Cat Litter Box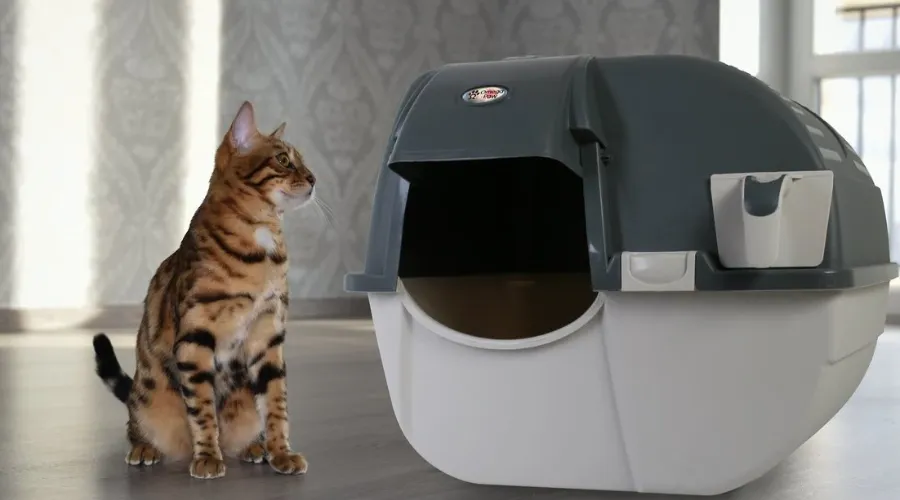 Make litter box maintenance a breeze with the Omega Paw Easy Fill Roll 'n Clean Cat Litter Box! This self-cleaning litter box is not only easy to fill but also cleans itself in seconds without the need for liners, filters, or electricity. Its innovative design includes a swivelling hood that simplifies refilling and a convenient waste disposal system. Measuring 16.5 x 18.5 x 17 inches and weighing 4.5 pounds, this self-cleaning and automatic litter box is suitable for cats of all sizes and ages. Proudly made and sourced from Canada, it offers a hassle-free solution to keep your cat's litter box clean and odour-free. No more scooping is required!
---
Conclusion
Automatic litter boxes offer a convenient solution to the daily chore of cleaning and maintaining a litter box. While cats may have varying reactions to them, many cats adapt well to the cleanliness and odour control these devices provide. When choosing an automatic litter box, consider your budget, your cat's personality, and the features that matter most to you. Whether you have a single feline friend or a multi-cat household, an automatic litter box can simplify your life and provide your cat with a clean and comfortable bathroom space. Chewy's extensive selection of automatic litter boxes and accessories ensures that you can explore multiple options, making it easier to find the perfect fit for your cat's needs. Keep your cat happy and your home smelling fresh with the convenience of automatic litter boxes. Visit Savewithnerds for more information.
FAQs