In the ever-changing digital design world, there is a growing demand for compelling and realistic 3D images. Software solutions that help designers and artists bring their ideas to life are increasingly valuable as they strive to expand the bounds of their creativity. Adobe Substance 3D Designer is one such technology that has completely revolutionised the design world. Its robust features and simple interface has transformed how experts and enthusiasts approach 3D design. In this particular blog post, we'll examine Adobe 3D Substance Designer's features, advantages, and limitless opportunities for fostering your creativity. 
Significance of Adobe Substance 3D Designer in the design industry
With its revolutionary approach to 3D design, Adobe Substance 3D Designer has become a powerful force in the design sector. Its importance stems from its capacity to enable designers and artists to exercise their creative licence and produce high-quality designs. Here are some of the main explanations for why the design industry highly regards Adobe Substance 3D Designer:
1. Advanced Material Creation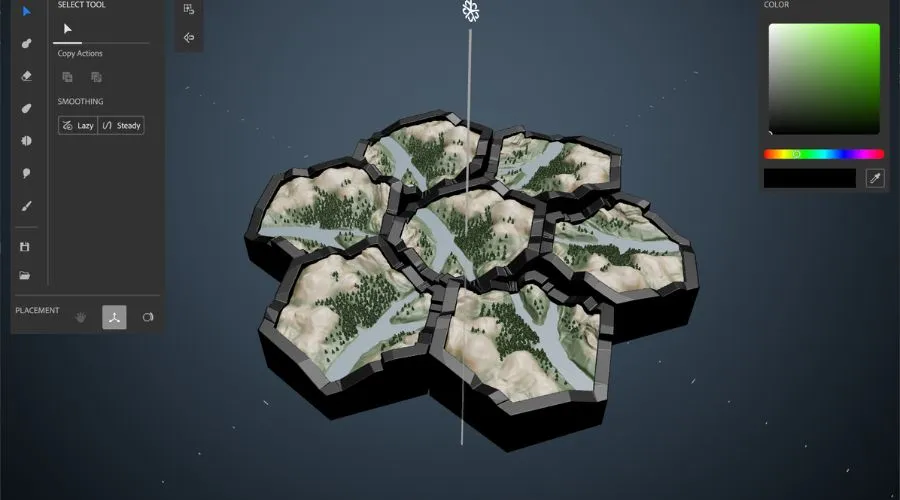 Substance 3D Designer provides a full range of tools for making detailed and realistic materials. Designers have unrivalled control over the appearance and texture of their 3D models due to the extensive library of pre-built textures and the capacity to create bespoke materials from scratch.
2. Streamlined Workflow
Substance 3D Designer is a favourite tool among designers due to its simple user interface and efficient workflow. Because of the software's streamlined and effective design process, designers can concentrate more on their originality rather than getting bogged down by complicated technical issues.
3. Realistic 3D Rendering
Adobe Substance Painter specialises in producing realistic 3D renders that are of the highest calibre. Designers may produce images that closely resemble actual items owing to their powerful rendering features, which include lighting, shading, and texture mapping. This increases the visual impact of their designs.
4. Procedural Texture Generation
Designers highly value Substance 3D Designer's procedural texturing features. This feature makes it possible to generate intricate and detailed textures using algorithms, offering a flexible and effective technique to make designs that look good.
5. Compatibility and Integration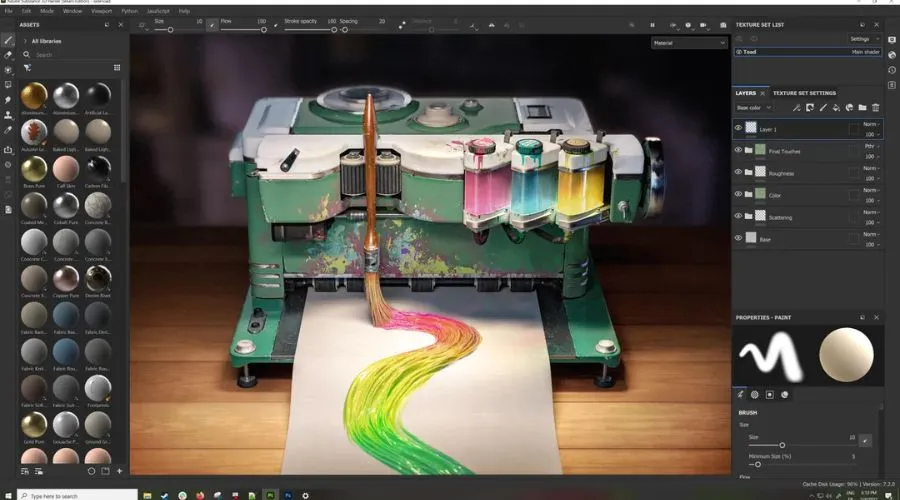 Adobe Substance 3D Designer works in perfect harmony with other widely used programmes, such as game engines and 3D modelling software. Because of their interoperability, designers can make the most of their preferred design ecosystem and enjoy a seamless workflow.
Key features and capabilities of Adobe Substance 3D Designer
Adobe Substance 3D Designer is a robust software programme with a wide range of features and capabilities for 3D design. Here are some distinctive qualities and functions that set Adobe Substance 3D Designer apart:
Real-Time Preview: Substance 3D Designer has real-time preview features that let designers see instantaneous visual feedback as they alter their materials and textures. Designers may iterate more quickly and decide on the visual aspects of their designs with the aid of this real-time preview.

Substance Automation Toolkit: Designers may automate tedious activities and streamline their workflows with the help of the Substance Automation Toolkit. This toolkit enables the development of unique scripts and plugins to automate various tasks, hence reducing time spent and boosting productivity.

Community and Support:

Substance 3D Designer

has a thriving and encouraging designer and artist community. The vibrant community offers a venue for information exchange, teamwork, and inspiration, promoting user development and education.
Benefits of Adobe Substance 3D Designer
1. Time and Cost Efficiency
Substance 3D Designer offers a streamlined workflow that saves creators time and money. Its node-based approach enables non-destructive editing, allowing designers to simply make changes without having to start over. The real-time preview function enables instant visual feedback, cutting down on the time needed for trial and error. Further reducing time and effort is the huge library of pre-built materials and effects, which serves as a great resource and avoids the need to create items from scratch.
2. Flexibility and Customisation
Flexibility and customisation are made possible with Substance 3D Designer, giving designers total control over the production and personalization of materials. To get the desired style and feel, a variety of factors and options are available in the software. The node-based approach gives users the freedom to experiment with various material fusions and effects. Designers have the opportunity to produce one-of-a-kind, customised products since they have the ability to make their own personalised materials from scratch.
3. Automation and Productivity
The Substance Automation Toolkit, available in Substance 3D Designer, enables designers to automate routine activities and streamline their processes. Designers can automate the procedures involved in developing materials, which will save time and boost productivity. Projects requiring a lot of materials or regular changes benefit the most from this automation function.
4. Community & Resources
The community of designers and artists using Adobe Substance is thriving and constantly exchanging information, advice, and resources. This group offers a helpful support network where designers may pick the brains of others, get counsel, and get inspired. To aid designers in mastering Substance 3D Designer and utilising its features to the fullest, Adobe Substance also provides a wealth of documentation, tutorials, and educational materials.
---
Conclusion
Finally, Adobe Substance 3D Designer is often regarded as the pinnacle of brilliance in the realm of 3D design software. It gives designers and artists the tools they need to push the boundaries of their creativity and discover new spheres of visual expression owing to its robust features, user-friendly interface, and seamless integration. Besides this, Adobe dimension also provide you with all the tools to bring your ideas to life, whether you're a game designer creating immersive worlds, an architect envisioning a future building, or a product designer looking for photorealistic renders. 
So plunge into the world of Substance 3D Designer and unleash your creative vision's boundless possibilities. For much such informative content, please visit Adobe and the official website of Savewithnerds.
FAQ's