Adobe Photoshop Lightroom is a powerful photo editing and management software that has gained immense popularity among photographers and enthusiasts. With its extensive range of features and user-friendly interface, Lightroom offers numerous benefits that streamline the post-processing workflow and enhance the overall editing experience. 
Why Adobe Photoshop Lightroom
1. Organizational Efficiency:
One of the primary benefits of Adobe Photoshop Lightroom is its efficient organizational system. Lightroom allows users to import, categorize, and manage their photos effectively. The software enables users to create customizable metadata, apply keywords, and assign star ratings and flags to images, making it easier to locate specific photos in a large collection. 
Additionally, Lightroom provides powerful search capabilities, allowing users to quickly filter images based on criteria such as file type, date, camera model, and even specific keywords associated with the images. This organizational efficiency saves valuable time and effort, enabling photographers to focus more on the creative aspects of their work.
---
2. Non-Destructive Editing:
Adobe Photoshop Lightroom adopts a non-destructive editing approach, which is a significant advantage over traditional pixel-based editors like Adobe Photoshop. When editing an image in Lightroom, the original file remains intact, and all modifications are saved as metadata within a separate file. 
This non-destructive editing allows photographers to experiment with various adjustments, filters, and settings without permanently altering the original image data. It offers the flexibility to revert back to the original state or make further adjustments at any point in the editing process. This feature is particularly useful for professional photographers who often need to provide clients with different versions or variations of an image.
---
3. Streamlined Workflow: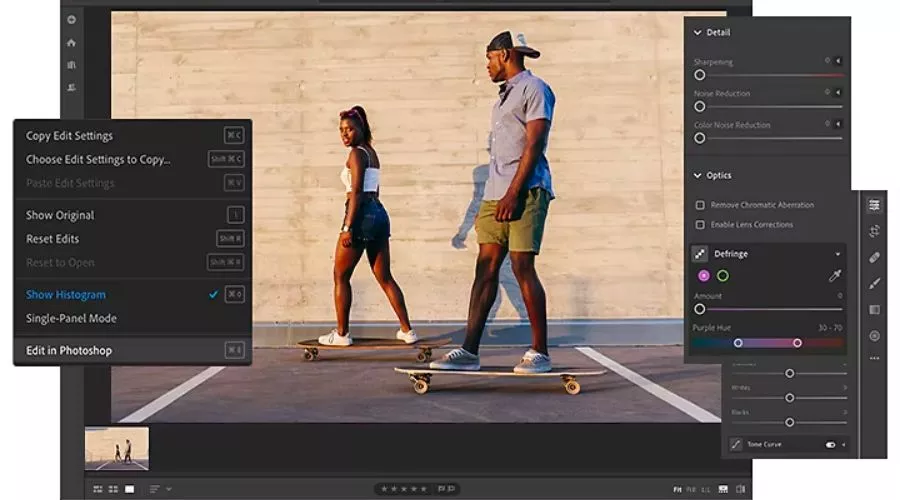 Lightroom's intuitive interface and workflow-oriented features contribute to a streamlined editing process. The software provides a comprehensive set of tools for basic and advanced image adjustments, including exposure, color balance, tone curves, and noise reduction. Users can apply these adjustments globally to the entire image or selectively to specific areas using localized adjustment tools like brushes, gradients, and radial filters. 
Lightroom also offers an array of presets and profiles that enable users to apply predefined styles and effects to their images with just a single click. These features enhance productivity and allow photographers to efficiently process and enhance their photos in a relatively short amount of time.
---
4. Seamless Integration with Adobe Ecosystem:
Adobe photoshop Lightroom seamlessly integrates with other applications in the Adobe Creative Cloud ecosystem, such as Adobe Photoshop, Adobe Camera Raw, and Adobe Portfolio. This integration allows for a smooth transition between applications, enabling photographers to leverage the unique strengths of each tool. 
For instance, users can easily roundtrip images between Lightroom and Photoshop for advanced retouching or compositing tasks. Lightroom also supports direct integration with social media platforms, making it convenient to share edited images on platforms like Instagram, Facebook, and Flickr directly from the software.
---
5. Mobile Workflow and Cloud Sync:
Adobe Photoshop Lightroom offers a mobile app for iOS and Android devices, extending the benefits of the software to photographers on the go. The Lightroom mobile app allows users to capture, edit, and sync their photos seamlessly across multiple devices. This mobile workflow enables photographers to edit and share their work without being tied to a desktop or laptop.
---
Features of Adobe Photoshop Lightroom
1. Library Module:
The Library module in Adobe Photoshop Lightroom serves as a centralized hub for organizing and managing your photo collection. It allows photographers to import, sort, and categorize their images effortlessly. Users can apply keywords, star ratings, flags, and color labels to facilitate quick and efficient image retrieval. The Library module also provides powerful searching capabilities, enabling photographers to locate specific images based on various criteria, such as metadata, keywords, or camera settings.
---
2. Develop Module:
The Develop module is the heart of Adobe Photoshop Lightroom, providing a comprehensive suite of editing tools to enhance and transform your photographs. It offers a non-destructive workflow, allowing photographers to make adjustments without altering the original image data. Within the Develop module, users can fine-tune exposure, white balance, contrast, saturation, and other essential parameters.
---
3. Presets and Profiles: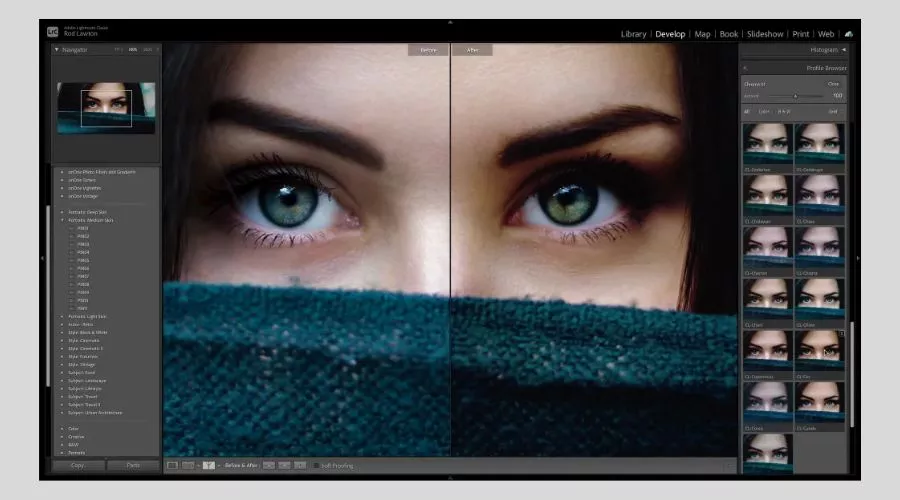 Presets and profiles are a significant advantage of Adobe Photoshop Lightroom, allowing photographers to apply consistent and predefined adjustments to their images with a single click. Presets are preconfigured settings that automatically apply a specific look or style to an image, while profiles adjust the overall color and tone. Lightroom provides a wide array of built-in presets and profiles, and users can also create and import their own, providing endless creative possibilities.
---
4. Organization and Workflow Efficiency:
Adobe Photoshop Lightroom excels in streamlining the photographer's workflow by offering various organizational tools and automation features. Smart Collections enable dynamic organization based on customized criteria, such as camera model, lens type, or keywords. Lightroom's Sync feature allows photographers to edit one image and apply those changes to multiple images simultaneously, saving significant time and effort.
---
5. Export and Sharing Options:
Adobe Photoshop Lightroom provides photographers with a wide range of export and sharing options to showcase their work. The Export module allows users to specify image format, resolution, color space, and metadata settings for efficient export. Lightroom also offers direct integration with popular social media platforms, such as Instagram and Facebook, enabling photographers to share their images effortlessly.
---
Conclusion
Adobe Photoshop Lightroom provides numerous benefits to photographers and enthusiasts alike. Its efficient organizational system, non-destructive editing approach, streamlined workflow, integration with the Adobe ecosystem, and mobile capabilities make it an indispensable tool for image management and editing. For more information about adobe photoshop lightroom classic, visit Adobe and the official website of Savewithnerds.
FAQ's