Adobe Photoshop Lightroom Classic, commonly referred to as Lightroom Classic, is a powerful and versatile software application designed specifically for photographers. With its comprehensive set of features and intuitive interface, Lightroom Classic has become an essential tool in the digital photography workflow.  
Why Adobe Photoshop Lightroom Classic?
1. Streamlined Organization and Management:
One of the primary advantages of Lightroom Classic is its exceptional organizational capabilities. The software allows photographers to import, sort, and manage their vast collection of photos efficiently. Lightroom Classic utilizes a catalog system that stores image metadata, making it easier to locate and organize photos based on various criteria, including keywords, ratings, flags, and labels. 
2. Non-Destructive Editing:
Lightroom Classic excels in providing non-destructive editing options, allowing photographers to experiment and enhance their images without permanently altering the original files. This means that all modifications made to an image, such as adjustments to exposure, contrast, white balance, or cropping, are saved as metadata instructions rather than directly altering the pixels. 
3. Advanced Image Processing and Enhancement:
Adobe Photoshop Lightroom Classic offers a wide range of powerful editing tools and features to enhance the visual quality of photographs. Its robust set of adjustment controls enables photographers to fine-tune various aspects of their images, including exposure, highlights, shadows, clarity, vibrance, and more. Moreover, the software provides precise local adjustments, such as graduated filters, radial filters, and adjustment brushes, allowing photographers to selectively edit specific areas within an image. 
4. Seamless Integration with Adobe Ecosystem:
As part of the Adobe Creative Cloud suite, Lightroom Classic seamlessly integrates with other Adobe applications, including Adobe Photoshop, Adobe Bridge, and Adobe Portfolio. This integration allows photographers to effortlessly transfer images between different software, leveraging the specialized features of each tool. For instance, photographers can seamlessly send an image from Lightroom Classic to Photoshop for more intricate retouching or compositing work, providing them with a versatile and comprehensive editing workflow.
5. Efficient Batch Processing and Exporting:
Lightroom Classic enables photographers to streamline their post-processing workflow through efficient batch-processing capabilities. Photographers can apply a consistent set of adjustments or preset to multiple images simultaneously, saving substantial time when working with large volumes of photographs. Additionally, Lightroom Classic offers a range of export options, allowing photographers to export images in various formats and resolutions, as well as create slideshows, web galleries, or print layouts. 
6. Accessible Anywhere, Anytime:
With the integration of Adobe Creative Cloud, Lightroom Classic provides photographers with the flexibility to access their image library from any device with an internet connection. This cloud-based functionality allows photographers to synchronize their catalogs and edits across multiple devices, ensuring they can work on their images seamlessly, whether they are in the studio, on-location, or traveling. 
Features of Adobe Photoshop Lightroom Classic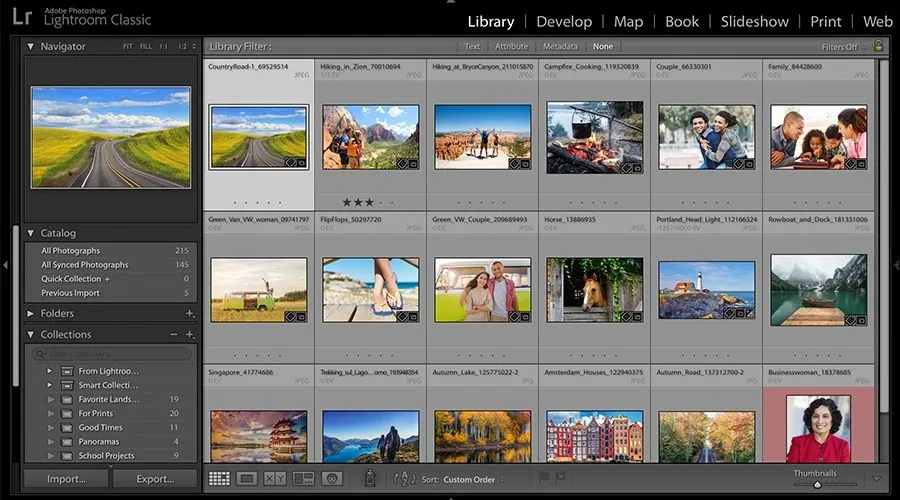 Adobe Photoshop Lightroom Classic is a powerful software developed by Adobe Systems for professional photographers and photography enthusiasts. It offers a wide range of features and tools that allow users to organize, edit, and enhance their photographs efficiently. 
Adobe Photoshop Lightroom Classic is feature-rich software that empowers photographers with powerful tools for organizing, editing, and sharing their photographs. Its non-destructive editing workflow, organizational capabilities, raw image support, advanced editing tools, image export options, and integration with Adobe Creative Cloud make it an indispensable tool for photographers of all levels.
1. Organization and Management:
Lightroom Classic offers robust organizational tools that help photographers efficiently manage their vast collections of photographs. The software allows users to import, sort, and categorize images based on customizable criteria such as keywords, ratings, flags, and metadata. This makes it easy to locate specific images or groups of images within a large library. Lightroom Classic also enables users to create collections and smart collections, which provide flexible ways to group and organize photos based on various parameters.
2. Raw Image Support:
Raw image files contain unprocessed data captured directly by the camera's sensor, offering higher image quality and greater flexibility for editing. Lightroom Classic has excellent support for raw files from a wide range of camera manufacturers. It allows photographers to import, manage, and edit raw files seamlessly. The software provides powerful tools to adjust exposure, white balance, noise reduction, and other parameters specific to raw files, enabling photographers to achieve the highest level of control over their images.
---
Conclusion
Adobe Photoshop Lightroom Classic offers photographers a comprehensive suite of tools and features that greatly simplify and enhance their digital photography workflow. From streamlined organization and non-destructive editing to advanced image processing and seamless integration with other Adobe applications, Lightroom Classic provides an all-in-one solution for managing, editing, and showcasing photographs. For more information about adobe photoshop lightroom vs lightroom classic or adobe lightroom classic and Photoshop visit the official website of Savewithnerds.
FAQ's