Jeans are never out of fashion. The arrival of the new season is making all of us prepare to update our wardrobe collection. It's not only the need to add a trendy collection but to beat the freezing winter weather with a nice pair of denim jeans. Marks and Spencer brings some of the new collections of women's jeans which are super trending right now. The wide collection of these trendy women's jeans is going to lighten up your mood.
One thing is for sure, Marks and Spencer's collection of women's jeans is not only going to be fashionable but durable too. Made from high-quality materials, these jeans will make you feel appreciated. These are carefully designed so that every girl will cherish the pairs of jeans they buy this season.
The top 6 women's jeans to buy
1. High waisted wide leg cargo jeans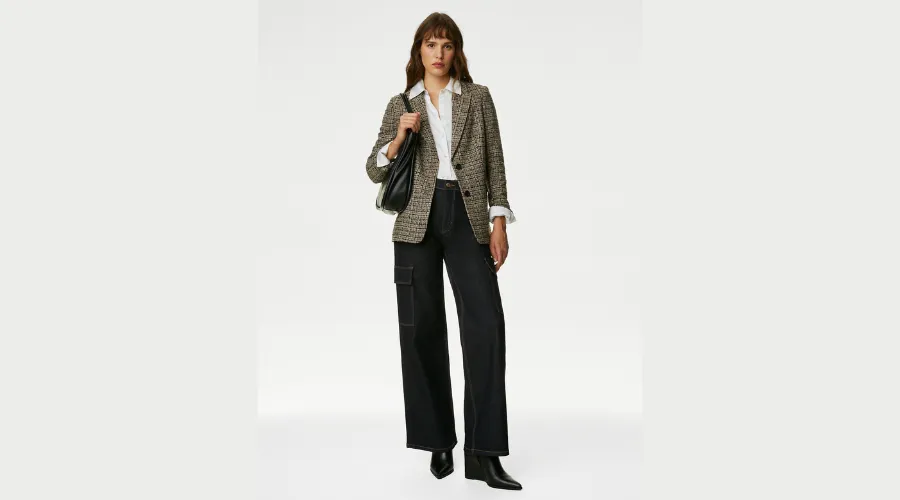 If you are looking for Cargo jeans for a distinctive sharp look, try these high-waisted wide-leg cargo jeans (black). The jean is simply uncompromising when dressed up with a casual blazer and a crop top or a shirt underneath, and high heels or ankle boots for footwear. It's suitable to wear in the office. The jeans come with a wide-leg silhouette design, and wide pockets, which give out an ultra-dazzling look. If you want to stay ahead of a fashion trend this season then try out the high-waisted wide-leg cargo jeans.
2. Sienna supersoft straight-leg jeans
What could be more casually smart-looking than wearing the Sienna supersoft straight-leg jeans? This is a new classic arrival in women's jeans. The material is extremely soft and the straight-let cut gives out a seamless fattering look. There is no specific best time to wear these jeans; you can make them your office jeans, shopping buddy, party pants, go-to jeans while running errands, and more.
3. Harper cigarette smart jeans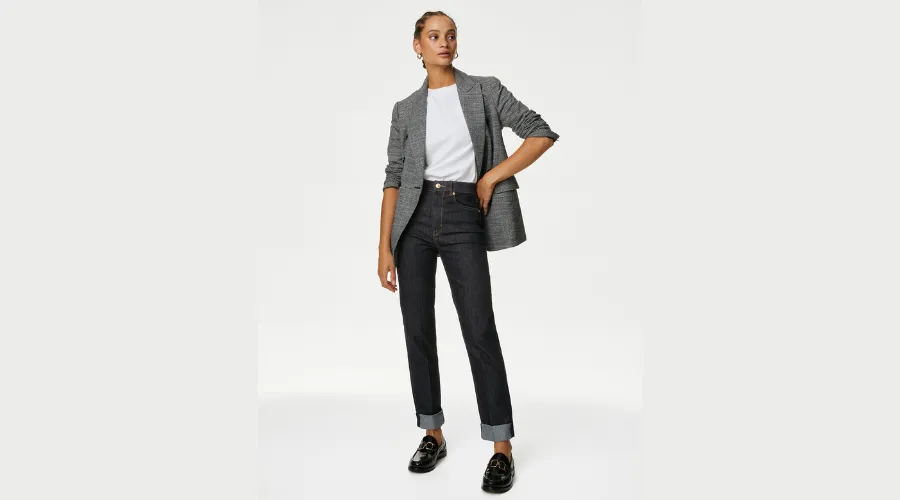 The Harper cigarette smart jeans can be extremely accommodating to wear on different occasions. The jeans come with a well-tailored design that perfectly matches with a formal blazer and a white t-shirt underneath. When the hem of the jeans is folded under the ankle, level it to get a smart look and add a nice touch of a contemporary stylish look. These black jeans are extremely comfortable for the office as an occasional outfit.
4. Patch pocket flare high-waisted jeans
When you are looking for women's jeans for practical wear, the Patch pocket flare high-waisted jeans are a must-add to your wardrobe collection. This is a great choice for all those women who are looking for daily to occasion wear clothing. This flare pair of jeans is extremely comfortable to wear for hours, thanks to the well-crafted jeans made from supersoft fabric. The distinctive flared shape of the jeans will give a nice touch of elegance.
5. Luxury high-waisted flared jeans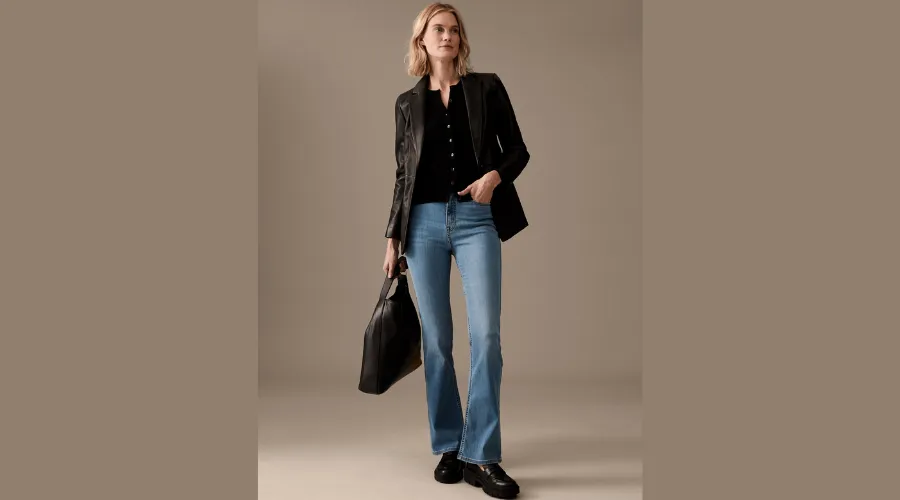 Need jeans to look classy on your first date? Try these Luxury high-waisted flared jeans. This is one of the pairs of women's jeans that you will never get tired of wearing. The jean has an immaculate sitting-high waist that accentuates your figure, making you look flattering and confident. The brushed-back fabric is also soft to wear under different temperatures. Even the front and the back pockets are classic designs.
For a sleek look in winter, dress up the jeans with the black blazer and a long-sleeved v-neck sweatshirt underneath, a nice formal women's shoes or high heels will make your look irresistible. When you are looking for a perfect pair of jeans the Luxury high-waisted flared jeans are what you are looking for.
6. Lily slim fit jeans with stretch
Slim or skinny jeans are never running out of fashion. The Lily slim-fit jeans are one of the women's jeans that effortlessly fit your skin. Made from high-quality material, the jeans are not only comfortable but extremely durable. The cotton-rich denim has an added stretch that brings out the best fit and accentuates the shape of your legs. This mid-rise waist and flattering ankle-grazer length are sure to make you look charming.
Tips to dress up with the women's jeans
It's important to keep in mind the occasion while wearing any jeans. Depending on the occasion, you can pair the jeans with other clothes.
Blazers: The best way to look sharp in winter with women's jeans is with blazers. Either formal or casual blazers, jeans are ideal for attending an office meeting, conference, wedding, or a big event.
Underneath: When you are layering up with blazers and leather jackets, try to pair up the jeans with t-shirts, crop tops, long sleeves, or a turtle neck sweatshirt.
Footwear: Your footwear is the most flattering part of the dress. If you are looking for a sharp look for a formal event then try to pair the jeans with high heels or ankle boots. You can also think of formal shoes for pairing it.
Jewellery: Adding a nice necklace or gold earrings could make you look chic. This gives out a subtle touch of elegance and a sharp presentation. So think of what jewelry you could add to your women's jeans.
Women's bags: When you are adding a bag to your style, look for a matching women's bag. For instance, a leather clutch bag or long clutch bag could make you look irresistibly sharp.
Conclusion
Last but not least, don't hesitate to add your one unique style to your favorite jeans. Fashion is all about feeling comfortable in your own skin, and women's jeans are meant to make you look gorgeous and keep you comfortable. This winter season is a fantastic opportunity for every woman who is looking for a nice pair of jeans at affordable prices. Check out the extensive collection of Marks and Spencer for the same.
For more information, visit Savewithnerds.
FAQs