When you travel with a newborn, you can expect the experience to be both thrilling and challenging; therefore, ensuring that your infant has a restful sleep is one of your top priorities. There is a solution to this problem, and it is called a travel cot for babies. 
While you are traveling with your baby, these portable sleeping solutions are intended to provide them with a location that is both secure and comfortable.
In this extensive guide, we will delve into the significance and benefits of travel cots for newborns, investigate some of the top models available, and address frequently asked issues so that you and your family may start on your travels with confidence and peace of mind.
1. What are some good travel cots for babies? 
Traveling with a newborn can be a daunting task. But with modern equipment such as travel cots, traveling with your baby will turn into a fun and unforgettable experience. 
So, for your reference, we are listing some good travel cots for babies in this section.
1. Red Kite Sleeptight Travel Cot – Grey
The Red Kite Sleeptight Travel Cot in Grey is an adaptable and portable sleeping option for infants, toddlers, and preschoolers. The fact that it is both portable and simple to put together makes it an excellent choice for use either at home or on the road. 
The padded mattress and mesh sides of this portable travel bed provide a comfortable sleeping environment, allowing for good airflow while also providing visibility. It satisfies the requirements for safety and can also function as a secure playpen for children. 
The option of using grey as the color is both understated and fashionable. Parents who are seeking a travel cot that is both practical and convenient frequently go with the Red Kite Sleeptight because of its user-friendliness and versatility.
---
2. Joie Roomie Glide Travel Cot – Foggy Grey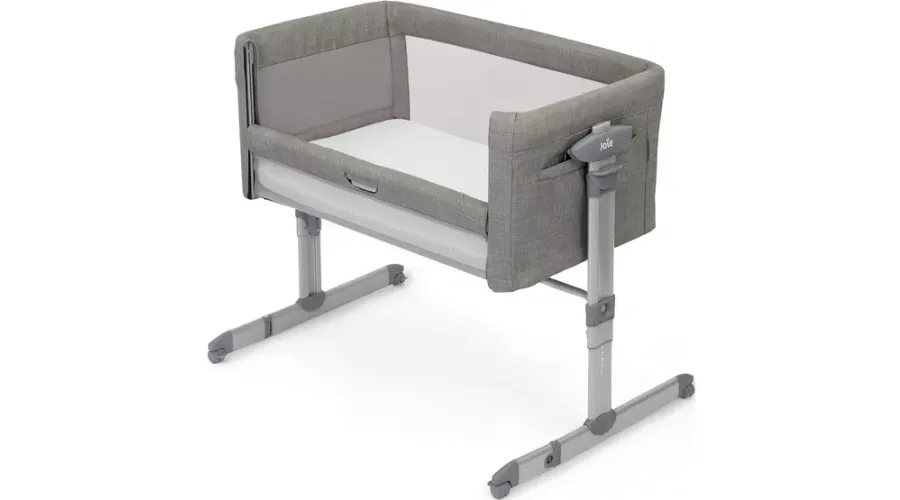 The Joie Roomie Glide Travel Cot in Foggy Grey is a versatile and beautiful travel solution that acts as both a travel cot and a bedside crib, bringing comfort and proximity to your baby while they sleep. This travel cot can be folded up into a compact size for easy transport and storage. It is simple to assemble, has a height that can be adjusted, and has a sleeping position that allows for easy access to your child. 
The mattress on the cot is quite plush, and it also comes equipped with wheels for easy maneuverability. It features storage pockets and a contemporary style, so it is both practical and aesthetically pleasing. 
This travel cot is intended to satisfy safety standards and is a popular choice among parents searching for a versatile and practical sleep solution for their little ones. The cot can be used in a variety of settings, making it an ideal option.
---
3. Graco FoldLite Travel Cot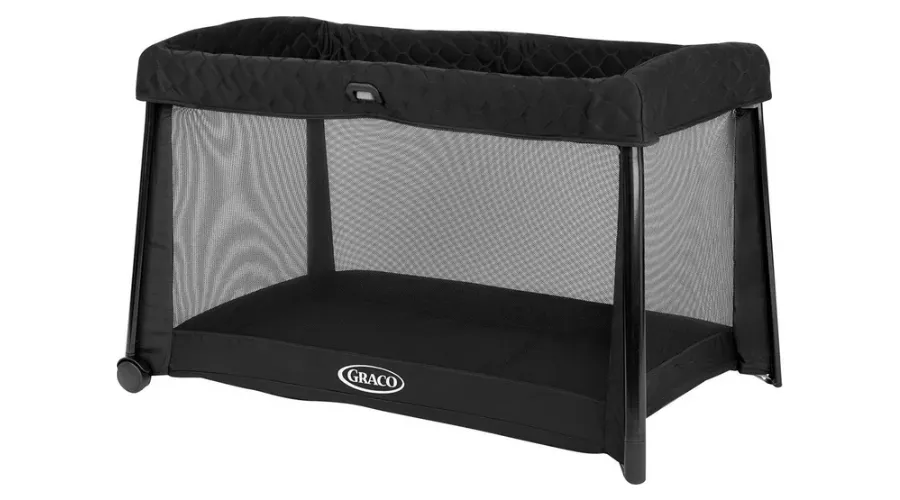 The Graco FoldLite Travel Cot is a travel cot that is both compact and lightweight, making it ideal for families that are constantly on the move. It has a convenient and straightforward assembly process, a comfy mattress, and breathable mesh sides for enhanced visibility and airflow. 
In addition to being incredibly portable due to its foldable design and included travel bag, it may also be used as a playpen. The fact that Graco places such a high priority on safety gives parents a sense of relief. 
This travel cot is an excellent option for parents who are searching for a lightweight and cozy sleeping space for their infant, whether they will be using it while traveling or at home.
---
2. How far can I travel with my newborn in the car? 
When traveling in a car with a newborn, it is necessary to take extra precautions to ensure the baby's safety and comfort. Even though there is no set limit on how far you can travel with a newborn, the following are some vital recommendations and rules that will ensure a safe and comfortable journey for you and your baby:
1. Plan Shorter Trips initially
When traveling with a newborn, it is best to keep trips as short as possible, particularly in the infant's first few weeks of life. Because newborns' immune systems are still growing, they tend to get cranky during extended car rides.
2. Frequent Breaks
If you have to drive a big distance, make sure you schedule plenty of stops along the way so you can tend to your child's needs. Stop the car every one to two hours to feed your baby, change their diaper, and give them a chance to stretch and rest.
3. Ensure Appropriate Seating
Use a suitable baby car seat that complies with all applicable safety requirements and is installed appropriately. Infants should always ride in car seats that face the rear of the vehicle and should be properly fastened in the back seat of the vehicle.
4. Don't Forget the Essentials
Bring along all of the necessary baby supplies, such as diapers, wipes, bottles, formula or breast milk, additional clothing, blankets, and pacifiers, so that you can cater to your baby's requirements while traveling.
5. Prepare in Advance
Before you go, take some time to map out your itinerary and determine where you will stop along the way. Look for sites that are comfortable for nursing mothers and babies.
6. Remain Cautious
Make sure that you are comfortable and vigilant while you are behind the wheel. It is imperative that you either take breaks or switch driving tasks with another responsible adult if you are feeling sleepy while behind the wheel.
7. Be Prepared for Unpredictable Stops
Infants are notorious for their unpredictability; they may cry or demand attention at the strangest of hours. Always show patience and be ready to respond quickly to their requests
When it comes down to it, the most important thing to keep in mind when driving with a newborn is to put their health and safety first. It is essential to modify your travel plans and the number of times you stop to accommodate your newborn child's level of comfort and specific requirements because every baby is unique. If you are concerned about traveling a long distance with your baby, it is best to discuss your worries with your pediatrician, particularly if certain medical factors need to be taken into mind.
---
3. What are the benefits of using a baby travel cot? 
The use of a baby travel cot comes with several advantages, including the following:
1. Portability
The portability of a travel cot is enhanced by the fact that it is both lightweight and portable, making it simple to bring along on travels. If you are going on a trip with your infant and want to provide them with a comfortable and secure place to sleep, this may be useful for you.
2. Protection
A baby's safety is the primary concern when a travel cot is created, as seen by the presence of padded sides and a supportive mattress. Keeping your kid safe from harm while they are asleep can be accomplished with the help of this.
3. Comfort
A travel cot can provide your infant with a comfortable place to sleep, particularly if it is designed in a manner that is analogous to the cot they use at home. Both you and your kid may benefit from this in terms of experiencing less stress and worry as a result.
4. Convenience
Because it can be quickly and easily assembled and disassembled, a travel cot is suitable for use both at home and when traveling. If you are staying in a hotel or guesthouse, or if you are visiting friends or family, this information may come in handy for you.
5. Versatility
The versatility of a travel cot enables it to be utilized for a wide range of activities, including sleeping, playing, and even changing diapers. Because of this, it has the potential to be an adaptable and useful piece of infant gear.
---
Conclusion
Parents who are looking for an easy and safe resting arrangement for their children while they are traveling will find that travel cots for babies are an essential piece of travel gear to bring along. 
Because of their portability, safety features, and user-friendliness, they are an absolute necessity for families that are frequently on the move. You may have peace of mind knowing that your infant will have a peaceful and comfortable sleep while you are traveling with them because there are a variety of alternatives and considerations to take into account when shopping for a travel cot. 
This will allow you to create precious moments together while you are away from home.
For more such related blogs, visit our website Savewithnerds. And if you want to buy travel cots that are durable and available at the best price possible, check out the online store of Halfords. 
FAQs