Ready-made curtains are a convenient and stylish solution for quickly enhancing the aesthetics of any living space. They are widely available in various arrays of colours, patterns, and fabrics, making it easy for people to find the perfect match for their interior decor. Designed to fit standard window sizes, ready-made curtains eliminate the need for time-consuming measurements and lengthy customisation processes. The accessibility, coupled with the ease of installation made available by ready-made curtains, makes them a popular choice for those seeking a quick and cost-effective way to transform the ambiance of a room.
Choosing the best: A shopper's guide
Quality of fabric: The fabric is the soul of any curtain. Opt for curtains made from high-quality materials such as cotton, linen, or polyester blends. These fabrics not only enhance durability but also contribute to a luxurious aesthetic.

Design variety: Look for a retailer that offers a diverse range of designs to cater to different tastes and interior styles. Marks and Spencer, a prominent UK brand, stands out in this regard, providing an extensive collection of ready-made curtains to suit various preferences whether what you are looking for is a small or an extra wide ready-made curtains.

Customer reviews: Before making a purchase, delve into customer reviews. Real experiences can provide valuable insights into the quality and performance of the curtains you're eyeing.

Customisation options: Some ready-made curtains come with customisation options, allowing you to tailor them to your specific needs. Check if the retailer offers customisation services to get the perfect fit for your windows.
The best ready-made curtains by Marks and Spencer
Velvet pencil pleat ultra thermal curtains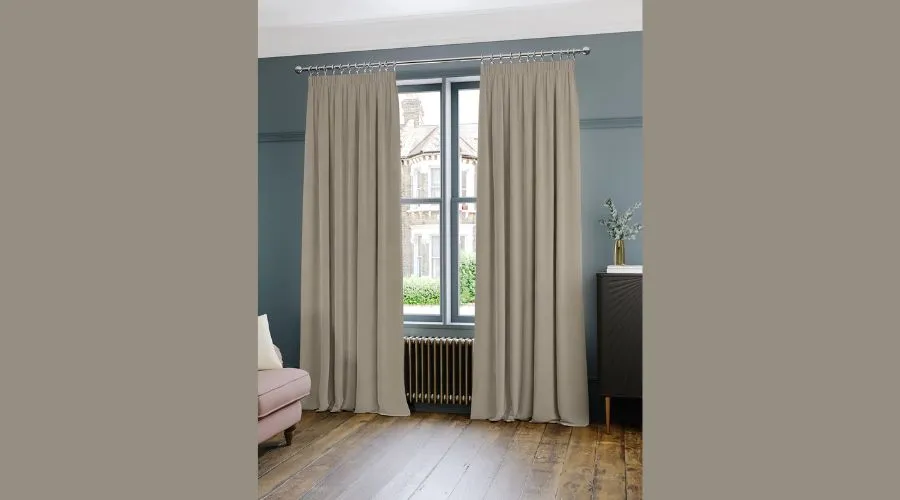 Crafted from plush velvet, these pencil pleat curtains not only exude luxurious aesthetics but also prioritise your comfort with innovative ultra temperature smart technology. The curtains feature a Thermowarmth lining that cleverly regulates temperatures, ensuring warmth in winter and a cool ambiance in summer. Beyond temperature control, the lining also dims the light, promoting a serene environment for uninterrupted sleep. Made from 100% polyester with a matching lining, these curtains are not only a stylish addition but also a practical choice for a cosy and restful living space. 
Also Read : Check Out The Best Curtain Toppers On Fivebelow
---
     2. Brushed eyelet blackout thermal curtains
Achieving the perfect ambiance is effortless with this set of curtains that seamlessly ties a room together. Crafted from brushed fabric, they offer an elegant drape and easy hanging with eyelet detailing. The blackout finish ensures complete privacy by blocking external light, while the temperature-smart design, featuring a thermal lining, keeps your space cosy by retaining warmth in winter and repelling heat in summer. Moreover, these curtains are environmentally conscious, with at least 30% of the material being recycled polyester.
---
     3. Velvet eyelet thermal curtains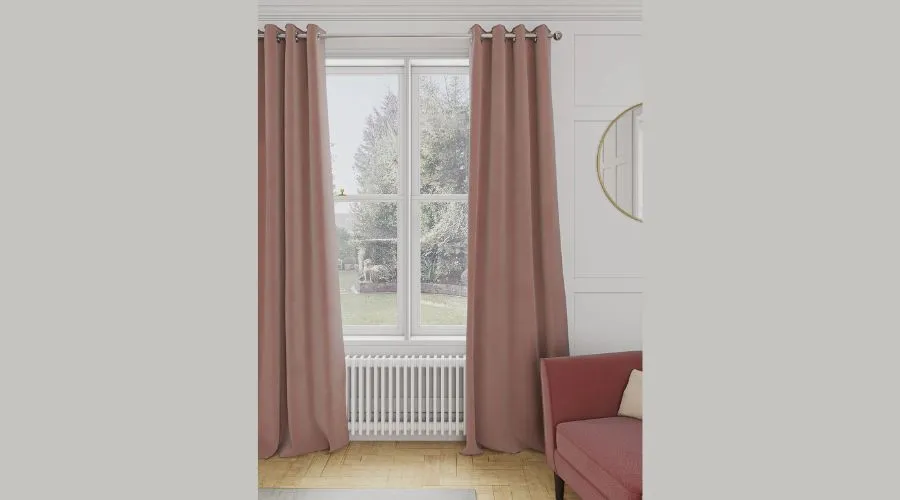 Transform your living space with these exquisite velvet curtains, adding a touch of luxury and warmth to your home. Featuring an easy-to-install eyelet header, they are versatile for various poles. The lined backing ensures privacy and reduces incoming light, promoting a comfortable ambiance. What's more, these curtains are environmentally friendly, incorporating at least 30% recycled materials, and are crafted in an eco-friendly factory. Their temperature-smart design, with a thermal lining, keeps your room cosy in winter and cool in summer. Note: Handle with care and keep away from fire and flames.
Also Read : Check Out The Best Curtain Toppers On Fivebelow
---
    4. Brushed pencil pleat blackout thermal curtains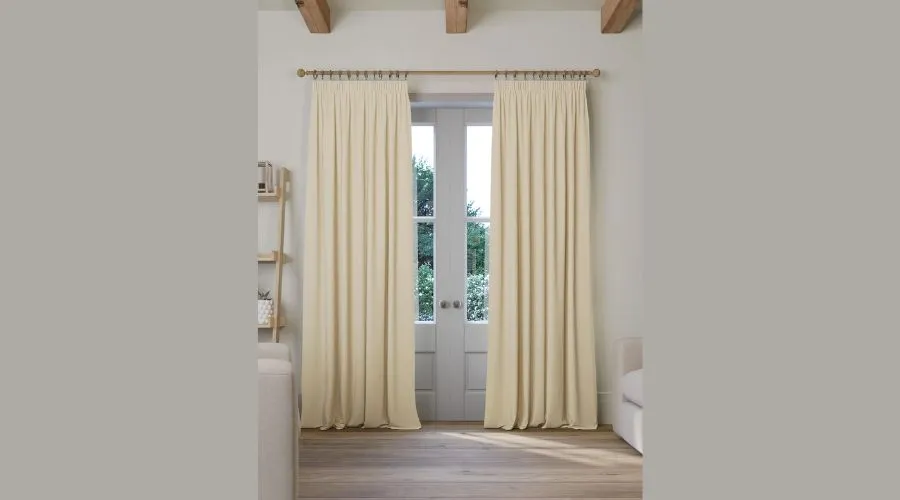 Elevate your room's appeal with these curtains, designed for a perfect finish. The fabric is carefully brushed for added richness and a graceful drape, featuring pencil pleats for a polished appearance. With a blackout finish, these curtains guarantee complete privacy, making them an ideal choice for street-facing rooms or bedrooms. Plus, they're temperature smart, using a thermal lining to retain warmth in winter and keep things cool during the summer. Crafted from 100% polyester, with at least 30% recycled material, these curtains add both style and eco-friendliness to your space.
Also Read : Check Out The Best Curtain Toppers On Fivebelow
---
How to design your ready-made curtains
Measurements matter: Before making a purchase, accurately measure your windows. Curtains that are too short or long can disrupt the visual balance of a room.

Colour palette: Choose curtain colours that complement your existing colour palette. If you're uncertain, neutral tones are a safe bet and can easily adapt to changing décor.

Layering: Consider layering curtains for a sophisticated look. Combining sheer curtains with heavier drapes adds depth and texture to your windows.

Patterns and textures: Don't be afraid to try out different designs and textures. Marks and Spencer's diverse collection includes options ranging from subtle prints to bold patterns, allowing you to express your personal style.
Conclusion
In addition to serving as window treatments, ready-made curtains are essential components in the discipline of interior design. You may easily modify your living spaces by knowing where to find the greatest things, choosing the perfect material, and using innovative design techniques. Marks and Spencer's commitment to quality and variety make them a top choice for those seeking to elevate their spaces with ready-made curtains. Explore their collection and embark on a journey to redefine your home's aesthetic. For more information, visit Savewithnerds. 
FAQs