Skateboarders, it's time to assemble and focus! The Nike SB Dunk Lows are gaining prominence and making a remarkable impact in the world of skateboarding.  Whether it's for skateboarding or casual wear, these sneakers have versatile functionality, which means that you can style them however you like! There is no rule to be followed and you can wear them in a variety of ways. Stadium Goods is a platform that resells sneakers and apparels from prominent brands like Nike, adidas, and Converse. It is a reliable platform and has the best quality and genuine products. Keep reading to find out more about Nike SB dunk lows from Stadium Goods.
Enhance your footwear wardrobe with these Nike SB Dunk Low Shoes-
1. Nike SB Dunk Low Jarritos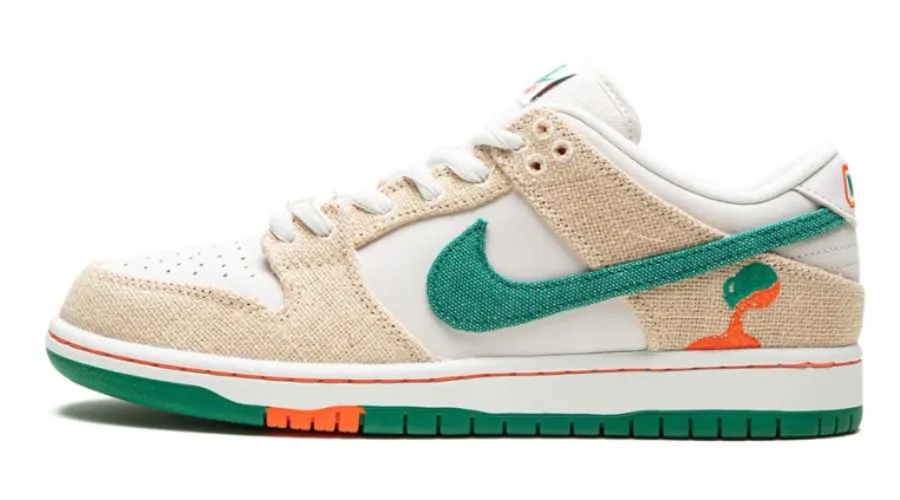 This sneaker is a product of the legendary collaboration between Jarritos and Nike. Jarritos is a popular soft drink brand based in Mexico. The sneaker has a leather base and is designed in green, orange, and tan shades. The finishing touches are added in the form of a Jarritos logo on the side and 'Nike' and 'Jarritos' written on the back. The leather base ensures grip and adds strength. Vibrant touches are decorated around the shoe with bright orange hues.
If you want a pair of sneakers to elevate your outfits without doing too much, then this is it! Whether it's a fun night out or a party, look classy and ever ready with this pair. One thing is for sure, it won't disappoint!
---
2. Nike Sb- Pro Chun Li
If monochromatic shades are your thing then these Pro Chun Li sneakers need to be in your sneaker portfolio! They are argon blue colored embellished with off-white Nike swoosh logo and 'Nike' textual branding on the back.
These shoes are an ideal fit for casual purposes and everyday use. Whether it's a normal day at college or a casual hangout with your friends, this sneaker is the perfect partner for your daily wear! The rubber soles ensure the sneakers' grip and durability. With the lacing, you can secure your sneakers properly. There is no doubt that you'll fall in love with these sneakers!
---
3. Nike SB Dunk Low Pro Fog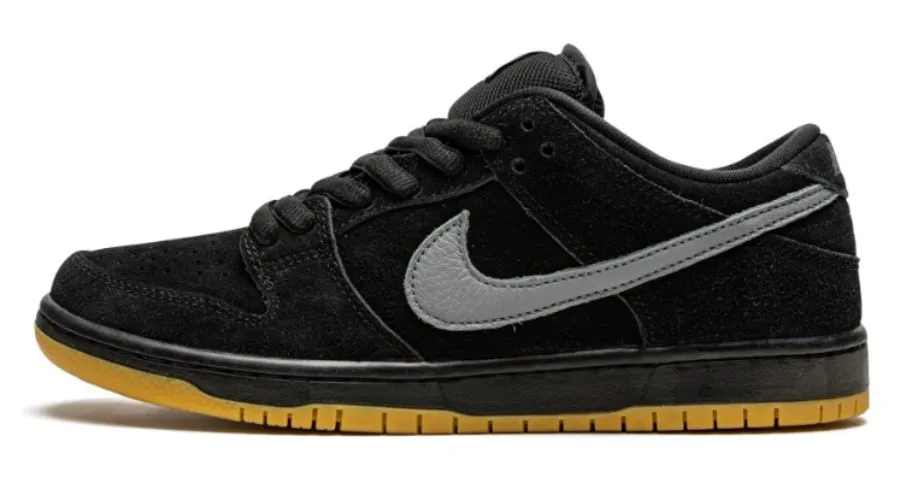 We all need a signature black sneaker to go well with our diverse outfits. Who has the time to buy different sneakers catering to different colors and styles? And that's why these black fog sneakers exist! The tongue is puffy and made of mesh material, which makes the fit soft and comfy. The black hue ensures versatility and adds charm. The finishing touches are added in the form of a cool gray-colored leather swoosh symbol and 'Nike' branding on the back.
Whether you feel like wearing bright pink or white, these sneakers will blend in seamlessly with different outfits. If you love keeping it simple and minimalistic then this one's for you!
---
4. Nike SB Dunk Low- Shanghai 2
Paying homage to Chinese roots, these Shanghai 2 sneakers were created by inspiration from China's traditional bamboo dumpling steamers. They have been embellished with a bowl and chopstick drawing on the tongue and brown colored swoosh logo. Cross-symbol stitching is done to elevate the look further.
If you love Chinese culture or want something brown-colored in your footwear wardrobe, then these sneakers fit the role perfectly. They are simple to style and take care of.
---
5. Nike SB Dunk Low- Chunky Dunky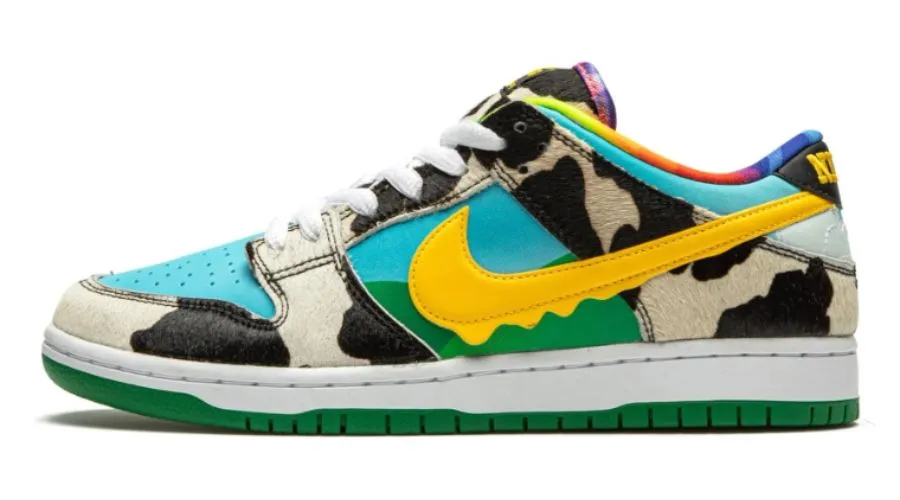 Well, time to bring out your artistic side! If you are a fan of Ben and Jerry's then here is a sneaker inspired by the same. The sneakers have a cow print design and shades of blue and green in different parts. They are embellished with a yellow-colored swoosh logo with a dripping effect. The name is inspired by a popular ice cream flavor called 'Chunky Monkey' on Ben and Jerry's. Can you guess why a cow print is included? Hint: Milk!
---
Conclusion
The Nike SB dunk lows are an iconic sneakers collection in the Nike catalog. They boast a unique design and are a sought out item for sneakerheads. They have made a wide impact in the sneaker culture and in the world of skateboarding. Their expansive collection includes so many designs and color schemes. Customers and fans have a wide variety to choose from. Stadium Goods serves as a dependable platform to find the best quality Nike sb dunk lows. You will find good quality sneakers at reasonable prices, making it a reliable hub for all your sneaker needs. If you want to begin your sneaker journey then Stadium Goods is an excellent place to do so! For more information, visit Savewithnerds.
FAQs