A dog crate is a portable enclosure designed to house and contain dogs safely. They come in various sizes and styles, made of materials like wire, plastic, or fabric. Chewy offers a wide range of crates and kennels to cater to different breeds and needs. They offer wire crates with excellent ventilation, cosy plastic crates for travel, soft-sided crates for portability, and heavy-duty crates for strong or escape-prone dogs. Chewy also offers crate accessories like pads, covers, and toys to make the crate a comfortable space. As responsible pet owners, they strive to provide the best care and comfort for their furry companions.
Can a dog be crated at night?
The acceptability of crating a dog every night depends on various factors, including the dog's age, temperament, and individual needs.
For puppies, crating at night can be particularly beneficial. Puppies have limited bladder control and need more sleep, making them more tolerant of crate time. Nighttime crating can aid in housebreaking by preventing accidents and providing a safe, cosy space for your young pup.
Adult dogs, on the other hand, may not require nightly crating unless there are specific behavioural or medical reasons. Some adult dogs may prefer a crate as their personal space, while others may be comfortable sleeping in a designated area.
Nightly crating should be minimal for dogs, allowing them to exercise, play, and socialize. If uncomfortable, consider alternative options like baby gates or dog-proofed areas. Prioritize your dog's comfort and safety, use positive reinforcement, and ensure the crate is appropriately sized and quiet.
Best Dog Crate for Your Pets
Unipaws Wooden Wire Furniture Style Dog Crate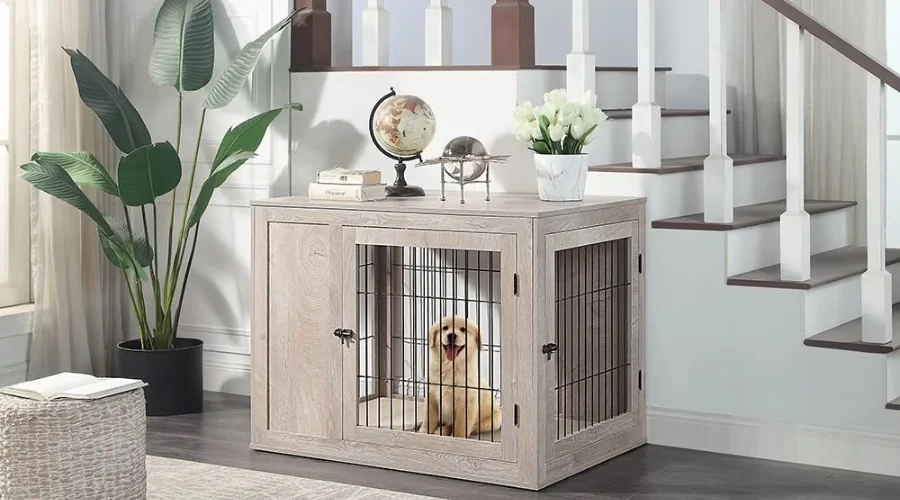 Elevate your home décor with the Unipaws Wooden Wire Furniture Style Dog Crate, which not only serves as a functional dog crate but also as a stylish side table, end table, or nightstand. This innovative enclosure combines the practicality of a traditional crate, featuring durable construction and a comfy removable dog bed, with a contemporary design that enhances your living space. Its compact size makes it ideal for smaller apartments and rooms. Moreover, the crate offers convenient accessibility with a single side door and double front doors, making it a paw-some addition to your home.
---
Petmate Vari Dog & Cat Kennel
Experience convenient and versatile pet travel with the Petmate Vari Dog & Cat Kennel, available in multiple sizes to suit your pet's needs. These kennels are perfect for both training and travel, meeting USDA and IATA requirements for secure transportation. Featuring durable construction with top and bottom shells that securely lock together via latches or wing nut/bolt assembly, these kennels are designed for safety and peace of mind. Vents on the walls ensure proper ventilation, and the internal moat keeps your pet dry. Some sizes include additional features like carry handles, seatbelt loop notches, and built-in storage compartments, providing comprehensive options for pet parents on the go.
---
EliteField 3-Door Collapsible Soft-Sided Dog Crate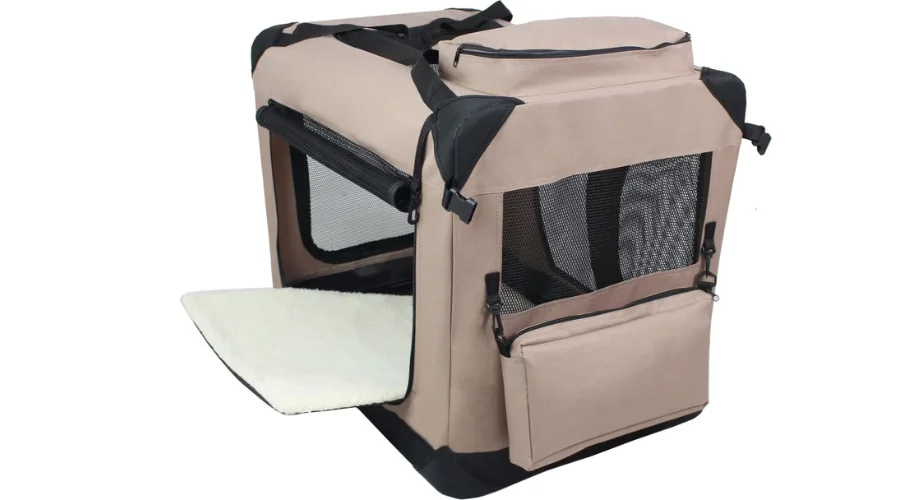 Easily set up and fold down EliteField's 3-door Folding Soft-Sided Dog Crate in seconds, with no need for tools. Crafted from lightweight yet durable steel tubing and easy-to-clean polyester and hex mesh fabric, this crate provides a safe and comfortable space for your pet. Three mesh doors ensure ample sunlight and airflow, preventing any feelings of confinement. The front and side doors come with locking zippers for added security. This crate measures 36 x 24 x 28 inches and is suitable for medium and large breeds, with a recommended pet weight of up to 70 pounds. Additionally, a bonus carrying case and fleece bed are included, making it the ideal choice for travelling with your furry companion.
---
 MidWest iCrate fold & carry single-door collapsible wire dog crate
The MidWest iCrate Fold & Carry Single Door Collapsible Wire Dog Crate prioritizes your pet's safety with patented features, including the Paw Block and locking tips on the slide-bolt door latch. It's available in protective rubber feet, and a convenient carrying handle, and includes a divider panel and durable, leak-proof plastic pan. Setting it up is a breeze as it assembles easily with no tools required and conveniently folds flat for travel. The sturdy construction ensures a secure den for your furry friend with proper ventilation and rounded corner clips for safety. Sized at 24 x 18 x 19 inches, it's ideal for small breeds with a recommended pet weight of up to 25 pounds, and the included assembly and safety instructions make setup straightforward. For a comfortable fit, consider your dog's adult weight and measurements when selecting the crate size. When in doubt, opting for a slightly larger crate is a wise choice to ensure your dog has ample space.
---
 Richell Training Kennel for Dogs & Cats, PK-650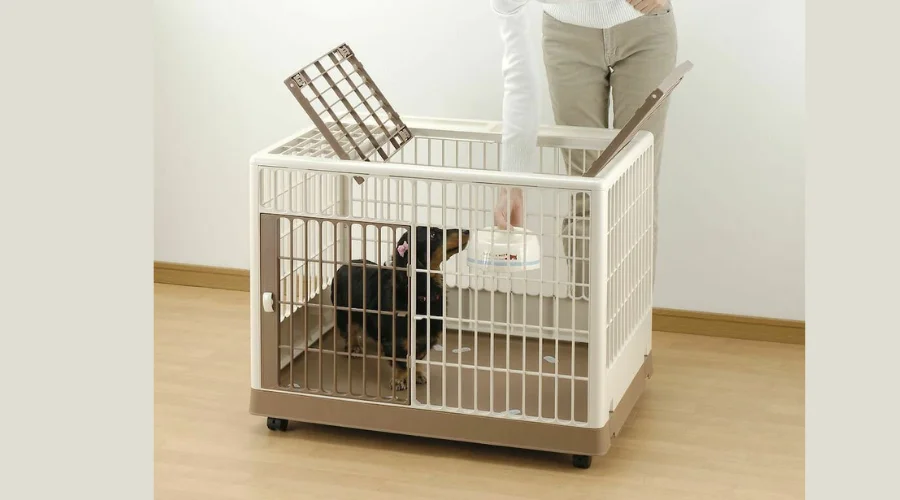 The Richell Training Kennel is an excellent choice for puppies and small dogs, offering a range of safety features to ensure your pet's well-being in their designated space. It's equipped with a comprehensive locking system on the door, top, and base, as well as lockable casters for easy mobility. The base includes slots to securely hold Doggy Pads, and there are two convenient storage trays on top for toys and leashes. Both the top and base are removable, making cleaning a breeze, and there's a 1 1/4-inch space between slats for proper ventilation. The door measures 13 1/4 inches wide x 15 1/8 inches high, and the top opens to a generous 22 3/8 x 14 1/4 inch space. This kennel is ideal for potty training your new pet and doubles as a comfortable indoor pet home. Assembly is required, and an instruction manual is included to guide you through the setup process. Sized at 25.4 x 19.7 x 22 inches, it's suitable for small breeds, with a recommended pet weight of up to 17 pounds.
---
Conclusion
Crating a dog every night can be acceptable if done in moderation and with consideration for your dog's individual needs. It's crucial to provide a balanced routine that includes exercise, socialization, and crate-free time. Always prioritize your dog's comfort, safety, and well-being. Chewy excels in offering a wide range of dog crates, catering to various preferences and requirements. Whether you're seeking a wire crate for ample ventilation, a plastic crate for secure travel, a soft-sided crate for portability, or even a heavy-duty crate for robust dogs, Chewy has a diverse selection to choose from. Moreover, Chewy goes beyond crates; they also provide an array of crate accessories like pads, covers, and toys to enhance your dog's crate experience. With their commitment to variety and quality, Chewy ensures that you can find the perfect crate to suit your dog's needs and your lifestyle, making them a top destination for all your canine crate necessities. Visit Savewithnerds for more information.
FAQs