Your bed is the centrepiece of your bedroom, which serves as your private retreat. Divan beds are a great option if you're searching for the ideal fusion of price, design, and comfort.
In this blog, we'll explore top divan bed options for every budget. You don't have to break the bank to enjoy a good night's sleep and elevate your bedroom's aesthetics. Discover affordable and stylish divan beds that cater to your needs and budget.
How to Pick Divan Beds as per your unique Style and Space?
To choose the perfect divan bed that suits your unique style and space, consider these essential factors:
Style
Divan beds offer a diverse range of styles, spanning from traditional to contemporary. Opt for a style that harmonises with your bedroom's overall decor.
Size
Divan beds are available in various sizes, from single to king-size. Select a size that accommodates your bedroom space and the number of occupants.
Base
Divan beds offer different base options, such as solid bases, sprung bases, and ottoman bases. Solid bases are budget-friendly but may lack the comfort of sprung bases, which provide extra support. Ottoman bases offer valuable storage space, ideal for smaller bedrooms.
Headboard
Decide whether you want a divan bed with or without a headboard. Headboards can enhance your bedroom's aesthetics and provide back support when sitting up in bed.
Material
Divan beds are commonly crafted from fabric, leather, or wood. Choose a material that aligns with your room's decor and is easy to maintain.
Storage
If you need extra storage, consider divan beds with built-in storage drawers or an ottoman base. This is a smart way to save space and keep your bedroom organised.
Budget
Divan beds come in various price ranges. Select one that fits your budget while meeting your functional and stylistic requirements.
Here are some tailored tips for choosing a divan bed base that complements your style and space:
– Reflect on your personal style preferences, including colour schemes and patterns that resonate with you. Ensure your new divan bed aligns with your existing bedroom furniture.
– Evaluate how you plan to use the bed. Assess your storage needs and whether you desire a bed with a headboard.
– Measure your bedroom accurately to guarantee the chosen divan bed fits comfortably within your space.
– Seek out reviews and recommendations on different divan beds. Hearing about other customers' experiences can aid in making an informed decision.
With careful consideration, you can discover a divan bed that not only exudes style but also optimises functionality within your bedroom.
Top Budget-Friendly and Stylish Options Available for Divan Beds
Classic Firm 1+1 Drawer Divan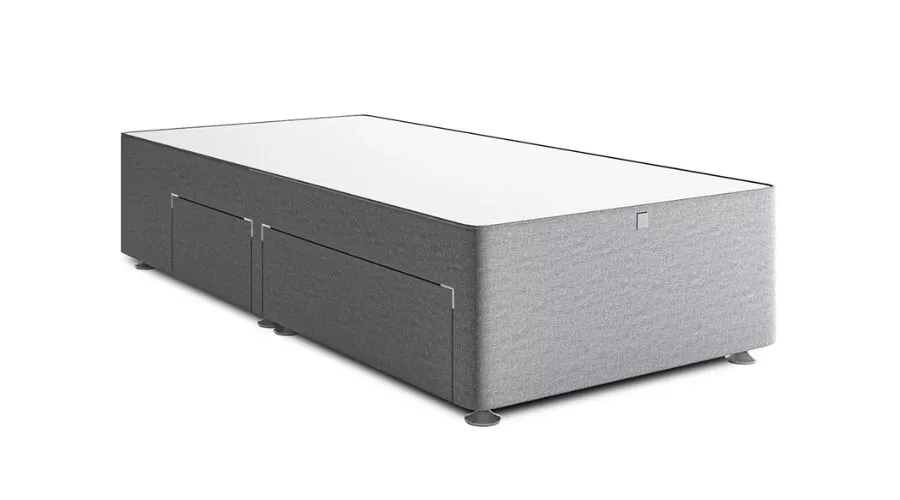 Enhance your bedroom's contemporary aesthetics with this chic divan. It's expertly constructed from premium timber to ensure durability and features a solid top design for a robust mattress base. The addition of sleek chrome-effect feet lends a modern touch to the design. 
With one small and one large drawer, this divan provides ample storage space for children's toys or extra bedding. Customise your choice with a range of stylish colours and pair it with a matching headboard to create a cohesive bedroom ensemble. It's worth noting that all M&S Divans seamlessly accommodate any M&S headboard.
Also read : Check out these 5 Best Bedroom Furniture Sets
---
    2. Classic Firm 2+2 Drawer Divan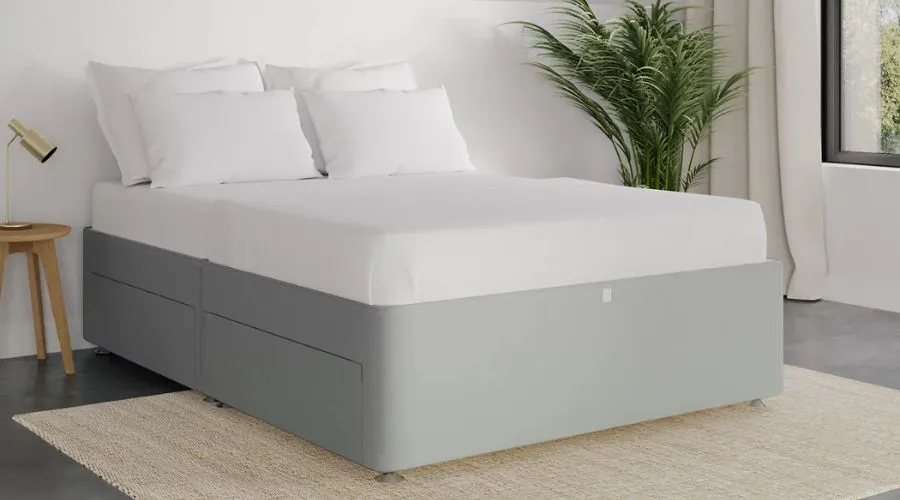 Elevate your bedroom's aesthetic with this modern divan, designed to impart a contemporary ambiance. Crafted from durable, high-quality timber, it boasts a comfortably firm top style, complete with chic chrome-effect feet. 
The bed is equipped with two small and two large drawers on each side, providing generous storage space while leaving ample room for bedside tables. Notably, all M&S Divans seamlessly pair with any M&S headboard.
Also read : Check out these 5 Best Bedroom Furniture Sets
---
    3. Classic Firm Non-Storage Divan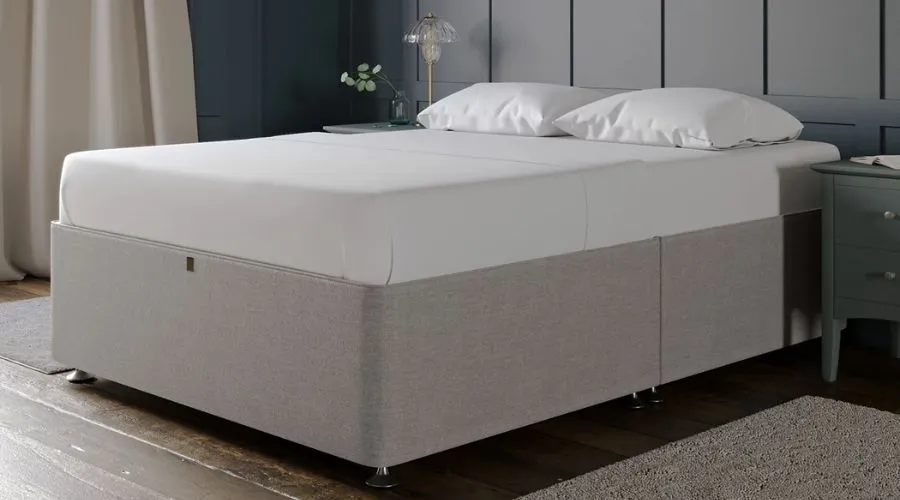 Experience timeless elegance in your bedroom with this classic divan. The firm top design provides a robust foundation for your mattress, guaranteeing support and durability. 
Crafted with a sturdy timber frame and complemented by chrome-look metal feet, this divan exemplifies strength. Available in a range of stylish colours, it seamlessly pairs with any M&S headboard, offering versatility and sophistication.
Also read : Check out these 5 Best Bedroom Furniture Sets
---
Conclusion
A good night's sleep is invaluable, and so is the appearance of your bedroom. Marks & Spencer, the renowned home decor brand, understands this well. With their range of divan beds, they offer not just comfort, but style and affordability too. 
Explore their selection and find the perfect divan bed to enhance your bedroom's appeal without compromising your budget. Enjoy the best of both worlds with Marks & Spencer. Opt for the best divan bed frame as per your space and its vibes. Make it stand out with your stylish purchase of divan beds from Marks & Spencer.
Furthermore, if you want to read more such informative and interesting home decor-related blogs, check out our website Savewithnerds. 
FAQs