In the heart of the wilderness, where nature intertwines with the thrill of the hunt, there exists a tool that will empower hunters to reach new heights— literally and metaphorically. Cabela's, a popular online shopping site, offers a wonderful array of climbing tree stands for hunters to ascend to unparalleled vantage points. Cabela's is a trusted site for its dedication to providing outdoor enthusiasts with the highest caliber of equipment. This blog will explore the wonders of climbing tree stands available at Cabela's. It will dive into the features of these tools to help you select the perfect one for your hunting expeditions. 
Climbing tree stands on Cabela's to take on your next trip outdoors:
1. Summit Climbing Treestand Viper SD Ultra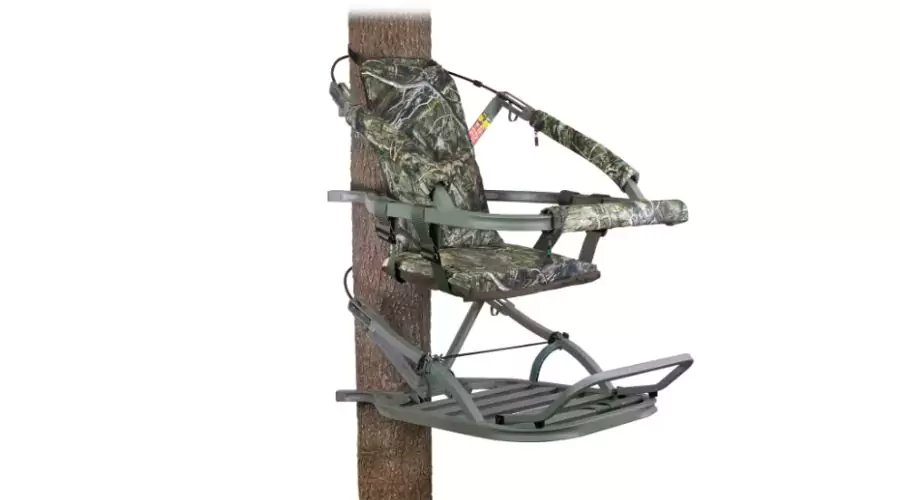 The Summit Viper SD Ultra Climbing Treestand is great for adventurers with its sleek and commanding presence. It's like a predator poised for action – it exudes an air of confidence and will elevate your hunting game to extraordinary heights. Crafted with precision and ingenuity, the climbing tree stand is the embodiment of excellence. Its frame, a sturdy yet lightweight aluminum, ensures durability and portability. The padded seat and backrest are comfortable. It is soft yet supportive, allowing you to settle into a state of relaxation amidst nature. 
The camouflage-patterned fabric will blend seamlessly with the surroundings so that you become a silent observer in nature's theater. It even has a climbing system. With its QuickDraw Cable Retention System, you can effortlessly secure the stand to the tree with a simple pull of a trigger. Every adjustment and every shift of your weight will be met with unwavering stability, allowing you to focus on the hunt with unyielding concentration. Let the power of the Summit Viper SD Ultra unlock a world of possibilities as you embark on your next thrilling hunt.
---
2.Summit Climbing Treestand Viper Steel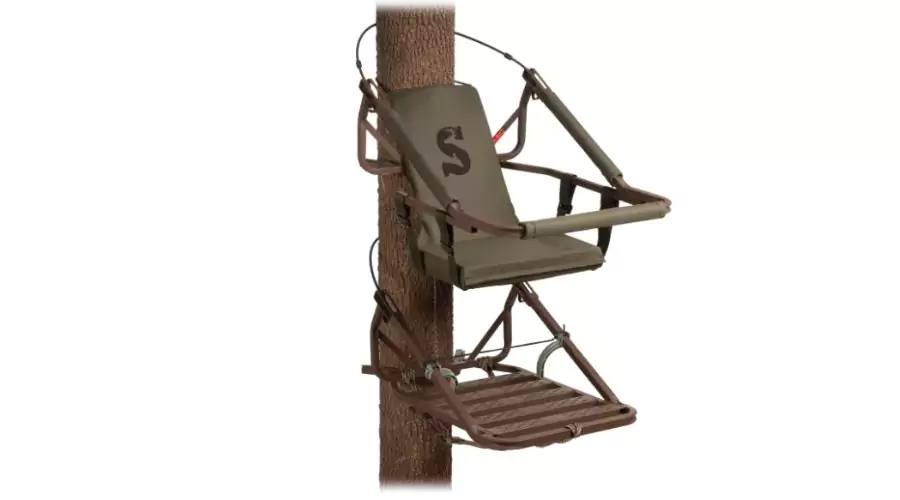 Perched amongst the majestic forest, the Summit Viper Steel Climbing Treestand stands tall, an embodiment of dependability and unwavering strength. This exceptional hunting equipment is crafted to withstand the test of time so that hunters find the reliability they seek in the wilderness. Constructed from solid steel, this climbing tree stand is a workhorse- built to endure the elements and the rigors of countless hunting excursions. Its robust frame will instill confidence, providing a secure foundation as you make your ascend. The generously padded seat and backrest offer a respite from the demands of a hunt, ensuring that hours spent perched high in the trees are comfortable. 
It even boasts a feature that provides purposeful extensions for a firm grip on the tree. Safety remains paramount in Summit's design philosophy, and this product is no exception. Equipped with a four-point safety harness, you are held securely, free to focus on the thrill of the hunt without worry. This feature ensures your protection as you navigate the heights, giving you the peace of mind to fully immerse yourself in the wilderness. All in all, the Summit Viper Steel Climbing Treestand embodies the spirit of the determined hunter.
---
3. API Outdoors  Climbing Treestand Alumi-Tech Crusader
The API Outdoors Alumi-Tech Crusader Climbing Treestand is the pinnacle of innovation. Crafted with precision and attention to detail, it has a combination of strength and versatility that sets it apart from other hunting gear. Its aluminum construction delivers an impressive strength-to-weight ratio. The aircraft-grade aluminum frame ensures a structure that can withstand the demands of the wilderness while keeping the overall weight remarkably low. This makes it easy to transport and set up in various hunting locations, allowing seamless adaptability to changing environments. 
This climbing tree stand features a generously padded seat and backrest, providing a cozy haven for extended hours spent in it. The ergonomic design ensures proper support and cushioning, minimizing fatigue so that hunters can remain focused and alert throughout their hunting expeditions. Versatility is another feature of the Alumi-Tech Crusader. It has an adjustable seat height so that hunters can customize their positioning based on their preferences and hunting conditions. It comes equipped with a full-body safety harness, providing hunters with the necessary protection while maneuvering in elevated positions.  This climbing tree stand is the embodiment of excellence in hunting gear.
---
4. API Outdoors Climbing Treestand Supreme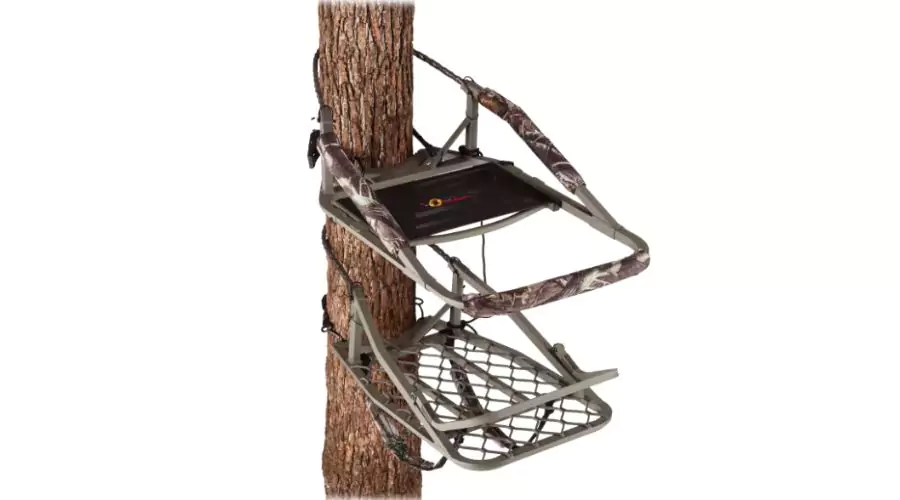 The API Outdoors Supreme Climbing Treestand is a versatile and feature-rich hunting treestand to provide hunters with a comfortable and secure vantage point. Popular for its functionality, this tree climber stand has a range of benefits that will enhance the hunting experience. Constructed with sturdy materials and a reliable design, this item boasts a robust platform that supports hunters of various sizes. The stand will withstand the rigors of the outdoors, providing a stable and secure base while minimizing noise to avoid spooking the game
The platform incorporates a generously padded seat and backrest that offers a comfortable seating arrangement for extended periods. Additionally, the stand has ample room for hunters to maneuver and position themselves comfortably while staying focused on waiting for prey. It comes with a full-body safety harness that provides hunters with the necessary security while elevated. The harness ensures that hunters are secured to the tree and minimize the risk of accidents or falls. With its durability, ease of use, comfort, and safety features, this treestand allows hunters to up their game, both figuratively and literally.
---
Conclusion
This blog has explored climbing tree stands available at Cabela's, discovering the exciting possibilities they offer to hunters. From the Summit Viper SD Ultra's sleek and commanding design to the rugged dependability of the Summit Viper Steel, Cabela's provides a range of options to suit different needs. The API Outdoors Alumi-Tech Crusader and Supreme Climbing Treestands showcase durability, comfort, and versatility, embodying the commitment to excellence that API Outdoors is known for. These treestands give hunters a strategic vantage point and immerse themselves in the thrill of the hunt. These climbing tree stands will become a gateway to unforgettable hunting adventures. For more information, visit Savewithnerds.
FAQs