Blazers for men are adaptable, their structured yet cosy style helping to bridge the gap between casual and formal wear. These timeless pieces have notch or peak lapels, front buttons, and frequently a fitted silhouette that combines structure and comfort. Blazers can be worn across diverse settings due to their availability in various colours, materials, and styles. A finely tailored blazer has the potential to enhance your look for a wide range of occasions, from formal events and professional attire to smart casual outfits. Their versatility shines as they can be paired with dress pants, jeans, or even chinos, offering an array of fashion possibilities. Jacamo stands as the ultimate destination to discover the ideal jacket that suits your style and requirements, offering a broad assortment of premium men's blazers, including both casual and designer options from top brands
Things To Keep In Mind When Buying Blazers for Men
a) Fit: Make sure the blazer fits comfortably over the chest and shoulders. For a finished look, the men's blazer should fit your body well.

b) Fabric: Select the appropriate cloth for the time of year and the event. Wool proves to be adaptable, and suitable for year-round wear, while linen and tweed excel as fabric choices for summer and winter, respectively.

c) Style and Occasion: Choose a style that matches your requirements, whether it's a traditional single-breasted blazer for formal occasions or a laid-back, unstructured double-breasted blazer for informal dressing.

d) Colour: For a classic style, go for earthy hues like navy or charcoal grey. However, make sure your current clothing goes well with your ensembles.

e) Details: When buying blazers for men, take note of specifics like pocket design, button type, and lapel style. These components can express your individual style and give your blazer personality.
The Best Collection of Designer and Causal Blazers For Men 
1. James Regular Fit Essential Suit Jacket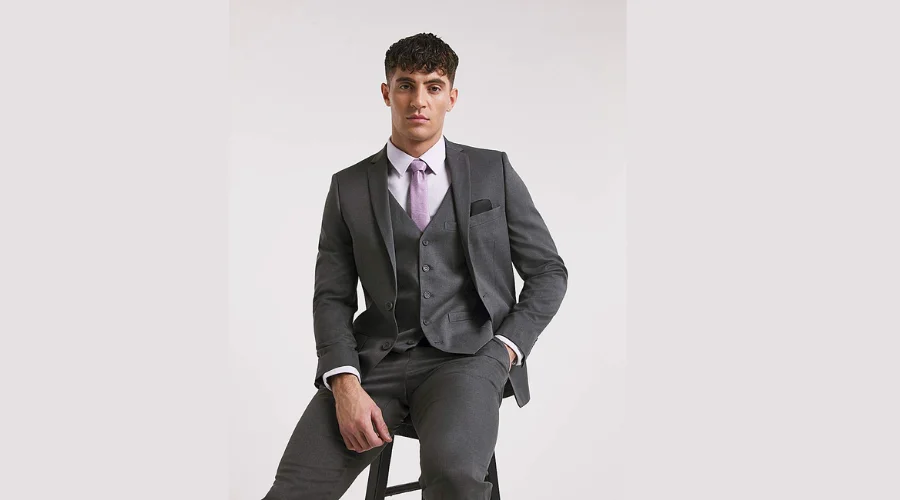 For every wardrobe, the James Regular Fit Essential Suit Jacket is a useful addition. For a sophisticated and comfortable fit, this charcoal suit jacket features a centre back vent and a traditional two-button front closure. This is one of the best blazers for men that has plenty of storage due to utilitarian accents like two flap hip pockets, a chest pocket, and two inside pockets. Made of sturdy polyester, it requires little maintenance—just dry clean to preserve its quality and appeal—and is a dependable option for a range of formal and semi-formal events.
---
2. Ted Baker Regular Fit Jacket
An adaptable piece of clothing, the Ted Baker Regular Fit Jacket in oatmeal colour is ideal for stepping up your look this season. The oatmeal colour imparts an air of sophistication to your look, and its regular fit makes it versatile for various occasions. Crafted from a blend of 40% polyester and 60% wool, this jacket is not only stylish but also offers warmth and durability. What makes it a convenient choice for men's blazers is its flexibility in care, as it can be either dry cleaned or gently machine washed, giving you the freedom to choose the maintenance method that suits you best. For a variety of stylish styles, dress it up or down with ease by pairing it with jeans or chinos.
---
3. Blue Windowpane Check Reg Suit Jacket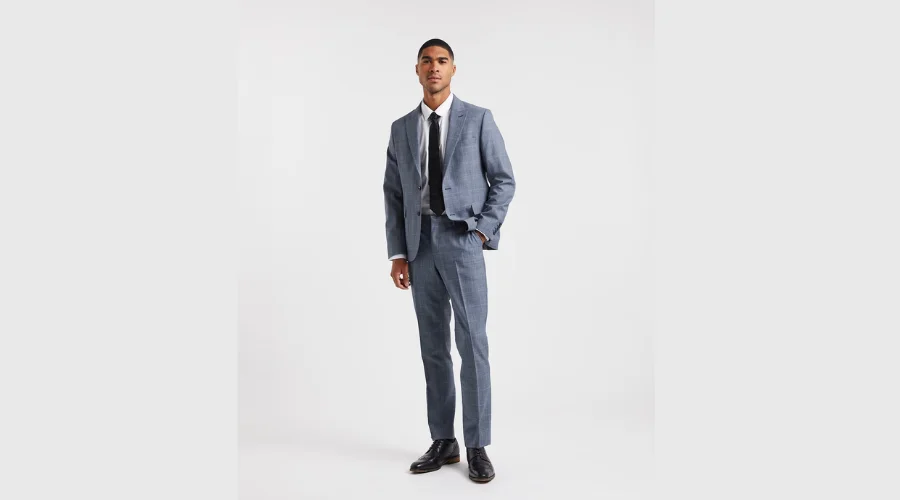 A distinctive piece for the season, the Blue Windowpane Check Reg Suit Jacket is a vibrant hue of blue. It is a must-have addition to your wardrobe because of its regular fit, which provides a classic and polished image. This blazer for men is very stylish and sophisticated with its striking windowpane check design. Recycled care labels and a hanger are notable examples of its dedication to sustainability, making it an eco-friendly option. Dry cleaning is necessary to preserve the quality and beauty of this exquisite piece, making maintenance hassle-free and guaranteeing that it remains a fashionable and contemporary choice for a variety of events.
---
4. Skopes Mollina Jacket
One of the best blazers for men is the elegant blue Skopes Mollina Jacket. With its classic blue check pattern, this fitted cut, single-breasted jacket has two buttons and elevates any outfit. Its well-considered design elements include straight flap waist pockets, and its unique geo-pattern print lining adds a fashionable finishing touch. Wearing it in a range of scenarios is comfortable and convenient due to the dual-side vents. With a blend of 3% elastane, 6% viscose, and 91% polyester, it offers the perfect balance of durability and comfort. Only dry cleaning will keep it looking flawless and ensure that it always works as a versatile and stylish addition to your ensemble.
---
5. Finlay Check Knitted Suit Jacket Reg
For this season, the Finlay Check Knitted Suit Jacket is a chic and adaptable option with a dashing blue check design. From formal to smart casual events, this jacket with a normal fit gives off a polished and modern appearance. This jacket is versatile, allowing you to pair it with dress trousers for a classic and sophisticated appearance or with chinos or jeans for a relaxed yet smart-casual outfit. It's a top pick among men's blazers, fitting seamlessly into any wardrobe. Comprising 72% polyester, 27% viscose, and 1% elastane, it strikes a balance between comfort and durability, making it a timeless addition suitable for any occasion. To preserve its pristine condition, it should be dry cleaned, ensuring it remains a reliable choice.
---
Conclusion
Jacamo's blazers for men are the epitome of elegance, dependability, and style. For men looking for both traditional and modern blazer alternatives, Jacamo has a comprehensive variety that accommodates a wide range of interests and preferences. The collection of blazers is perfect for any occasion, whether you're looking for a smart-casual outfit, a formal ensemble, or a wardrobe staple for everyday wear. Their selection of colours, materials, and fits guarantees that any man may discover the perfect blazers for men to upgrade his wardrobe. The blazers are made to the highest standards of quality and design, ranging from traditional styles to contemporary looks. For more information on blazers for men, visit Savewithnerds. 
FAQs