When it comes to introducing your child to the world of cycling, there's no better tool than a balance bike. These ingenious little bikes have transformed the way kids learn to ride and have become a staple for parents looking to instill a love of biking from an early age. In this comprehensive guide, we'll explore the magic of balance bikes with Savewithnerds, their many benefits, and how to choose the right one. 
What is a balance bike? 
A balance bike is a two-wheeled pedal-less bicycle designed for young children, typically aged 18 months to 5 years. It's a simple yet brilliant concept: instead of training wheels or tricycles, children learn to balance on two wheels from the start. Balance bikes come with a sturdy frame, two wheels, a comfortable seat, handlebars, and sometimes a hand brake. They are propelled by the child's feet, allowing them to walk or run while sitting on the bike, gradually gaining the balance and coordination needed for a seamless transition to a traditional pedal bike.
Benefits of Balance Bikes: 
Builds Confidence: Balance bikes help children build confidence in their ability to balance on two wheels, reducing the fear associated with transitioning to a pedal bike.

Improves Balance and Coordination: These bikes teach kids how to balance their bodies, steer, and coordinate their movements effectively.

Safety: With their feet on the ground at all times, children can easily stop and control their speed, reducing the risk of accidents.

Natural Progression: Learning to ride a balance bike is a natural progression from riding a pedal bike. Children often make the transition seamlessly and without the need for training wheels.

Strengthens Leg Muscles: Pushing and striding on a balance bike helps develop leg muscles and physical strength.

Enhances Spatial Awareness: Kids learn to navigate their surroundings, judge distances, and react to obstacles while riding.
The best balance bikes for your little one's adventure: 
Apollo Wizzer Balance Bike 2022 

Apollo Wizzer Balance Bike 2022 | savewithnerds
The Apollo Wizzer Balance Bike 2022, equipped with 10-inch air-filled rubber tires and a sturdy steel frame, is the perfect introductory ride for young adventurers. Designed for children with heights ranging from 88 to 97cm, typically within the first bike age group, this balance bike weighs in at a manageable 5.10kg, making it easy for little ones to handle. Additionally, the bike features 19mm grips specially designed for small hands, ensuring a comfortable and secure hold. This bike offers a safe and enjoyable riding experience for your budding cyclist as they take their first steps towards two-wheeled adventures.
---
    2. Paw Patrol Balance Bike 
The Paw Patrol Balance Bike, with its 10-inch puncture-proof lightweight wheels, is the ultimate choice for little adventurers aged 1-5 years and heights ranging from 88 to 104cm. If your child is a Paw Patrol fan, this bike is a dream come true, adorned with colorful character graphics that will ignite their imagination. The adjustable handlebar and seat height ensure that the bike grows along with your child, providing long-lasting fun and development. Designed to enhance stability and build essential balance skills, this balance bike is an excellent starting point for any budding cyclist.
---
    3. Chillafish BMXie Moto Balance Bike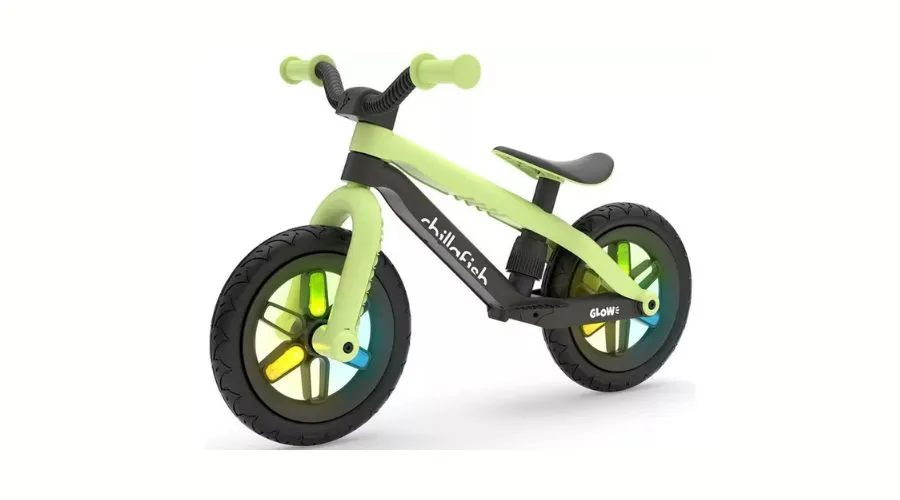 The Chillafish BMXie Moto Balance Bike in the refreshing Pistachio hue, featuring a 12-inch wheel, is a fantastic choice for young adventurers aged 1-6 years with heights ranging from 88 to 111cm. Its puncture-proof tires ensure uninterrupted playtime, and its eye-catching design adds an element of style to the fun. Whether your child is embarking on their first cycling journey or refining their skills, this bike offers a thrilling and safe way to navigate their world.
---
   4. Chillafish Charlie Balance Bike 
The Chillafish Charlie Balance Bike, sporting a sleek Silver finish with its 10-inch puncture-proof tires, is the ideal choice for little adventurers aged 1-5 years. Crafted with a lightweight steel frame, it provides the necessary support for young riders to develop their gross motor skills, balance, and steering abilities. The adjustable, custom-molded comfort seat and handlebar ensure a snug fit for your child as they grow. This bike is the perfect way to kickstart your child's cycling journey and set them on the path to becoming confident riders.
---
   5. Strider 14x Balance Bike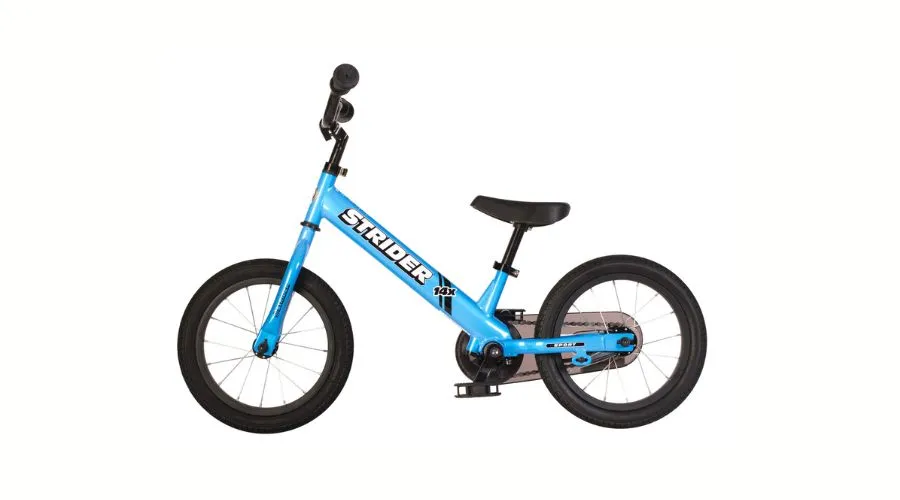 The Strider 14x Balance Bike in a vibrant Blue shade, boasting a 14-inch wheel, is the ultimate choice for young riders aged 3-7 years with heights ranging from 98 to 116cm. Crafted with a lightweight aluminum frame, it provides stability without compromising on weight. The Strider 14x comes with puncture-proof foam tires, ensuring uninterrupted play without the hassle of flat tires. This bike, tested and approved by the CPSC, offers not just fun but also safety, and its Strider Custom Performance Saddle ensures a comfortable and enjoyable ride.
---
Choosing the right balance bike: 
Size: Choose a bike that fits your child's current height and inseam. Their feet should comfortably touch the ground while sitting on the seat.

Weight: Opt for a lightweight model that your child can easily move and control. 

Tires: Balance bikes come with foam, rubber, or pneumatic (air-filled) tires. Pneumatic tires offer a smoother ride but may require occasional maintenance, while foam and rubber tires are puncture-proof.

Adjustability: Look for bikes with adjustable seats and handlebars, allowing you to customize the fit as your child grows.

Hand Brakes: Some balance bikes come with hand brakes, which can be helpful for teaching braking skills early. However, they are not a necessity.

Footrest: Some models feature a footrest for kids to place their feet on while gliding. This can be a nice addition for comfort but isn't essential.
Conclusion 
In a world filled with screens and digital distractions, a balance bike for 2 year old offers a breath of fresh air. They provide an opportunity for kids to connect with the outdoors, develop physical skills, and experience the simple joy of riding. Watching your child gain confidence and independence as they glide on their bikes is a truly rewarding experience. So, if you're looking to kickstart your child's love affair with cycling, consider investing in a bike from Halfords. It's not just a bike; it's a ticket to adventure, exploration, and countless hours of pure, unadulterated fun.
For more information, visit Savewithnerds.
FAQs