When it comes to baby boys' clothes, comfort and practicality are key. During the first few months, your baby's skin is delicate, and they spend most of their time sleeping and eating. From cosy onesies and sleepsuits perfect for newborns to fashionable ensembles that keep up with their growing curiosity, baby boys' clothes offer a blend of comfort, style, and functionality. Whether it's the timeless charm of sailor-inspired nautical outfits, playful animal prints, vintage-inspired suspenders and bow ties, or contemporary minimalistic designs, there's an outfit for every occasion and personality. 
Let's explore everything you need to know about dressing your baby boy, from newborn essentials to fashionable toddler attire.
Baby boys' clothes essentials
a) Onesies: These one-piece bodysuits are a staple for newborns. They are easy to put on and take off, and they come in various designs, from basic white to cute patterns and prints.

b) Sleepsuits: Sleepsuits or footed pajamas are perfect for keeping your baby warm and cosy during naptime and bedtime. Look for ones with easy snap or zipper closures for hassle-free diaper changes.

c) Bodysuits: These are like onesies but without the legs. They are great for layering under other clothing to keep your baby comfortable in varying temperatures.

d) Hats: A soft, breathable hat is essential to keep your baby's head warm, especially in the early months when they have limited control over their body temperature.

e) Socks and booties: Tiny feet need protection too! Keep your baby's feet warm with soft, non-slip socks or booties.
Weather-specific baby boys' clothes
a) Summer: In warm weather, choose lightweight, breathable fabrics like cotton rompers, short-sleeve onesies, and sun hats. Remember to apply baby-safe sunscreen and keep your baby well-hydrated.

b) Winter: Layering is key during colder months. Start with a soft, long-sleeve onesie as a base layer, and add a warm sweater or cardigan. Don't forget to put your baby in a cosy snowsuit or padded jacket when heading outdoors.

c) Fall and Spring: These transitional seasons can be unpredictable, so it's a good idea to have a mix of short and long-sleeve options. Lightweight jackets and layered outfits work well to adapt to changing temperatures.
Best clothes for baby boy
1.  2pc Cotton rich Christmas scene outfit (0-3 Yrs)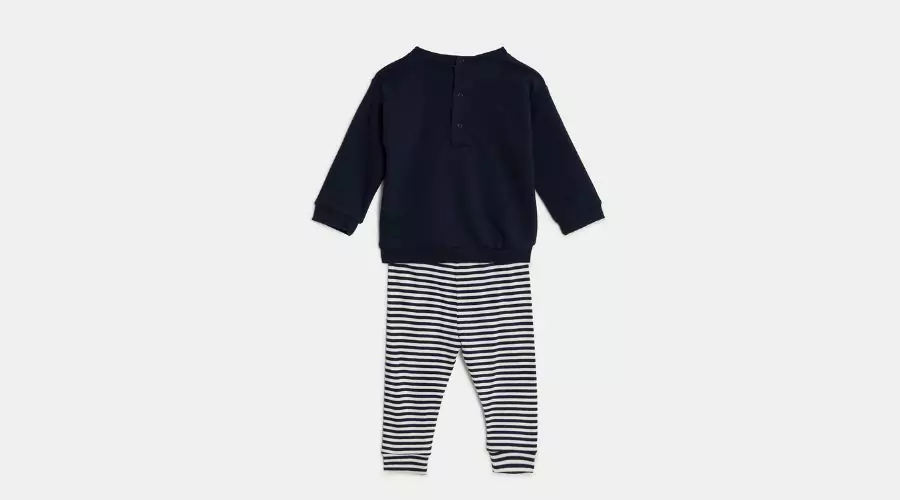 Celebrate your little one's first Christmas in style and comfort with this charming 2pc Cotton rich Christmas scene outfit, suitable for ages 0-3 years. The sweatshirt, adorned with an intricately embroidered festive train and a "North Pole Express" banner, creates holiday cheer. Its fuss-free poppers on the back make dressing easy, ensuring your baby stays snug and cosy during the festivities. The set also includes striped leggings, featuring cute buttons on the front for added charm making it one of the best clothes for a baby boy.
---
2. Striped cardigan (0-3 Yrs)
Wrap your little one in cosy cuteness with this Striped cardigan (0-3 Yrs). Crafted from a blend of 85% acrylic, 10% polyamide, and 5% polyester, this cardigan promises both warmth and style. Its classic sailor-striped design adds a touch of timeless charm to any outfit. The chunky cable knit not only adds to its snugness but also makes it an ideal choice for chilly days. With a button-through fastening, it's effortless to put on and take off, making dressing your child a breeze. This versatile cardigan pairs perfectly with jeans, dresses, or even layered over onesies, ensuring your little one stays both comfortable and adorable in any setting.
---
3. Velour Bunny pramsuit (0-1 Yrs)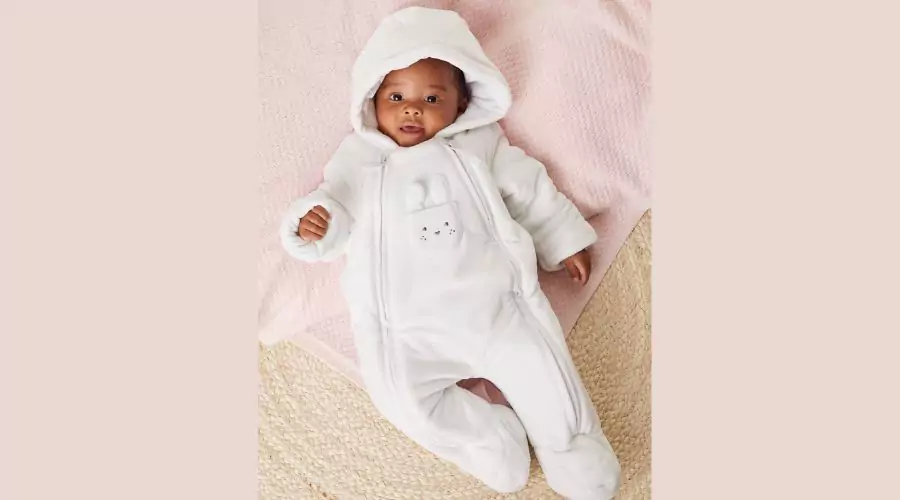 Keep your little one snug and stylish with this adorable Velour Bunny pramsuit designed for ages 0-1 year. This pramsuit has a charming bunny face that adds a playful touch to your baby's winter wardrobe. Featuring a padded design, it includes a snug hood, integrated booties, and foldover mitts to ensure your baby stays warm and cosy in colder weather. With the added benefit of stretch and a pure cotton lining, comfort is never compromised. This pramsuit is not only a warm and practical choice but also a delightful fashion statement for your little one's outdoor adventures.
---
4. 4pc Pure cotton animal starter set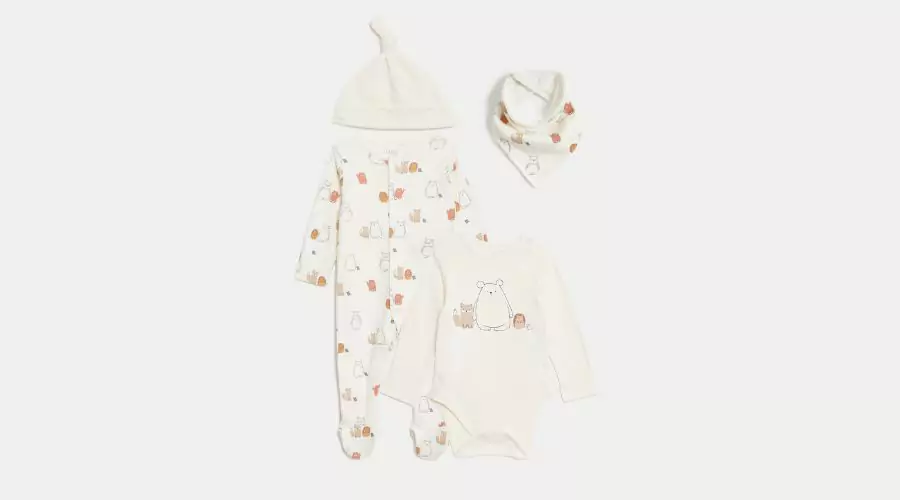 Celebrate the arrival of a precious newborn with the delightful 4pc Pure cotton animal starter set. This charming set, adorned with friendly bears, hedgehogs, foxes, and cats, is crafted from pure cotton to ensure softness against your baby's delicate skin. The sleepsuit and bodysuit feature convenient popper fastenings and flat seams, ensuring your baby's comfort and ease of dressing. For added protection, integral scratch mitts are included for ages up to 3 to 6 months, while the sleepsuit also features Babysafe toes and anti-slip feet for ages 9 to 12 months. Whether it's for your own little one or as a thoughtful gift, this starter set is the perfect way to welcome a new addition to the family.
---
How to choose the baby boys' clothes
Prioritise comfort: Comfort is paramount for baby boys' clothes. Opt for soft, breathable fabrics like cotton that are gentle on your baby's sensitive skin. Avoid scratchy tags or seams that might cause irritation.

Consider the season: The weather and climate in your region should influence your clothing choices. Choose lightweight, breathable outfits for summer and warmer, layered options for winter.

Size and growth: Babies grow quickly, so it's essential to have a range of sizes on hand. Purchase a mix of newborn and 0-3 months sizes to accommodate your baby's growth.

Practicality: Look for baby boys' clothes with convenient features like snaps, zippers, or elastic waistbands. These make diaper changes and dressing easier for both you and your baby.

Versatility: Consider how versatile the clothing is. Items that can be mixed and matched with other pieces in your baby's wardrobe offer more value.

Weather-appropriate accessories: With clothes for baby boys, don't forget accessories like hats, socks, and mittens to keep your baby comfortable in various weather conditions.
Conclusion
Dressing your baby boy is a joyful and creative endeavour. From the soft onesies of infancy to the trendy outfits of toddlerhood, you'll have the opportunity to express your style and make your baby look irresistibly adorable. Remember to prioritise comfort, safety, and practicality while enjoying the process of selecting baby boys' clothes from Marks & Spencer. As your little prince grows, his wardrobe will evolve, but the love and care you put into dressing him will remain a cherished part of his early years.
For more information on baby boys' clothes, visit Savewithnerds.
FAQs