When it comes to our furry companions, their nutrition is a top priority. Their general health and well-being are greatly influenced by the meals we provide them. With the myriad of options available, selecting the right dog food can be a daunting task. Chewy provides a platform where you can easily access high-quality dog food from reputable brands, ensuring that you are giving your furry friend the best possible nutrition. Chewy offers a vast selection of dog food formulas, including those tailored to different life stages and dietary preferences. You can find options for puppies, adult dogs, and senior dogs, as well as grain-free and traditional formulas. With Chewy's user-friendly website and delivery service, you can have your chosen dog food delivered right to your doorstep, saving you time and effort. Chewy's website also features customer reviews and ratings, giving you valuable insights into the experiences of other pet owners with specific dog food products.
What are the essential nutrients that should be included in high-quality dog food?
High-quality dog food should provide a well-rounded balance of essential nutrients to support your pet's health. These nutrients include:
Protein
Protein is the building block of muscle and an essential component of a dog's diet. Look for a dog food that lists a high-quality source of animal protein, such as chicken, beef, or fish, as the first ingredient. The protein content should be appropriate for your dog's life stage (puppy, adult, or senior).
Fat
Dogs need fats for energy, healthy skin, and a shiny coat. Opt for dog food that contains moderate levels of healthy fats like omega-3 and omega-6 fatty acids, sourced from ingredients like fish oil and flaxseed.
Carbohydrates
Carbohydrates provide a source of energy. High-quality dog food should include carbohydrates from sources like whole grains (rice, oats, and barley) and vegetables (sweet potatoes, peas, and carrots). Avoid using too many fillers, such as maize and soy.
Vitamins and Minerals
Vitamins and minerals are essential for various bodily functions, including bone health, immune support, and overall well-being. Look for dog food with added vitamins and minerals, and check if they meet the AAFCO (Association of American Feed Control Officials) standards.
Fiber
Fiber aids in digestion and can help prevent digestive issues. It's essential to strike a balance; too much or too little fibre can lead to problems. Ingredients like brown rice, beet pulp, and pumpkin are good sources of fibre.
Water
Water is often overlooked as a nutrient, but it's crucial for your dog's health. Ensure your pet always has access to clean, fresh water to prevent dehydration.
Best dog food for your pet
1.   Hill's Science Diet Adult 7+ Senior Vitality Chicken Recipe Dry Dog Food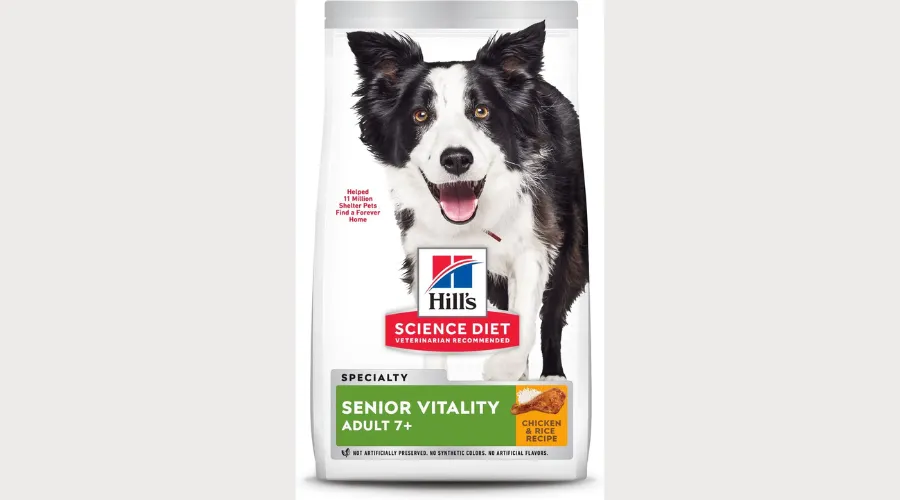 Support your dog's overall vitality with Hill's Science Diet Adult 7+ Senior Vitality Chicken Recipe Dry Dog Food. This delectable kibble features potent antioxidants for brain health and ingredients like protein, phytonutrients, and L-carnitine to encourage playfulness and movement. With vitamins C and E for a strong immune system and a digestible chicken recipe, it's not only delicious but also packed with essential fatty acids for a lustrous coat. Trusted by veterinarians, this food ensures your cherished companion stays youthful and active for those special moments you share.
2.   Purina ONE Natural Large Breed +Plus Formula Dry Dog Food
Make life grand for your large breed dog with Purina ONE Plus Large Breed Dog Food Dry Formula! This high-protein dog food is proudly produced in Purina-owned US facilities, offering 100% balanced nutrition for adult dogs. It's specially crafted to cater to the unique nutritional needs of large breeds, with real chicken as the primary ingredient to foster strong muscles and a healthy heart. Packed with four antioxidant sources for immune support and is enriched with omega-6 fatty acids, vitamins, and minerals to promote skin and coat health. Your pup will adore the combination of tender, meaty morsels and crunchy kibble for an irresistible taste and texture. Plus, it's highly digestible and contains zero per cent fillers, ensuring your beloved giant gets the most out of every meal.
3.   Gentle Giants natural Non-GMO dog & puppy chicken  dog food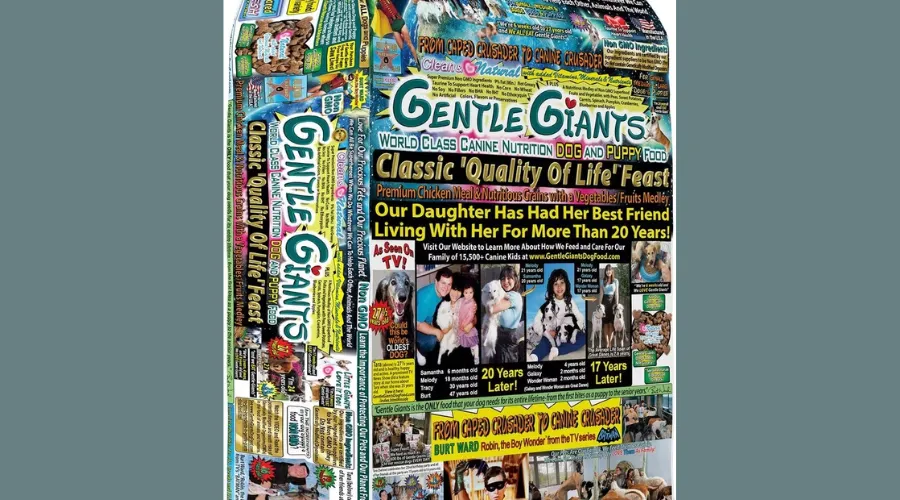 Treat your beloved pet to a veterinarian-recommended, balanced, and nutritious meal with Gentle Giants Natural NonGMO All Life Stages Chicken Dry Food. Crafted from premium natural ingredients, this formula boasts non-GMO elements like farm-raised chicken, brown rice, and pearled barley, ensuring complete and balanced nutrition for dogs of all breeds and sizes, even those with sensitive stomachs. It contains a medley of twelve whole fruits and vegetables, such as sweet potatoes, peas, spinach, carrots, cranberries, pumpkin, blueberries, and apples, all non-genetically modified. Moreover, with added prebiotics, probiotics, vitamins like A and B12, antioxidants, and taurine, it supports digestion, nutrient absorption, and optimal health for dogs of all ages, from puppy to senior. Plus, it includes New Zealand green mussels for joint health and bone strength.
4.   Pedigree small dog complete nutrition grilled steak & vegetable flavour dog kibble small breed adult dry dog food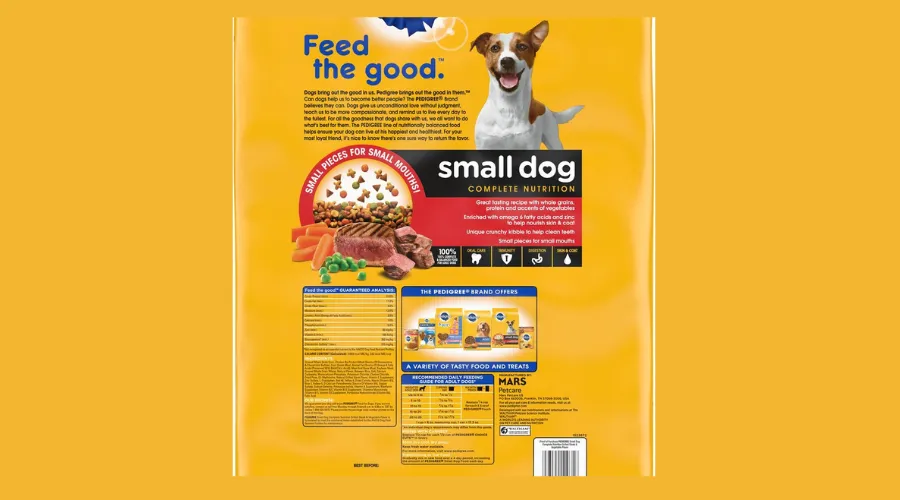 Provide your small furry friend with the comprehensive nutrition necessary for a vibrant life with Pedigree Small Dog Complete Nutrition Grilled Steak & Vegetable Flavor Small Breed Dry Dog Food. This formula ensures complete and balanced nutrition enriched with antioxidants, vitamins, and minerals to support overall well-being. It boasts optimal levels of omega-6 fatty acids to enhance skin health and maintain a lustrous coat. Additionally, the inclusion of whole grains and a unique fibre blend promotes healthy digestion, all wrapped up in a delightful grilled steak flavour. The small, crunchy kibble pieces are perfect for petite mouths and aid in cleaning teeth, supporting good oral health. Made in the USA with premium ingredients, this dog food is free from high fructose corn syrup, artificial flavours, or sugar, making it a wholesome choice for your cherished companion.
5.   Purina Pro Plan adult shredded blend beef & rice formula dry dog food
Elevate your dog's meals with Purina Pro Plan Brand Dog Food Shredded Blend Beef and Rice Formula adult dry dog food, a high-protein recipe featuring real beef as the primary ingredient. Designed to strike the perfect balance between nutrition and taste, this kibble combines hard pieces with tender shredded bites for a delectable texture that dogs adore. Enriched with vitamin A and omega-6 fatty acids for skin and coat health, it is also fortified with live probiotics and natural prebiotic fibre to promote digestive and immune well-being. This complete and balanced adult dog food ensures your furry companion maintains an ideal body condition while savouring the delicious flavour of real beef and rice. Made in Purina-owned U.S. facilities, it's the ultimate choice for both nutrition and taste.
Should I consider a grain-free dog food for my pet, and what are the potential risks associated with grain-free diets?
Grain-free dog food has gained popularity in recent years, with many pet owners believing it's a healthier choice.
1.   Pros of Grain-Free Dog Food:
Allergy Management: Some dogs have grain allergies or sensitivities, and grain-free options can alleviate these issues.
High-Quality Ingredients: Grain-free formulas often use high-quality protein sources and alternative carbohydrates like sweet potatoes.
2.   Cons of Grain-Free Dog Food:
Taurine Deficiency: Some grain-free diets have been associated with taurine deficiency, which can lead to serious heart problems, especially in certain breeds.
Legume Overload: Many grain-free formulas rely heavily on legumes like peas and lentils, which may lead to digestion problems and potential heart issues.
3.   Cost:
Grain-free dog food can be more expensive than traditional options.
Considering these pros and cons, it's important to consult with your veterinarian before switching to a grain-free diet. Your vet can assess your dog's specific needs and help you make an informed decision.
Conclusion
The correct dog food must be chosen, and good pet ownership entails this. Ensure that your dog's food contains the essential nutrients, consider their life stage, and consult with a veterinarian when making significant dietary changes. When shopping for dog food, Chewy offers a convenient and reliable platform with a wide range of options to cater to your pet's unique needs. Remember that your pet's health and well-being depend on the quality of their nutrition, so choose wisely and provide them with the best possible diet for a long and happy life. Visit Savewithnerds for more information.
FAQs