Cats like any other pets are susceptible to diseases, especially urinary disorders, and UTIs are some common infections that cats experiences. It's not always possible to detect or stay updated on your cat's health regularly. Moreover, if you are not aware of the common physical signs that cats show concerning urine infection or urinary disorders then the Cat Health Monitoring Litters are the best tool to detect such infections early or cat's related symptoms.
Cats are also the most common pets found in any house. Whether by intention or simply because a family has a cat to prevent the intrusion of rats in the house. Apart from dogs, cats are also the most commonly adored pets and companions that people love to have at home. To increase the chance of helping your cats live a healthy life, it's important to understand the illnesses that are related to cats. 
Common UTI and Urinary Disorders:
Cats tend to experience many other common illnesses such as vomiting, diarrhea, fleas, eye problems, etc but UTI or related urinary disorders are generally more detrimental. They require immediate medical treatment in case of severity. Urinary crystals are a common urinary infection in cats that occurs when there is an imbalance in urinary pH. The crystals are also of two types struvite and oxalate. 
The crystals are usually tiny and when they get inside the bladder or urethra cats have difficulty in urinating. This is due to urethra obstructions caused by these tiny crystals. When the early infection is not detected early it could lead to serious kidney stones, urinary blockage, or even case stones in the bladder which are quite fatal for cats. 
Another urinary disease to keep in mind is feline idiopathic cystitis. It may not have any root cause of infection but Veterinarian agreed stress, dehydration, or inflammation to be the common cause of FIC. It can become extremely detrimental for cats when they are not treated early. Therefore having the Cat Health Monitoring Litters help you to detect early when your cat beings to show any physical signs of infection or illness. 
Cat Health Monitoring Litters and its Utility by Pretty Litter 
In recent times, Cat Health Monitoring Litters has relatively become a popular device used to keep track of cats' health by analyzing their urine. It helps cat owners detect any form of illness or serious symptoms in cats early. The Cat Health Monitoring Litters is built with sensors that detect the glucose levels and urinary pH which are then transferred the data to the app for further analysis and diagnosis. Since cats are said to be prone to urinary infections it's important to understand how serious this infection could lead to severe physical issues if they are not detected sooner. 
The general advantages of using Cat health monitoring litters are:
Easy to monitor your cat's health by indicating the change in urine color and seek immediate vet help. Early detection for cat owners is one primary advantage.

These litters on Pretty Litter are quite convenient to use since they are designed to absorb moisture and control odor effectively.

Avoid the trouble of frequent changing when you have the best litter from Pretty Litter. Save you time and money by buying frequent litter. 

Pretty Litter provides a free subscription base service where cat owners can have the litter delivered to their doorstep when needed. 

The Cat health monitoring litters on Pretty Litter are designed to offer a dust-free experience at home. This avoids having a mess around the house and in the box.

The cat health monitoring litters are suitable to use with multiple cats at home. They can easily meet the needs by accommodating multiple cats all in the same litter box. 
Three top Cat Health Monitoring Litters to buy on Pretty Litter:
1. Pretty Litter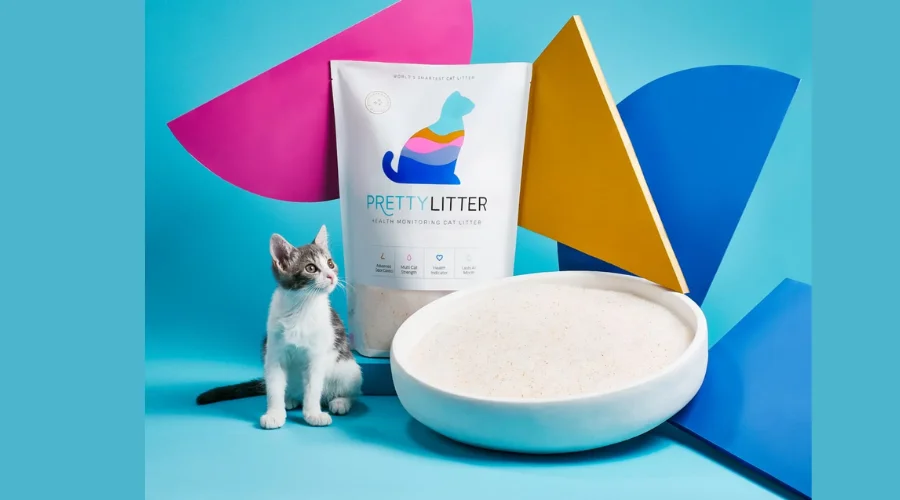 The Pretty Litter is also the most purchased one due to its automated indication of urinal change in color through the pH level in the urine. Hence it allows you to easily identify if there are any urinal infections or illnesses at the early stage. The litter is designed with a health indicator and a sick cat symptom checker. With the help of blood in urine and acidity, alkaline cat owners can easily identify the impending illness. Discovering the early signs of symptoms allows the owners to seek the vet's help early. The Pretty Litter is also built with permeable cat litter that prevents bad odor from the urine and keeps the house clean and odorless.
---
2. Ultra Cat Health Monthly Monitor Crystal 
The Ultra Cat Health Monthly Monitor Crystal is an excellent litter to use at home. It allows you to easily utilize the litter of the cats by putting pulverized powder above the litter box. Since the powder contains pH-demonstrating innovation. The color guide will also allow the cat owners to easily screen the cat's health simultaneously by analyzing the irregularities of urine. This helps cat owners to keep track of any serious illness or infection that the cat might likely experience. For more detail on the Ultra Cat Health Monthly Monitor Crystal check out the Pretty Litter website.
---
3. Kitty Kaviar Perfect Litter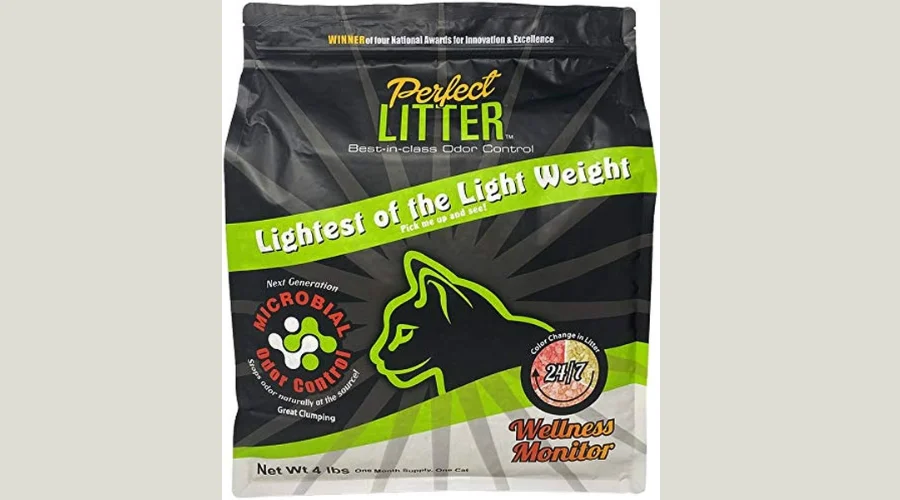 The Kitty Kaviar Perfect Litter is one of the most convenient cat health monitoring litters. It helps you to keep track of your cat's health easily by analyzing the change in urine color. This allows early detection of UTI and urinary disorders related to infections and illness. Since litter is also an odorless tool, it keeps your home free of funky smells. The Kitty Kaviar Perfect Litter is extremely light to use at home and easily set up where your cats need to use the litter accordingly. It helps cat owners to be mindful of the early signs of UTI and urinary disorder symptoms sooner. For more detail on the product check out Pretty Litter's website.
---
Conclusion
Having the right tool to be able to monitor your cat's health is crucial in so many ways. They are the ultimate lifesaver for your cats. The Cat health monitoring litters will keep both cats and cat owners to stay ahead of cat's related illnesses and infections. The best thing about cat health monitoring litters is that they are the best tool to prolong a healthy and disease-free life for cats. They allow you to seek the help of vets early before urinary-related issues become fatal. There is no best way to be mindful of a cat's health than cat health monitoring litters. They are the best health indicator for cats. For more information visit Savewtihnerds. 
FAQs