Using a business travel card for corporate travel brings several advantages that set it apart from regular credit cards. These specialized cards are tailored to meet the unique needs of corporate travelers, offering features such as expense tracking, centralized billing, and customizable spending limits. Business travel cards often come with perks like travel insurance, airport lounge access, and rewards programs that cater specifically to business-related expenses. 
How does a Revolut business travel card differ from a regular credit card? 
| | | |
| --- | --- | --- |
| Aspect | Revolut Business Travel Card | Regular credit Card |
| Expense Tracking | Advanced expense tracking features. | Basic expense tracking is typically limited to transaction details. |
| Centralized Billing | Consolidates all company-related expenses onto a single bill for simplified payment and financial management. | Each transaction is billed separately, making it necessary to track multiple statements. |
| Customizable Spending Limits | Allows companies to set specific spending limits for individual employees or categories of expenses. | Generally does not offer customizable spending limits tailored to corporate needs. |
What features and perks are typically offered with a business travel card?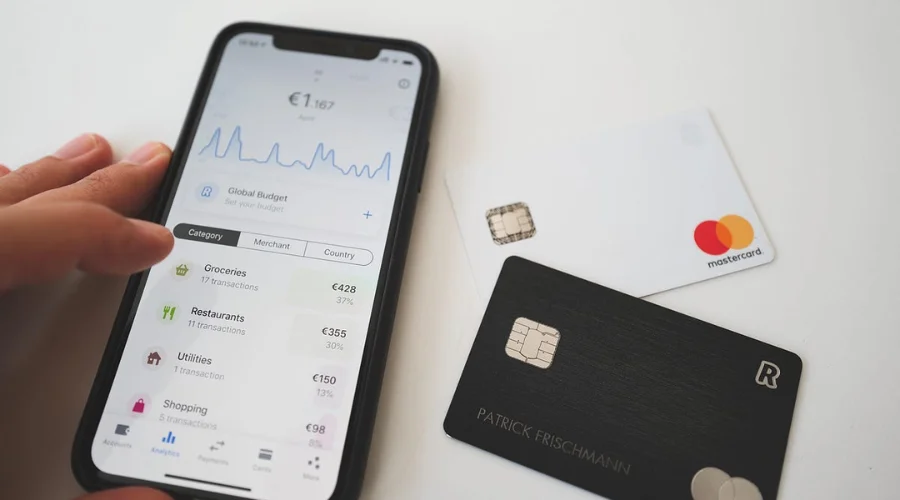 Travel Insurance: 
Business travel cards often include travel insurance coverage, providing peace of mind to employees and employers in case of unexpected events like trip cancellations, lost luggage, or medical emergencies.
Airport Lounge Access: 
Many business travel cards grant access to airport lounges worldwide. This amenity can be a game-changer for weary travelers seeking comfort, relaxation, and productivity during layovers.
Rewards Programs: 
Business travel cards frequently offer rewards programs that cater specifically to business-related expenses. These rewards can include cashback, points, or miles that can be redeemed for future travel or other business-related purchases.
Concierge Services: 
Some cards provide access to dedicated concierge services that can assist with booking flights, hotels, restaurant reservations, and even securing event tickets.
Expense Reports: 
Business travel cards often generate detailed expense reports, making it effortless for employees to submit claims and for finance teams to approve and process reimbursements.
Can you explain the process of applying for and obtaining a business travel card? 
Obtaining a business travel card involves several steps, with the exact process varying from one issuer to another. Here's a general overview of how to apply for and obtain a business travel card:
Research and Selection: 
Begin by researching different business travel card options to find one that aligns with your company's needs. You can consider the Revolut business card which has multiple additional perks and is best for your expenses. 
Gather Documentation: 
Prepare the necessary documentation, which typically includes financial statements, tax returns, and business incorporation documents. Some issuers may require a personal guarantee from the cardholder.
Submit the Application: 
Complete the application form provided by the card issuer. Ensure that all information is accurate and up-to-date. Be prepared to provide personal information as well, including your Social Security number.
Wait for Approval: 
After submitting the application, the card issuer will review your company's financials and creditworthiness. Approval timelines can vary, but it often takes a few weeks.
Receive and Activate the Card: 
Once approved, you'll receive the business travel card in the mail. Activate it according to the issuer's instructions.
Set Spending Limits: 
If applicable, work with the card issuer to set spending limits for individual employees or categories of expenses.
What types of expenses can be covered using a business travel card? 
Business travel cards are versatile tools that can cover a wide range of expenses incurred during corporate travel. These expenses can include:
Airfare: Business travel cards can be used to book flights, whether for domestic trips or international travel.

Hotel Accommodations: You can use the card to reserve hotel rooms and pay for lodging expenses.

Meals: Many business travel cards cover meal expenses, including dining at restaurants, room service, and even food purchases during layovers.

Transportation: Expenses related to ground transportation, such as rental cars, taxis, rideshares, and public transportation, can often be charged to the card.

Conference and Event Fees: If employees are attending conferences, seminars, or other business events, the card can be used to pay for registration fees.

Miscellaneous Expenses: Business travel often comes with various miscellaneous expenses, such as parking fees, business supplies, and client entertainment. Business travel cards can be used for these costs as well.
Are there any limitations or restrictions on the use of a business travel card?
Spending Limits: Depending on the issuer and the card's terms, there may be spending limits or caps on certain expense categories or individual transactions.

Personal Liability: In some cases, the cardholder may be personally liable for any outstanding balances. While the card is intended for business use, it's essential to understand the terms and conditions.

Employee Training: Properly educate and train employees on the responsible use of business travel cards to avoid misuse or overspending.

Credit Score Impact: Late payments or excessive credit utilization can negatively impact the cardholder's personal credit score.

Annual Fees: Some business travel cards may have annual fees, so it's crucial to consider these costs when selecting a card.
Conclusion
They streamline expense tracking, provide valuable perks, and cater to the unique needs of business travelers. However, it's crucial to carefully research and select the right business travel card that aligns with your company's objectives and financial practices. With the Revolut business card in hand and proper usage guidelines in place, businesses can navigate the world of corporate travel with ease and confidence, ensuring that every trip contributes to their success.
For more information, visit Savewithnerds.
FAQs