It's warm, it's sunny, and it's time to go to the beach! Be it a week-long vacation, or just a drive down to the beach, you need to make sure you have all the essentials to make your trip a comfortable one. With powerful sunscreen, beach toys, and a multi-purpose beach towel, you are good to go.
A good beach towels for summer does not just act as a tool to dry off after a dip in the ocean but can also be used as a picnic mat at the beach. A good beach towel should be absorbent and easy to dry, preferably made of cotton to give it a durable softness for your beach trips. SaveWithNerds has curated a useful list of the best beach towels available so the messiness is low and the fun is high. 
7 Sand Resistant beach towels for summer from Dunelm:
1. Elements Semi Circle Beach Towel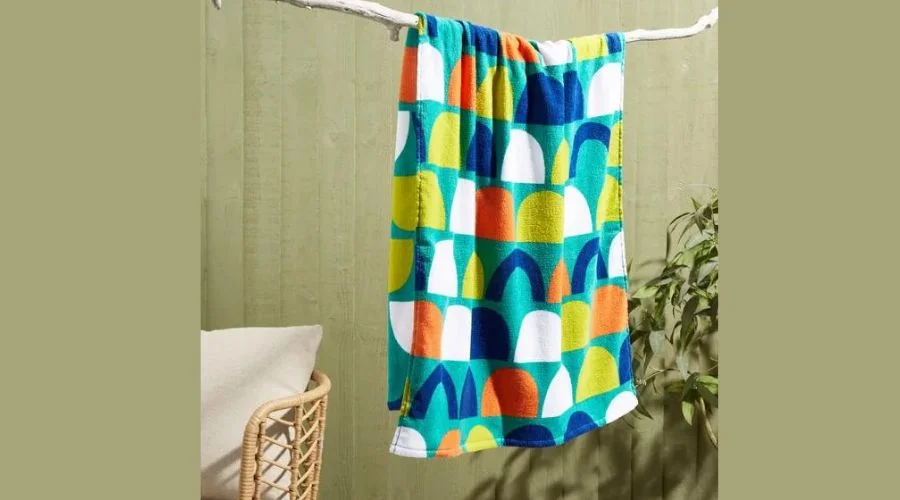 Made from 100% cotton, this beach towel is designed with a bold semi-circles pattern in a bright colourway. This Elements Semi Circle Beach Towel will be a great addition to your travel essentials. Supported with absorbent fabric and 70cm x 140cm x 1cm dimensions, this product is designed to make your beach adventures as comfortable as possible. Just wrap it up at the beach and put this machine friendly towel in the laundry and you are done cleaning up!
2. Ice Cream Beach Towel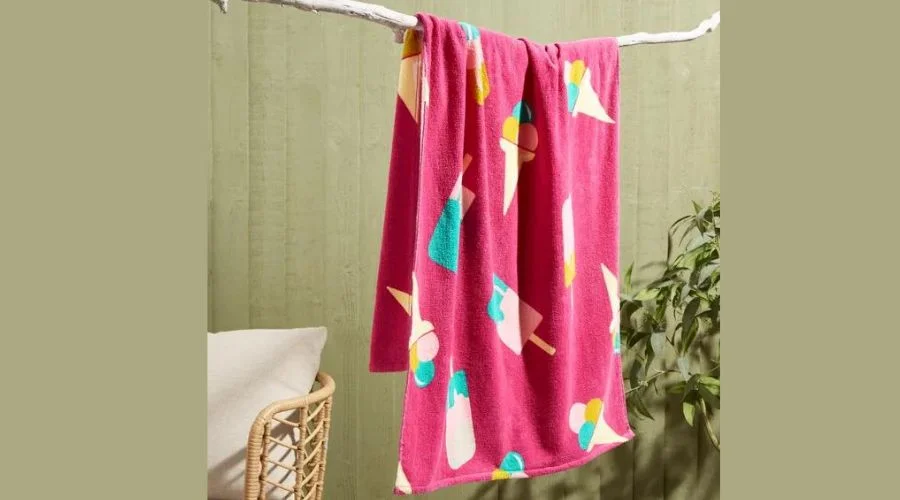 I scream, you scream, we all scream for ice cream. This Ice Cream Beach Towel is made with 100% cotton and supremely accurate fun summer prints, this towel is your best friend to take with you to all your summer beach destinations. Pink, bright and quirky, this is a statement piece that should for sure find a place in your travel duffel.
3. Catherine Lansfield Rainbow Blue and Navy Beach Towel Twin Pack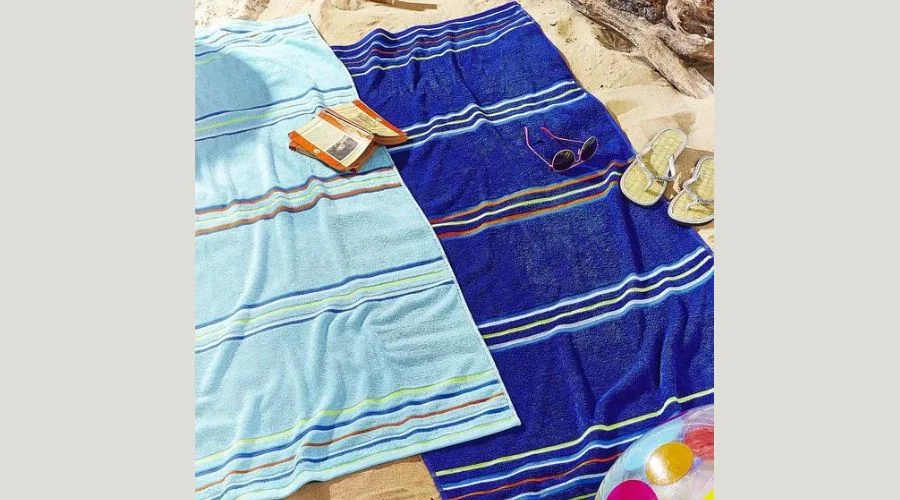 This blue-hued towel is the perfect accessory for your day at the beach – Catherine Lansfield contains two towels, both complimenting each other in shades of blue, with brightly coloured jacquard horizontal stripes, perfect for drying off after a relaxing swim in the ocean or laying down on to get the perfect sun tan. This matching set is perfect for those cutesy couple social media shots!
4. Catherine Lansfield Pineapple Multi Coloured Beach Towel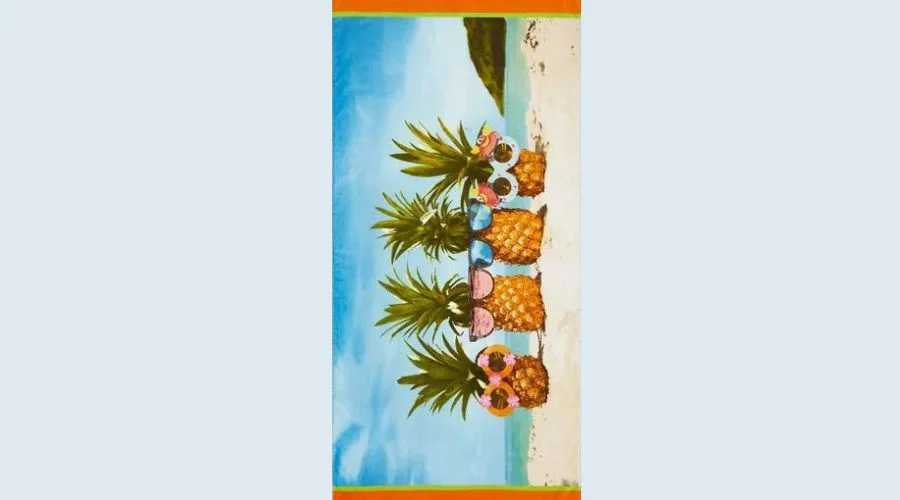 Be the center of attention at the beach with this fabulous pineapple Catherine Lansfield towel. The quirky photographic print of pineapples in funky sunglasses sat on a tropical beach makes a perfect side-kick for your holiday adventures. This quirky and versatile towel is perfect for getting wrapped in after a dip or laying out on the sand or sun lounger.
Printed on soft cotton velour, the towel offers the quickest absorbance and long lasting softness.
5. Catherine Lansfield Reserved Black and White Beach Towel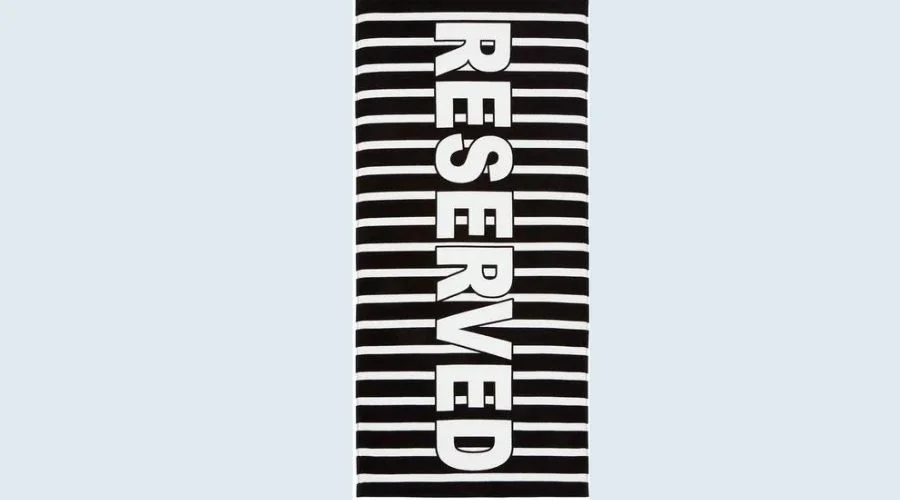 Make sure your perfect spot on the beach is always saved with the Catherine Lansfield reserved towel. It features a cool black and white striped base, with the word 'Reserved'' boldly lettered in white. This is a quirky piece that does not only work as a towel but as a warning sign too! Printed on soft cotton velour, the towel has easy absorbing qualities and provides durable softness, and the perfect accessory for your holiday!
6. Catherine Lansfield Flamingo Multi Coloured Beach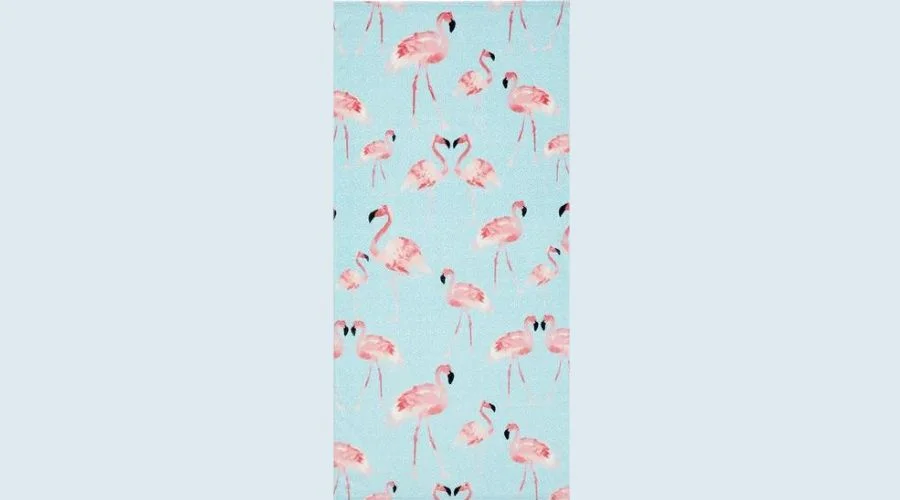 Add a pop of colour to your holiday with this Catherine Lansfield 100% cotton printed velour beach towel which offers both great style and quality. This super soft, absorbent beach towel features a fun flamingo design against a contrasting blue backdrop which takes you to a tropical paradise. This fun trendy print is perfect for children and adults alike.
7. Nautical Stripe Navy Towel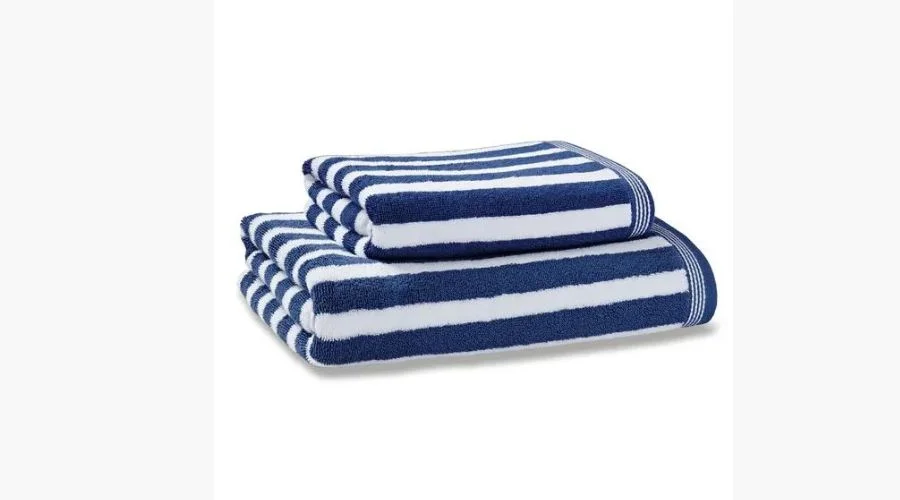 This Nautical Stripe Navy Towel is the most classical beach towel, used through the ages. Patterned with a symmetrical nautical striped design in a navy blue and white colourway, this 100% cotton towel is available in a variety of sizes – go ahead and buy a matching set for the whole family!
Take recommendations from savewithnerds and find your favourite beach towel to carry to the beach this summer, and be the talk of the town! Hassle free clean up, great aesthetics, and soft enough to get wrapped in, what more could a person want? With consumer friendly delivery and great discounts, Dunelm is the perfect place to shop at this season.
FAQs