With the release of the Apple Watch Series 9, a new benchmark in wearable technology has been established. This wristwatch is a true leader in its field thanks to a broad range of features, improved performance, and a strong dedication to environmental sustainability. In this blog, we are going to do an in-depth analysis of the Apple Watch Series 9. From its newest features and software to its design and performance, we'll break down everything so that you can make an informed decision before buying the product. Let's go!
Apple Watch Series 9 Specs at a Glance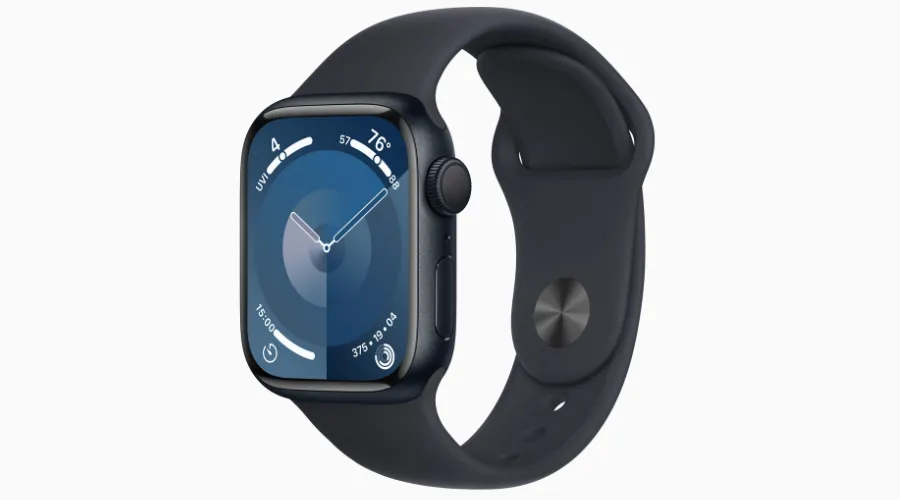 Before we dive into the frenzy and break down the Apple Series 9 features, here's a quick glance at the Apple Series 9 specs:
| | |
| --- | --- |
| Feature | Specification |
| Display | Always-On Retina display, 1.7 inches (41mm model), 1.9 inches (45mm model), OLED |
| Processor | Apple S9 SiP |
| RAM | 1GB |
| Storage | 32GB |
| Sensors | Optical heart sensor, electrical heart sensor, accelerometer, gyroscope, altimeter, blood oxygen sensor, temperature sensor, compass, ECG sensor, microphone, speaker |
| Battery life | Up to 18 hours |
| Operating system | watchOS 9 |
| Connectivity | Wi-Fi, Bluetooth, eSIM |
| Case materials | Aluminum, stainless steel |
| Band materials | Fluoroelastomer, silicone, leather, stainless steel |
| Water resistance | 50 meters |
| Weight | 42.3g (41mm model), 51.5g (45mm model) |
| Dimensions | 45 x 38 x 10.7 mm (41mm model), 49 x 41 x 10.7 mm (45mm model) |
Design and colours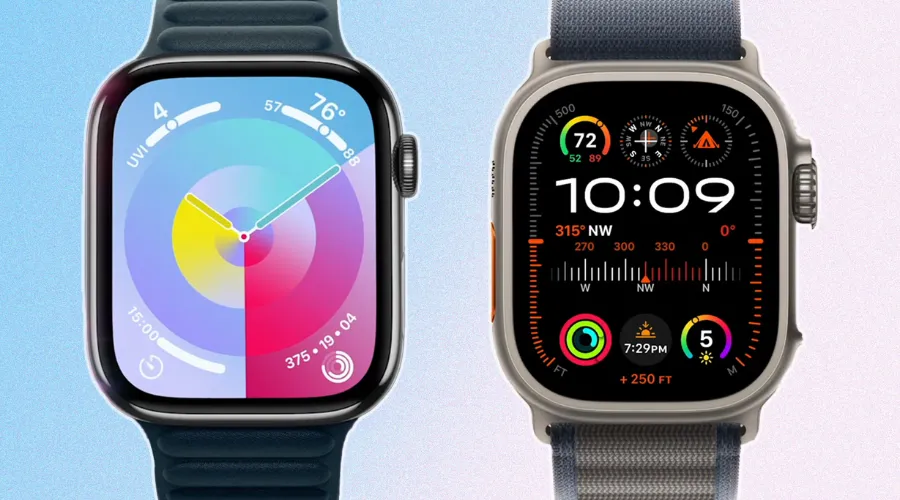 The Apple Watch Series 9 design enhances the sleek and fashionable appearance of its predecessors. It accommodates a wide range of wrist sizes and preferences because it is available in both 41mm and 45mm sizes. The gorgeous new pink aluminium case, which broadens the variety of available colours to include starlight, midnight, silver, and (PRODUCT)RED, is one significant addition to the roster. Stainless steel alternatives in gold, silver, and graphite are also available for customers preferring a more upscale appearance.
The design shows great attention to detail, with an emphasis on both form and function. The familiar Digital Crown and Taptic Engine from the Series 9 remain, making it simple to navigate and engage with the watch. You can use it with confidence during exercises and even swim tracking because it is water-resistant.
Hardware and Performance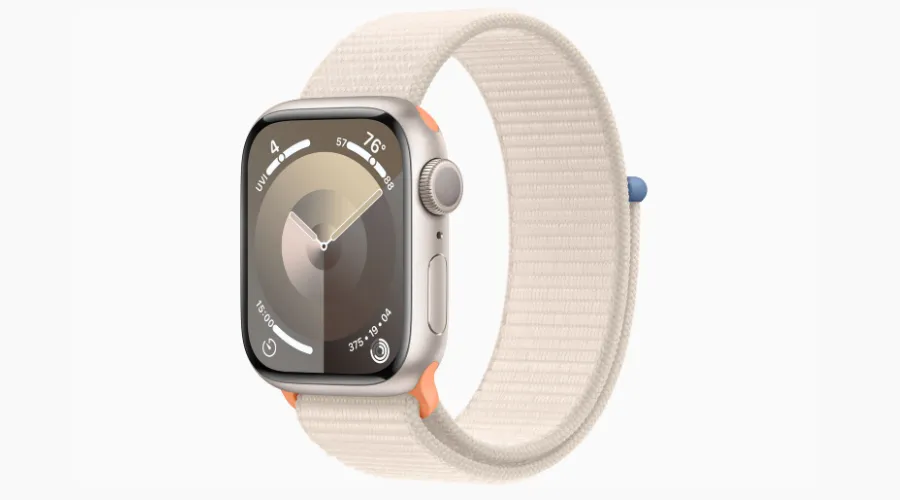 The new S9 SiP (System in Package), a unique Apple semiconductor created to give exceptional performance, is the brain of the Apple Watch Series 9. This chip not only powers the watch but also makes advancements and new features possible. Machine learning tasks are processed up to twice as quickly by the 4-core Neural Engine, a vital part of the S9 SiP, improving the watch's capabilities.
The double tap gesture, made possible by the quicker Neural Engine, is one distinctive feature. A simple double tap of the user's fingers is all it takes to operate the watch, providing a world of convenience and usability. You may carry out a number of tasks using this gesture, like snapping pictures with the Camera Remote and answering calls, playing music, and even answering calls.
The Series 9 also has a brighter display than its predecessor, with a maximum brightness of up to 2000 nits. This makes the watch's screen easier to read in direct sunlight and guarantees that, when reduced to just one nit, it won't annoy people in dimly lit areas.
User Experience
The user experience is advanced with the Apple Watch Series 9. The watch is easy to use and convenient thanks to the intuitive double tap gesture as well as existing movements like tap, swipe, wrist raise, and cover to mute. You won't have any trouble getting used to its capabilities, whether you've had an Apple Watch for a while or are just getting started.
On-device Siri processing is another user-friendly enhancement. Now that Siri can handle requests without internet access, results are quicker and more trustworthy. It is a useful tool for tracking and maintaining your health and fitness because it can get data from the Health app as well.
Another level of convenience is provided by the HomePod integration. The watch automatically launches Now Playing to control media playback or provides media selections when you're 4 meters or less from a HomePod that is playing audio.
Features for health and fitness
The Series 9 of the Apple Watch continues the company's tradition of innovation in the field of tracking fitness and health. A number of functions are available to help your well-being, such as activity tracking, high- and low-heart-rate warnings, fall detection, and emergency SOS.
However, its capability to log and access health data immediately on the watch is what really makes it stand out. If you have a connected monitor, you can learn more about your sleep habits, keep track of your activity activities, or check your blood sugar levels. Siri can even assist you in keeping track of vital health information like your weight, period, or drugs taken.
10 watchOS
WatchOS 10, a significant update that improves the entire experience, is the operating system for the Apple Watch Series 9. When needed, the newly designed apps and the Smart Stack offer easy access to pertinent widgets. You can customise charming watch faces like Snoopy, Palette, and Solar Analog to match your particular style.
Cycling enthusiasts will value the addition of Bluetooth connectivity for speed, cadence, and power meters because it unlocks new stats and training views. The whole screen on your iPhone may be used for cycling exercises, giving you a more immersive experience.
The new Compass Waypoints and Maps features provide better navigation on outings for outdoor enthusiasts. Additionally, the Mindfulness app now allows you to log your mental state, which improves your general mental health.
Environmental Initiatives
The Apple Watch Series 9 demonstrates Apple's dedication to lowering its carbon footprint. Customers may now select a carbon-neutral variant for any Apple Watch model for the first time. This accomplishment fits in with Apple's ambitious plan to achieve carbon neutrality throughout its entire operations, including the manufacturing supply chain and the life cycle of its products, by 2030.
Environmental initiatives are extended to packaging with a switch to materials made entirely of fiber. Additionally, a fresh logo on the package designates carbon-neutral models. These programs show how committed Apple is to sustainability.
Accessory and Bands
Apple has always provided a vast selection of bands and other add-ons to customise your watch, and the Series 9 is no different. The launch of FineWoven, a posh microtwill band manufactured from 68 percent post-consumer recycled material, is notable since it supports Apple's commitment to sustainability. The FineWoven band, known for its suede-like texture, pairs seamlessly with the Magnetic Link and Modern Buckle bands.
More environmentally friendly band collections have been produced as a result of partnerships with Nike and Hermès. Nike's Sport Band now has at least 32% recycled fluoroelastomer, which results in a striking design. Hermès, on the other hand, expands your options for fashion with woven bands inspired by their renowned materials and craftsmanship, as well as a knitted band and waterproof molded rubber band.
Pricing and Availability
The Apple Watch Series 9 is currently available for pre-order in a number of countries, including Australia, Canada, France, Germany, India, Japan, the United Arab Emirates, the United Kingdom, and more than 40 other places. Friday, September 22, is the official Apple Watch Series 9 release date when the devices will go on sale in stores. It will come in a variety of case sizes and materials to suit your preferences.
The Apple Watch Series 9 price starts at £399. It is a competitive offering in the smartwatch market since access to the most recent features and improvements is included in the basic price. The pricing is incredibly appealing, given the robust hardware and many features the Series 9 delivers.
Conclusion
The Apple Watch Series 9 is a significant advancement in wearable technology. Its stylish design, powerful technology, simple user interface, and firm commitment to environmental sustainability make it a must-have for individuals looking for the best smartwatches. Prepare to wear the future on your wrist with the Apple Series 9. In-depth coverage of the recent Apple Event 2023, the Apple iPhone 15 range, and other product announcements can be found at Savewithnerds. Come celebrate Apple Week with us as we share the latest updates and reviews!
FAQs