Dubai, known for its opulence and luxury, may seem like an expensive destination for travellers. However, with careful planning and the right strategies, it is possible to find cheap hotels in Dubai that fit your budget. Make your hotel reservations with Bonvoy Marriott and unlock exceptional savings on your stay. With their attractive rates and enticing deals, you'll be able to enjoy all that Dubai has to offer while keeping more money in your pocket.
Ways to Book Cheap Hotels in Dubai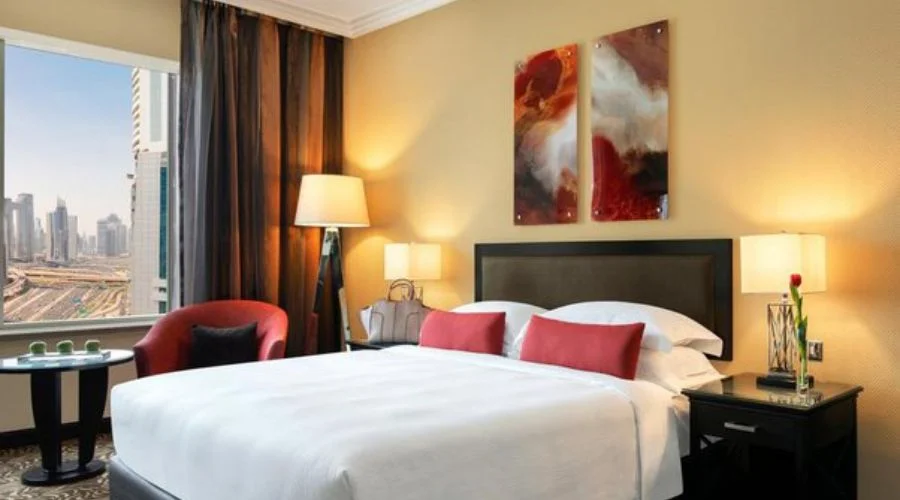 Utilize Online Travel Agencies (OTAs)
Online Travel Agencies (OTAs) are a valuable resource for finding cheap hotels in Dubai. Websites like Expedia, Booking.com, and Agoda offer a wide range of accommodation options at competitive prices. These platforms often have exclusive deals and discounted rates, allowing travellers to save significantly on their hotel bookings. By comparing prices across different OTAs, one can secure the best deal possible.
Consider Off-peak Travel
Another effective way to find cheap hotels in Dubai is by considering off-peak travel periods. Dubai experiences a peak tourist season during the winter months (November to March) when the weather is pleasant. However, by planning a trip during the shoulder seasons, such as April to May or September to October, travellers can benefit from lower hotel rates. Additionally, avoiding major events and holidays can further contribute to cost savings.
Look for Budget Hotel Chains
Dubai offers a range of budget hotel chains that provide comfortable accommodations at affordable prices. These hotel chains include Premier Inn, Ibis, and Rove Hotels, among others. By targeting these establishments, travellers can access clean and comfortable rooms with essential amenities at a fraction of the cost of luxury hotels. These budget hotel chains are often located in convenient areas, providing easy access to popular attractions and transportation networks.
Opt for Extended Stay or Package Deals
For travellers planning an extended stay in Dubai, considering options like extended-stay hotels or package deals can lead to significant savings. Many hotels offer special rates for guests staying for more than a few nights, reducing the overall cost per night. Package deals that combine hotel accommodation with flights or other services can also provide great value for money. Travellers should explore these options while keeping an eye out for special promotions and discounts.
Explore Alternative Accommodation Options
In addition to hotels, Dubai offers various alternative accommodation options that are budget-friendly. These options include hostels, serviced apartments, and vacation rentals. Hostels are an excellent choice for solo travellers or those seeking a social atmosphere, while serviced apartments provide the comforts of home for longer stays. Vacation rentals, such as those listed on platforms like Airbnb, offer the opportunity to stay in residential areas, providing a unique local experience.
Benefits of Booking Cheap Hotels in Dubai From Bonvoy Marriott
Cost Savings
The primary advantage of booking cheap hotels in Dubai is the significant cost savings. By opting for affordable accommodations, travellers can allocate their funds to other aspects of their trip, such as sightseeing, dining, and shopping. Dubai offers a wide range of budget-friendly hotels that provide comfortable and clean rooms, ensuring a pleasant stay without breaking the bank.
Increased Accessibility
Cheap hotels in Dubai are often conveniently located in various neighbourhoods, allowing travellers to easily access popular attractions, transportation hubs, and business centres. By staying in affordable accommodations, visitors can minimize transportation costs and spend more time exploring the city's iconic landmarks, such as the Burj Khalifa, Palm Jumeirah, or Dubai Mall.
A Taste of Authenticity
Staying in a cheap hotel in Dubai provides an opportunity to immerse oneself in the local culture and experience the authentic side of the city. Many budget accommodations are situated in vibrant neighbourhoods where visitors can interact with locals, sample local cuisine, and explore traditional markets. This adds a unique dimension to the travel experience, allowing tourists to go beyond the usual tourist spots and gain a deeper understanding of Dubai's heritage.
Diverse Accommodation Options
Contrary to popular belief, cheap hotels in Dubai offer a wide range of accommodation options to cater to various needs and preferences. From cosy guesthouses to budget-friendly hotel chains, travellers can choose from a plethora of options that suit their budget and requirements. These accommodations often provide essential amenities such as Wi-Fi, air conditioning, and comfortable bedding, ensuring a comfortable stay at an affordable price.
Extended Stay Opportunities
Dubai is not only a popular tourist destination but also a hub for business travellers and expatriates. Cheap hotels in Dubai cater to these visitors, offering extended stay options at competitive rates. These accommodations provide amenities such as kitchenettes or fully equipped apartments, allowing travellers to enjoy the comforts of home while staying within their budget.
Flexibility in Travel Planning
By opting for cheap hotels in Dubai, travellers have the flexibility to allocate their budget to other experiences and activities. Whether it's indulging in gourmet dining, embarking on desert safaris, or enjoying shopping sprees, saving money on accommodations allows visitors to create a more comprehensive and fulfilling itinerary.
Conclusion
Contrary to popular belief, it is possible to book cheap hotels in Dubai with careful planning and research. By utilizing online travel agencies, considering off-peak travel periods, targeting budget hotel chains, opting for extended stay or package deals, and exploring alternative accommodation options, travellers can enjoy an affordable yet enjoyable stay in this dazzling city. For more information about the best affordable Dubai hotels visit the official website of Savewithnerds.
FAQs